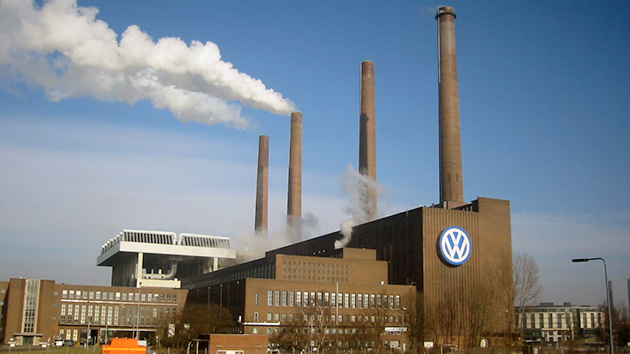 Days after Volkswagen admitted that half a million cars it sold in the United States contained software enabling them to evade clean air laws, top Environmental Protection Agency officials say they are planning to toughen emissions testing for all automakers. The EPA now plans to examine vehicles for so-called defeat devices.
In a letter released this morning, the EPA said federal regulations allow the agency to "test or require testing on any vehicle at a designated location, using driving cycles and conditions that may reasonably be expected to be encountered in normal operation and use, for the purposes of investigating a potential defeat device." The EPA said it planned to begin conducting these additional procedures when vehicles undergo emissions and fuel economy testing, and it warned that the new procedures "may add time to the confirmatory test process and…additional mileage may be accumulated."
"We are stepping up our testing," Janet McCabe, the EPA's acting assistant administrator, told reporters. "We take seriously our responsibility to oversee the enforcement of clean air regulations. The VW violations have made it clear that we need to adapt our oversight."
"The VW violations have made it clear that we need to adapt our oversight."
Last Friday, the EPA issued a citation to Volkswagen for equipping nearly 500,000 diesel-powered cars sold since 2009 with software that can detect when the car is undergoing federal testing for smog-forming emissions. During the test, the cars meet the standard; under normal driving conditions, emissions are up to 40 times higher. Similar devices were installed on some 11 million VW cars worldwide, producing illegal air pollution that may contribute to thousands of deaths. The resulting scandal devastated VW's share value and forced the ouster of its CEO.
The EPA is currently investigating the full extent of the illegal software program and could ultimately deliver up to $18 billion in fines. Today's announcement doesn't affect that investigation. Officials said no recall has been announced and that if one is eventually called for, VW drivers will hear about it directly from the company.
EPA chief Gina McCarthy said the agency is concerned that other automakers could have similar devices that have gone undetected. Even if they don't, VW is responsible for a new raft of regulatory headaches for all companies that want to sell cars in the United States.
Chris Grundler, director of the EPA's Office of Transportation, wouldn't say exactly how his agency would sniff out defeat devices. But it would add additional time and rigor to the testing process, he said.
"We're not going to tell them what the test is," he said. "They don't need to know."