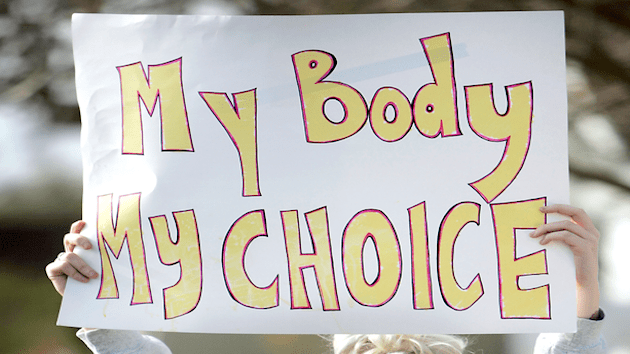 Fight disinformation:
Sign up
for the free
Mother Jones Daily
newsletter and follow the news that matters.
It took one round of questions in CNN's Wednesday night presidential debate for the Republican candidates to pounce on Planned Parenthood. But as Sen. Ted Cruz called for shutting down the government in order to strip Planned Parenthood's funding and former Hewlett-Packard CEO Carly Fiorina linked the group to Iran, one candidate strived for moderation: John Kasich.
The two-term Ohio governor urged Cruz not to stage a shutdown and indicated that he was hesitant to engage in a pitched battle with the federal government to strip Planned Parenthood in his state of Medicaid dollars.
His remarks were representative of why the tone of his campaign has triggered serious doubts about him among abortion foes. Kasich has dragged his feet on supporting controversial abortion bills and hesitated to commit to defunding Planned Parenthood. On Wednesday, incensed abortion opponents began belittling Kasich's pro-life bona fides. "The governor consistently refers to the pro-life laws he has signed as evidence of his pro-life credentials," Molly Smith, president of Cleveland Right to Life, said on the eve of the second Republican debate. "Most of the credit for these laws go to the pro-life legislators who fought for them."
But an in-depth look at Kasich's two terms as governor brings a very different picture into focus. In his six years in office, Kasich has signed every piece of anti-abortion legislation to cross his desk. And far from just rubber-stamping new abortion rules, Kasich has been more aggressive than any other governor in the Republican race in wielding the power of his office to run abortion providers out of business.
"Kasich is the most successful pro-life governor we've ever had in the state of Ohio," says Mike Gonidakis, president of Ohio Right to Life. The key, Gonidakis says, is the way Kasich has deployed the power of the state health department over Ohio's abortion clinics.
Reproductive rights activists in the state agree. "There's creating a law, and there's how you implement it," says Kellie Copeland, the director of NARAL Pro-Choice Ohio, an advocacy group. "And from day one, Kasich's administration was looking aggressively at how they could use their authority to enforce regulations in a way that would shut abortion clinics down."
This approach has been stunningly successful. In the last five years, Ohio has closed more abortion clinics than any other state but Texas. Since Kasich took office in 2011, eight licensed abortion clinics have closed, stopped performing abortions, or moved their services out of the state, according to a count kept by the advocacy group NARAL Pro-Choice Ohio. In 2011, Ohio had 16 clinics. Currently, Ohio has nine. In two of its largest cities—Cincinnati and Dayton—the area's sole clinics are constantly threatened with closure.
"From day one, Kasich's administration was looking aggressively at how they could use their authority in a way that would shut abortion clinics down."
To one abortion clinic, the Cleveland Surgi-Center, the Kasich administration appeared so hostile that the clinic didn't bother to apply for a new license. Surgi-Center's landlord decided not to renew the clinic's lease, and the clinic's license would not transfer to a new location. The clinic closed in June 2014, leaving the city and its suburbs—a population of 2 million—with two clinics.
Critics of Kasich's administration say his political appointees have done everything in their power to shut down abortion clinics. Abortion rights proponents aren't the only ones lobbing the criticism. One retired inspector accused his supervisors of "looking for anything" that would allow the department to close abortion clinics.
The inspector, Roy Croy, oversaw the licensing process for the Cincinnati-area Women's Med Center. Emails reviewed by the Cincinnati Enquirer showed that after Kasich came into office, oversight of the clinic's license was taken over by his top political appointees at the health department. Those officials directed Croy to ignore routine practices for renewing licenses. Croy's staff, though, followed standard procedure and automatically renewed Med Center's license in 2012 after the clinic passed its annual health inspection. It was a move that ultimately cost Croy his job; he was forced to retire and
Women's Med Center stayed open until August 2014, when the health department took another avenue to revoke its license. This time, the issue was a law that requires abortion clinics to maintain a written transfer agreement with a local hospital. Abortion foes argued that public facilities shouldn't be used to support abortion providers. So in 2013, Kasich signed a budget with a provision that barred public hospitals from entering into these agreements with abortion clinics and instead forced abortion providers to make pacts with private hospitals.
It is this law more than any that has put Ohio's abortion clinics in jeopardy. Private hospitals, for reasons of politics or religious affiliation, frequently refuse to make pacts with abortion providers. Abortion providers who can't find a private hospital as a partner must apply for an exception to the law, called a variance. The final decision rests with the director of Ohio's department of health.
"I thought, okay, now we're on a witch hunt. And they're gonna look for whatever they can to shut me down."
Abortion providers see the process as stacked against them: A clinic must meet strict benchmarks to win a variance, including showing the department that local doctors are available in case of emergency. But under the rules created for the 2013 budget, the health director can deny the variance for any reason.
In January 2014, claiming that Women's Med Center had been uncommunicative in its dealings with the department, the director of the health department, Ted Wymyslo, denied the clinic's variance application. He did not cite any safety or health issues at the clinic itself.
Mainstream medical groups consider transfer agreements for abortion clinics to be a formality at best and onerous at worst. Federal law already requires hospitals to see patients with emergency needs. More to the point, abortion is exceedingly safe: Colonoscopy exams have a mortality rate about 40 times that of abortions.
Jerry Lawson, the CEO of Planned Parenthood of Southwest Ohio, says the group's clinic in Cincinnati has transferred only four of 14,000 patients to the hospital in the past five years—in one case, for an emergency unrelated to abortion.
Still, Planned Parenthood's Cincinnati clinic, the only abortion clinic in a metropolitan area of 2.1 million people, found itself on the path to being shut down by Kasich's health department late last year. The ban on public hospitals caused Planned Parenthood to lose its transfer agreement with the University of Cincinnati Medical Center. Unable to find a private hospital willing to replace it, Planned Parenthood applied for the variance in the fall of 2013.
Then came silence. The application sat with the health department for 14 months, a delay that ensnared Planned Parenthood in a catch-22: As the group waited for the decision, health department officials making their annual inspection of Planned Parenthood faulted the clinic for its inability to produce either a transfer agreement or a variance. The department made preparations to revoke Planned Parenthood's license. In the end, the clinic survived by filing a federal lawsuit to force the department to respond to its original application. The health department granted the exception in November.
Susan Postal knew she faced a similar fight over Center for Choice, an abortion clinic she owned in Toledo, after the new rules caused the clinic to lose its transfer agreement with the University of Toledo Medical Center in 2013. She spoke to lawyers and calculated that the legal fees from a battle with the health department might personally bankrupt her—and she still might lose. "I wasn't going to toss money out the door to find out," Postal says. Rather than fight for the variance, she decided to close her clinic. Postal says she made up her mind after a health department inspector showed up at Center for Choice to investigate an anonymous complaint. The complaint was about cleanliness, but the inspector asked to see her narcotics cabinet. "I thought, okay, now we're on a witch hunt," she recalls. "And they're gonna look for whatever they can to shut me down."
Neither the Ohio Department of Health nor Kasich's campaign replied to questions for this article. Abortion foes maintain that the need for transfer agreements is one of safety. "The state is closing bad clinics, ones that are not operated according to the letter of the law," says Gonidakis, the Right to Life president. "At the end of the day, those clinics that closed on Gov. Kasich's watch, a lot of them are due to self-inflicted wounds."
But only one abortion clinic out of the eight that closed after Kasich took office, Capital Care Network in Akron, shut down because a health inspection of the facility turned up issues that threatened patient safety. Lawson, the Planned Parenthood CEO, says that if safety were really an issue, Ohio wouldn't have blocked its public hospitals from making transfer agreements with abortion clinics. "That fact alone tells the lie," he says. "If anything, you would encourage them to be involved."
"At the end of the day, those clinics that closed on Gov. Kasich's watch, a lot of them are due to self-inflicted wounds."
Planned Parenthood and other clinics operating in Ohio are still at risk, because clinics with a variance must ask the head of the health department to renew it on an annual basis. The current head is Rick Hodges, a longtime abortion foe. (Wymyslo retired in 2014.) As a state legislator in the 1990s, Hodges was a member of the "caveman caucus," so called because of their ultraconservative positions on issues like abortion. Before Kasich appointed him to lead the health department, Hodges directed the Ohio Turnpike and Infrastructure Commission. His scant health care experience raised questions, which were ultimately dismissed, about whether he was legally eligible to run Ohio's health department. "We still call him Highway Hodges," says Kellie Copeland, the director of NARAL Pro-Choice Ohio.
Planned Parenthood sent Hodges' office a new application in May. The Women's Med Center in Dayton sent one in June. Neither has received a final ruling from the director.
Meanwhile, this summer, Kasich upped the ante. He signed a new law that gives the director of the health department 60 days to rule on the applications. If 60 days pass without any action, an abortion clinic's application is automatically denied, with no avenue for appeal. The law goes into effect at the end of September. At that point, Lawson says, the clock will start on Planned Parenthood's request to the health department, and by extension, its license. The group is suing to strike down the law.
If all this sounds bureaucratic, says Postal, who owned Center for Choice, it's supposed to be that way. "Kasich is discreet," she says. "You'll never hear him rant or rave about abortion and what he's doing to put a stop to it in Ohio." With Kasich, she says, "actions speak louder than words."