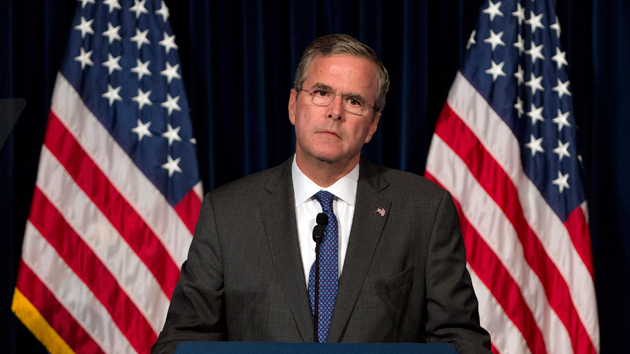 Fight disinformation:
Sign up
for the free
Mother Jones Daily
newsletter and follow the news that matters.
Did Jeb Bush help launch a covert mission to airlift thousands of Ethiopian Jews to Israel in the 1980s, saving them from starvation?
He says he did. Twice in the past week his campaign has posted blog posts on its website making this claim in order to tout Bush's record on Israel and to show his foreign policy chops. One reads:
In the 1980's thousands of members of the Jewish community had fled their homeland due to famine for a refugee camp in Sudan. Jeb, hearing of the conditions in the camp and the persecution these Jews were suffering, suggested to Reagan-Bush officials that the United States had a duty to support a massive airlift. The resulting effort, Operation Moses, made history when Israeli planes, with American support, brought these Jews to the homeland of the Jewish people, the State of Israel.
But Bush's campaign boast is false. Bush, then 31 years old and a fledgling developer in Miami, had nothing to do with with Operation Moses, the secret operation that rescued nearly 8,000 Jews in Africa. And he played no role in triggering the rescue effort by prodding the Reagan-Bush administration to take action. However, he—and several other Americans—did play a bit part in a subsequent effort to rescue about 900 Ethiopian Jews left behind when Operation Moses was halted abruptly in early 1985.
Here's what happened:
In the mid-1980s, Ethiopia was struck by a drought and famine that ultimately killed 400,000 people. The famine sent thousands of Ethiopians fleeing to neighboring Sudan, where they ended up in refugee camps along the border. Among those fleeing were about 12,000 black Jews who are sometimes referred to as the lost tribe of Israel. The Ethiopian Jews claimed a lineage to Solomon and the Queen of Sheba, and when they started walking to Sudan, many believed they were fulfilling an ancient prophecy in which they would be led back to Jerusalem.
The Israeli government was, in fact, helping to fulfill that prophecy. Since 1978, the Jewish state had been secretly smuggling small numbers of Jews out of Ethiopia. Once the famine hit Ethiopia, thousands of Jews started turning up in refugee camps in Sudan, a country with a large Muslim population and which is officially a foe of Israel. The Ethiopian Jews in the camps were dying at a much higher rate than other refugees, in part because of anti-Semitism. So the Israelis stepped up their rescue mission. Between November 1984 and January 1985, in a plan hatched by Jerry Weaver, then the refugee affairs coordinator at the American embassy in Khartoum, the Israelis used a Belgian airline to airlift nearly 8,000 starving Ethiopian Jews out of Sudan. This remarkable and successful covert operation was called Operation Moses.
The operation, though, came to a screeching halt after Israel inexplicably announced its existence in January 1985. Arab governments were in an uproar, as was Ethiopia's. Sudan put a halt to the mission, leaving about 900 Ethiopian Jews stranded in refugee camps. In a front-page interview with the New York Times' Judith Miller shortly after the operation became public, Sudanese President Jafaar Numeiri claimed that the Ethiopian Jews were free to leave, but he said he couldn't let them go to Israel, which, he said, "knows that I am its enemy."
The public plight of the Ethiopian Jews, many of whom were still walking to Sudan in hopes of a plane ride to Israel, caught the attention of several wealthy Jewish Americans, who saw a chance for the United States to atone for its failure to save European Jews during World War II. They began a lobbying campaign to push the Reagan-Bush administration to intervene and pick up where the Israelis had left off. Phil Blazer, the California founder of Jewish Life TV, and some other wealthy backers arranged to charter a private plane that would rescue the Jews. But "the CIA got all pissed off at me," Blazer told me, and he canceled the mission.
Blazer then sought help from Sens. Alan Cranston (D-Calif.) and Alfonse D'Amato (R-N.Y.). The pair jumped on the cause and managed in a single day to get all 100 US senators to sign a secret letter to President Ronald Reagan requesting a US rescue mission for the Jews in Sudan. The letter was delivered to the White House on February 21, 1985. (Members of the House drafted a similar letter.)
Meanwhile, Vice President George H.W. Bush was scheduled to visit Sudan and other famine-ravaged areas of Africa 11 days later. Blazer wanted to meet with Bush in Washington before the trip to press for an airlift. He says Secretary of State George Shultz was unhappy with the Israelis for blowing up Operation Moses and didn't want Blazer to meet with Bush or the US to get involved with rescuing the remaining refugees.
So Blazer tried to pull some strings to ensure that Bush would see him. He asked Hollywood film producer Jerry Weintraub, a close friend of the Bush family, to call the vice president and ask that he meet with Blazer. Weintraub made the call.
Blazer also contacted another friend, Ronald Krongold, a Florida real estate developer who was active in Jewish causes—and who was a friend of Jeb Bush. Two years earlier, Krongold had escorted Jeb and his wife on a trip to Israel (using airline tickets he got from Blazer for the Bushes).
Blazer says he asked Krongold to get Jeb to try to ensure that the vice president would see Blazer. (Krongold did not respond to a request for comment.) Jeb did, and in the middle of a big lobbying campaign—with all the senators and others pressing the White House—George H.W. Bush had a private audience with Blazer. Blazer presented the vice president with a book about the US government's refusal to rescue European Jews during World War II. Blazer recalls that the vice president was deeply moved by the plight of the Ethiopians. The day before the vice president left for Khartoum, he sent Blazer a note saying, "I really want to help."
George H.W. Bush made good on his promise and persuaded President Numeiri to allow the United States to fly the rest of the stranded Jews out of the country, in what would become known as Operation Joshua. (The Israelis dubbed it Operation Sheba). About two weeks after the vice president left Sudan, Blazer says he got a call from him: "He tells me that in 45 minutes, 1,000 Jews will be arriving in Israel." About 10 C-130 transport planes flown by US Air Force pilots had swooped into Sudan and gathered up the refugees.
Blazer says he's surprised that Jeb Bush hasn't hyped this story more on the campaign trail. But how much credit can he claim? Congress was already leaning on the White House; others were calling for the Reagan-Bush administration to take action. "The way I look at it is that Jeb Bush and Jerry Weintraub were important in making the meeting between myself and the vice president happen," Blazer says. "They were involved. Who was the more important catalyst? I don't know. But they were both involved."
In any event, Jeb had nothing to do with the original Operation Moses. The Bush campaign did not respond to a request for comment. His participation in the lobbying campaign that led to Operation Joshua may have been important, but it doesn't match his claim that a major and top-secret rescue mission resulted due to his involvement. Blazer doesn't care; he is supporting Bush in 2016. "Jeb, I owe him for the rest of my life," Blazer says. "He's part of this family of Operation Joshua. Whatever degree he was helpful, he was helpful in saving lives."
Update 9/3/15: After this article was published, the Bush campaign altered its website page that boasted of Bush's crucial role in Operation Moses. The new version substituted "Operation Joshua" for "Operation Moses." But the site is still wrong. Bush did have a tangential role in Operation Joshua, yet his campaign site now describes the mission as one that "made history when Israeli planes, with American support, brought these Jews to the homeland of the Jewish people, the State of Israel." That description is not accurate. It fits Operation Moses, not Operation Joshua. During Operation Joshua, US Air Force pilots flew the American—not Israeli—C-130 planes that that took the 900 or so Ethiopian Jews to Israel. Sudan had prohibited Israel from rescuing any more Jews from the refugee camps there, so the United States took over the job.