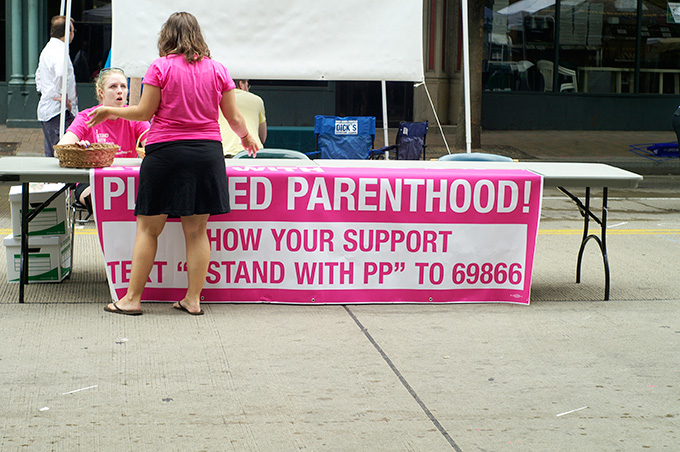 Fight disinformation:
Sign up
for the free
Mother Jones Daily
newsletter and follow the news that matters.
Yesterday, an eight-minute undercover video alleged that Planned Parenthood, the nation's largest provider of contraceptive and abortion services, profits off the sale of "baby parts," catching the attention of abortion foes everywhere.
Speaker John Boehner
called
for President Obama to "denounce, and stop, these gruesome practices."
Now conservative presidential hopefuls are weighing in. Louisiana Gov. Bobby Jindal has announced the Louisiana Department of Health and Hospitals will investigate the claims made in the video, in part because Planned Parenthood plans to open a $4 million clinic in New Orleans. Texas Gov. Rick Perry called the video "A disturbing reminder of the organization's penchant for profiting off the tragedy of a destroyed human life."
House Speaker John Boehner called for Health and Human Services Secretary Slyvia Burwell and President Obama to "denounce, and stop, these gruesome practices." In a short written statement, he said: "Nothing is more precious than life, especially an unborn child. When anyone diminishes an unborn child, we are all hurt, irreversibly so. When an organization monetizes an unborn child—and with the cavalier attitude portrayed in this horrific video—we must all act."
There's just one problem: It's not clear whether key revelations in the video, which has cleared 1 million views on its YouTube page, are accurate. In it, Planned Parenthood Senior Director of Medical Services Deborah Nucatola is shown having a meal in a restaurant and discussing the tissue donations with what the nonprofit claims are "actors posing as buyers from a human biologics company." She says the clinics "absolutely" want to accommodate patients who want to make donations. "They just want to do it in a way that is not perceived as, 'This clinic is selling tissue, this clinic is making money off this,'" she says in the video.
But Media Matters, a a nonprofit "dedicated to comprehensively monitoring, analyzing, and correcting conservative misinformation in U.S. media," found that key elements of Nucatola's conversation were cut out.
Key parts of the Planned Parenthood director's conversation were cut out from the video.
Nucatola discusses pricing for tissue in the video, giving the impression that there is a profit involved.
Media Matters notes that the unedited footage shows a nearly eight-minute conversation regarding the basic reimbursement costs for the legal donation process in which Nucatola also says, "Nobody should be selling tissue here. That's not the goal." This statement does not appear in the viral video. In the unedited version of the video, Nucatola repeatedly refers to the process as "tissue donation," not "tissue sale." In its statement on the video, Planned Parenthood notes that only the actual costs, such as the cost to transport tissue, are reimbursed, which is the standard in the medical field.
The group behind the video is the Center for Medical Progress, a nonprofit associated with the Life Legal Defense Foundation, an anti-abortion group that "supported" the undercover project and regularly aggregates abortion horror stories and anti-abortion legislative victories.
In its statement, Planned Parenthood said that the "well-funded group" operates solely to damage Planned Parenthood, and that the video "falsely portrays Planned Parenthood's participation in tissue donation programs that support lifesaving scientific research." This is not the first such "sting video" the abortion provider has confronted—Live Action, a conservative anti-abortion group, has been making similar videos since 2007.
The Center for Medical Progress describes itself as an organization composed of citizen journalists "dedicated to monitoring and reporting on medical ethics and advances." A blog post dated July 6, 2015 is the first sign of its existence and introduces the organization and conveyed its mission to create "a world in which medical practice and biotechnology ally with and serve the goods of human nature and do not destroy, disfigure, or work against them."
Planned Parenthood, meanwhile, explained in its statement that fetal tissue has been an essential part of significant medical studies because of its rapid cell division and its adaptive nature. A version of the rubella vaccine came from fetal tissue, and the 1954 Nobel Prize for Medicine went to scientists who used the tissue to develop a polio vaccine using cultures from fetal kidney cells.
"In health care, patients sometimes want to donate tissue to scientific research that can help lead to medical breakthroughs, such as treatments and cures for serious diseases," it said. "Women at Planned Parenthood who have abortions are no different. At several of our health centers, we help patients who want to donate tissue…just like every other high-quality health care provider does—with full, appropriate consent and under the highest ethical and legal standards."