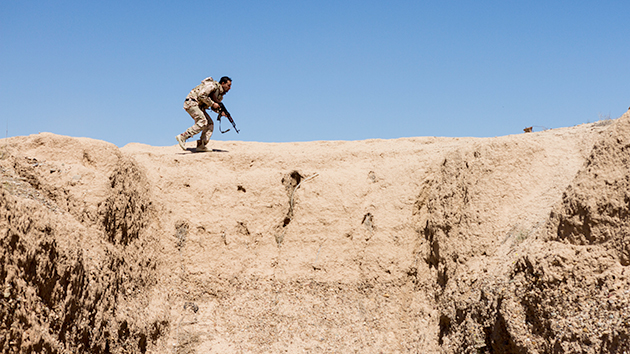 On Monday, Democratic presidential candidate Martin O'Malley made an astute observation about ISIS in an interview with Bloomberg.
"One of the things that preceded the failure of the nation-state of Syria, the rise of ISIS, was the effect of climate change and the mega-drought that affected that region, wiped out farmers, drove people to cities, created a humanitarian crisis [that] created the…conditions of extreme poverty that has led now to the rise of ISIL and this extreme violence," said the former Maryland governor.
Republicans were quick to seize on the comment as an indication of O'Malley's weak grasp of foreign policy. Reince Priebus, chair of the Republican National Committee, said the suggestion of a link between ISIS's rise to power and climate change was "absurd" and a sign that "no one in the Democratic Party has the foreign policy vision to keep America safe."
Here's the thing, though: O'Malley is totally right. As we've reported here many times, Syria's civil war is the best-understood and least ambiguous example of a case where an impact of climate change—in this case, an unprecedented drought that devastated rural farmers—directly contributed to violent conflict and political upheaval. There is no shortage of high-quality, peer-reviewed research explicating this link. As O'Malley said, the drought made it more difficult for rural families to survive off of farming. So they moved to cities in huge numbers, where they were confronted with urban poverty and an intransigent, autocratic government. Those elements clearly existed regardless of the drought. But the drought was the final straw, the factor that brought all the others to a boiling point.
Does this mean that America's greenhouse gas emissions are solely responsible for ISIS's rise to power? Obviously not. But it does mean that, without accounting for climate change, you have an incomplete picture of the current military situation in the Middle East. And without that understanding, it will be very difficult for a prospective commander-in-chief to predict where terrorist threats might emerge in the future.
The link between climate and security isn't particularly controversial in the defense community. Earlier this year, President Barack Obama called climate change an "urgent and growing threat" to national security. A recent review by the Defense Department concluded that climate change is a "threat multiplier" that exacerbates other precursors to war, while the Center for Naval Analysis found that climate change-induced drought is already leading to conflict across Africa and the Middle East.
In other words, O'Malley's comment is completely on-point. If Priebus and his party are serious about defeating ISIS and preventing future terrorist uprisings, they can't continue to dismiss the role of climate change.