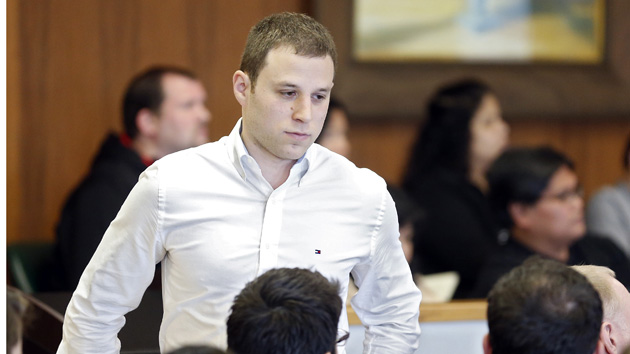 Fight disinformation:
Sign up
for the free
Mother Jones Daily
newsletter and follow the news that matters.
In a landmark decision on Thursday, a jury in New Jersey found a so-called gay conversion therapy group guilty of violating the state's consumer fraud law by claiming it could help change people's sexual orientation from gay to straight.
The group, Jews Offering New Alternatives for Healing (JONAH), is a conversion therapy referral service based in Jersey City. The lawsuit was filed by the Southern Poverty Law Center on behalf of three former clients and two mothers whose sons participated in the therapy. The plaintiffs said they were subjected to humiliating treatments with therapists recommended by JONAH, and argued that the group had used deception to lure them into therapy.
"You can't tell gay people they're sick so that you can sell them a bogus cure," Lina Bensman, a lawyer for the plaintiffs, told Mother Jones.
"You can't tell gay people they're sick so that you can sell them a bogus cure."
In a pretrial decision in February, Superior Court Judge Peter F. Bariso Jr. ruled that therapists who claim homosexuality is a curable mental disorder are committing consumer fraud. The trial began earlier this month and included heated testimonies from both sides. During closing arguments on Wednesday, JONAH's lead attorney Charles LiMandri called the plaintiffs "flat-out liars," claiming they had spoken positively about their therapy initially but later changed their stories.
In any case, their testimony convinced the jury that JONAH relied on dicey methods and a refuted definition of homosexuality as a disorder. Chaim Levin, a 26-year-old former client, recalled a therapy exercise in which he was instructed to make a negative comment about himself before removing an article of clothing, repeating the process until he was naked, at which point he was told to touch his private parts. During group therapy, clients were allegedly encouraged to reenact scenes of past sexual abuse. "They told me to pick someone to represent my cousin, my abuser, and someone to represent the childhood version of me," Levin said, according to a transcript of his testimony. He added that the person representing his cousin kept saying, "If you don't give me a blow job, I'm not going to love you anymore."
The jury ordered the defendants pay a total of $72,400 in damages to the plaintiffs—three times the amount the plaintiffs paid for JONAH's program, and covering the additional costs one plaintiff paid for subsequent therapy to recover, the Southern Poverty Law Center wrote in a statement. The judge will make a decision later about the SPLC's request to revoke JONAH's license.
Conversion therapy has been rejected by major health organizations, including the American Psychiatric Association, which scrapped homosexuality from the list of disorders in its Diagnostic and Statistical Manual of Mental Disorders in 1973. Late last year, a transgender teenager in Ohio committed suicide after participating in conversion therapy, sparking a campaign for a federal ban on the practice. New Jersey, California, and Washington, DC, have laws banning licensed conversion therapists from working with minors.