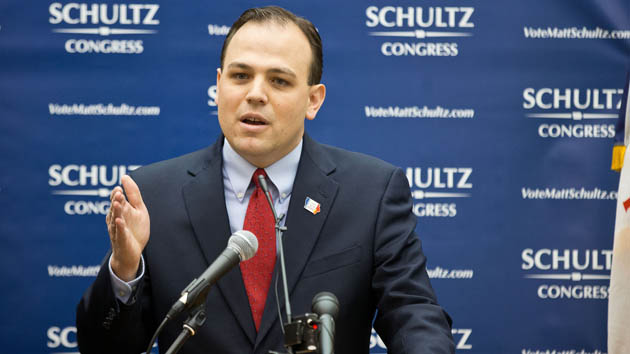 Fight disinformation:
Sign up
for the free
Mother Jones Daily
newsletter and follow the news that matters.
Ted Cruz's presidential ambitions may well live or die with the Iowa Republican caucuses. In recent years, the Hawkeye State has served as the launching pad for candidates courting social conservatives, handing caucus wins to Rick Santorum in 2012 and Mike Huckabee in 2008. The Texas senator hasn't been too subtle in his attempts to claim the same mantle. Cruz announced his campaign in March at Liberty University—founded by Jerry Falwell, the late televangelist who once suggested 9/11 was God's punishment for homosexuality and abortion—and during an initial trip to Iowa for a "Faith and Freedom Coalition" conference Cruz argued for allowing Christian symbols in public spaces. But perhaps his best play so far has been snagging former Iowa Secretary of State Matt Schultz to be his state chairman there, considering that three years ago Schultz was a prominent supporter of Santorum, who is about to announce his 2016 presidential bid.
By tapping Schultz, Cruz also tied himself to Schultz's leading cause: trying to restrict voting under the guise of combating voter fraud. During his four years as secretary of state, Schultz spent hundreds of thousands of taxpayer dollars to unearth evidence of fraud but ended up finding little and being cited for the mismanagement of public funds.
Schultz was a little-known political figure in 2010, when he vaulted from two terms on the Council Bluffs City Council to be elected secretary of state. At 31 years old, he was the youngest person ever to hold that title. It was a small campaign, with just $100,000 spent on his Republican primary contest and the general election. He campaigned for tightening up Iowa's voting procedures, creating strict photo ID laws, and scaling back the state's same-day voter registration policy.
Thanks to a Democratic majority in the state Senate, Iowa held off on passing any sort of photo ID voting requirement. Schultz may have failed to get that measure past the state Legislature, but on his own he went to great lengths to prove that voter fraud was a menace to the state's electoral system.
"You have to start caring about voter ID and election integrity," Schultz said in 2013. "Because they will cheat! They'll cheat. And we need to make sure we stop them."
He spent more than $250,000 to fund a full-time investigator tasked with uncovering voter fraud. The investigator produced only six successful prosecutions during two years on the job. A 2014 report issued by Schultz's office recorded only 117 suspected cases of illegal voting during a two-year period, 27 of which led to charges. Yet Schultz's investigation inadvertently showed that the system shuts out almost as many legitimate voters, as the report noted that 20 ex-felons who should have been allowed to vote were turned away from the polls.
Schultz paid for that investigator with funds provided by the federal government's Help America Vote Act, a 2002 law intended to make access to the ballot easier, not more restrictive. In 2013, the state auditor's office sent a letter to Schultz suggesting that he may have been misusing those federal funds—fighting voter fraud wasn't on the list of approved uses for this money—and the auditor recommended that Schultz come up with a plan to repay the funds.
Schultz took other steps to restrict voting. Shortly before the 2012 election, he tried to purge state voter rolls of more than 3,500 people who he claimed were illegal voters after his office checked their names against national immigration databases and supposedly determined they weren't citizens. Iowa judges repeatedly rejected this move as an illegal overreach of Schultz's powers, and civil rights groups objected that his methods would sweep out legitimate voters alongside those who weren't eligible to vote. The legal process dragged on for years. Resolution didn't arrive until this past March, when Schultz's successor as secretary of state, Republican Paul Pate, dropped an appeal to the state Supreme Court that Schultz had initiated.
Schultz framed his voter fraud fight as a necessary step for Republicans who want to enact conservative policy. "There are a whole lot of issues that we care about, abortion, gay marriage, a whole lot of social issues that we care deeply about," Schultz said at a 2013 conference in Iowa, caught on tape by ThinkProgress. "But you have to start caring about voter ID and election integrity as well, because if you don't have that, you'll never be able to make a difference in any other issue you care about. Never. Because they will cheat! They'll cheat. And we need to make sure we stop them."
Instead of seeking reelection as secretary of state in 2014, Schultz ran for an open congressional seat. He was the favorite of the conservative base in that race, but the once-rising star of the party finished third in a field of six candidates in the GOP primary. After that, Schultz lowered his ambitions and won a race to become Madison County attorney in November.
Cruz's views on voter ID don't seem far off from Schultz's. In 2013, while the Senate was debating a comprehensive overhaul of the country's immigration laws, Cruz introduced an amendment that would have allowed states to require "proof of citizenship" photo ID laws. That same summer, Cruz applauded the Supreme Court's decision to strike down key parts of the Voting Rights Act, a decision that has opened the floodgates for voter-suppression laws across the country.
By snatching Schultz away from Santorum, Cruz has boosted his appeal to Iowa social conservatives, especially those who share the notion that voter fraud is a real and present danger.