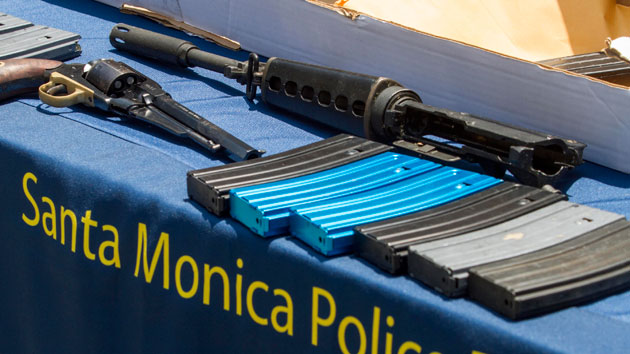 Fight disinformation:
Sign up
for the free
Mother Jones Daily
newsletter and follow the news that matters.
It's perfectly legal to build your own unregistered and untraceable semi-automatic firearm if you buy the components online and craft the gun "for personal use." But handing off such a gun in private sale that doesn't require background checks is another matter. Last March, a team of state and federal law enforcement agencies concluded a five-month investigation by charging four California men with illegal firearms trafficking for doing exactly that. Many of the 50 weapons seized were home-assembled assault-style rifles, constructed from parts purchased legally.
"These weapons are particularly dangerous because they bear no manufacturer markings or serial numbers, making them virtually impossible to trace," said Bureau of Alcohol, Tobacco, Firearms and Explosives Special Agent in Charge Carlos A. Canino in a statement.
Two of the men charged—Clay Bautista-Marquez and Matthew Nutt—allegedly sold three homemade AR-15-style rifles to a confidential informant with a criminal record last December. A month later, Christian Romero built two AR-15s in front of the same informant and sold him the completed weapons for $2,100. The fourth man, Michael Martin, was arrested for having two unregistered silencers. Late last month, Romero reached a plea agreement. Bautista-Marquez is scheduled for a change of plea today, and the other cases are pending, according to a Department of Justice spokesperson.
In the summer of 2013, I attended a "build party" where gun enthusiasts gathered to build untraceable Kalashnikov-style rifles, made legal by a few simple bends of metal. (See the video below.) The barrel, trigger guards, trunnions, stock, and other components can be ordered online; these parts kits are often sourced from stockpiles in former conflict zones. But receivers—the box-shaped central piece of a firearm that houses the mechanical parts, and in legal terms makes a gun a gun—are highly regulated and can't be purchased without a background check.
To get around the background check requirement, home builders buy "unfinished lower receivers" (also known as ULRs or "80 percent lower receivers" because they're 80 percent complete). For AKs, these amount to pre-drilled metal platforms that must be bent into shape to become operational. When it comes to the law, it's just a hunk of metal until it's bent, and so long as you bend the receiver yourself to finish the gun, you don't have to stamp in a serial number or pass any background checks.
Though building at home is largely considered a gun hobbyist's pastime, a Fusion investigation last year revealed that these guns are increasingly being used in violent crimes. Since parts kits and unfinished lower receivers can be purchased without background checks, they leave little to no paper trail. As far as law enforcement is concerned, the finished weapons don't even exist.
From the Fusion investigation:
It's impossible to know how many weapons built with unfinished receivers there are, since they're not regulated, but two vendors, Dimitri Karras of Ares Armor in California, and another based in Florida, told Fusion they expect to sell around 75,000 unfinished receivers this year. An agent from the California Department of Justice told Fusion that the growth in unfinished receivers in the last two years is unlike anything he's seen in more than a dozen years on the job. The California Department of Justice and ATF agents in California—the epicenter of the homemade gun industry, likely because of its stringent gun laws—told Fusion that they were finding more and more of these guns at crime scenes and in the hands of organized crime.
The Santa Monica shooting in June 2013 is a high-profile example of homemade guns used in violent crime. After killing his father and brother, burning down his house, and then stealing a car, John Zawahri went on to kill three others before being shot himself. Two years before his rampage, he'd been unable to purchase a firearm because of a failed background check, so he went online and bought the components to make the AR-15-style rifle he used in his spree. Earlier in 2013, 22-year-old Michael Yarbrough was sentenced to 10 years in prison after purchasing 900 AK-47 parts kits in seven months. That was legal, but selling off the guns he made was not: 11 of his guns were found in Mexico, one at the crime scene of a triple homicide.
The arrests in March are another example of how these firearms easily can enter the black market. The ATF is in a tricky position, having to navigate between not interfering with gun enthusiasts' legal hobby and cracking down on criminals who peddle these weapons. And the line between the two is not always easily distinguishable. As I wrote back in 2013 after building my own assault rifle: "Since this AK is untraceable to begin with, who's to know how I choose to unload it?"