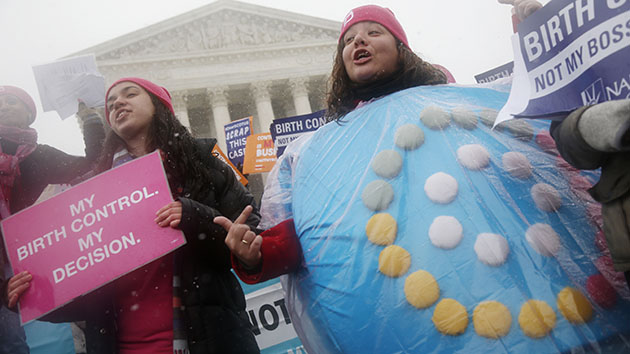 Fight disinformation:
Sign up
for the free
Mother Jones Daily
newsletter and follow the news that matters.
Ladies, if you've gone to the doctor in recent years expecting your contraception or ultrasounds to be free, only to be slammed with a co-pay or other charge from your insurer, it's likely your insurer is violating the Affordable Care Act.
Thanks to Obamacare, insurance companies are now required to provide women with a host of coverage options, from free access to all FDA-approved birth control methods to preventative care to maternity care. But just because it's a legal requirement doesn't mean it's happening. According a new report released Tuesday by the National Women's Law Center, insurance plans are not providing all the benefits women won under Obamacare.
NWLC found many plans that were not actually providing cost-free access to the full range of birth control options required under the ACA. Of the more than 100 insurance providers surveyed, NWLC discovered thirty-three insurers in 13 states are not complying with birth control coverage requirement.
The compliance issues went well beyond birth control. The report, which surveyed plans for sale on state and federally-run insurance marketplaces in 15 states over two years, found violations "related to maternity care, birth control, breast-feeding support and supplies, genetic testing, well-woman visits, prescription drug coverage, care related to gender transition for transgender individuals, chronic pain treatment, and certain pre-existing conditions," according to NWLC. Due to the sheer number of violations the group found, it predicts the problem is "systemic nationwide."
The report calls on state and federal regulators to more closely monitor the plans being sold in the individual marketplaces. The report also proposes that insurance plans be made open to public comment so that advocates can review the plans and point out any violations before regulators certify the plans.
In another report released earlier this month, the Kaiser Family Foundation reviewed 20 carriers' compliance with the ACA's birth-control mandate and also found violations. Of the 20 carriers Kaiser reviewed, only 11 provided cost-free coverage of the emergency birth control pill ella, which has a longer window of effectiveness than the standard progestin-based Plan B, particularly for women with a higher body mass index. Two of the carriers didn't cover ella at all.