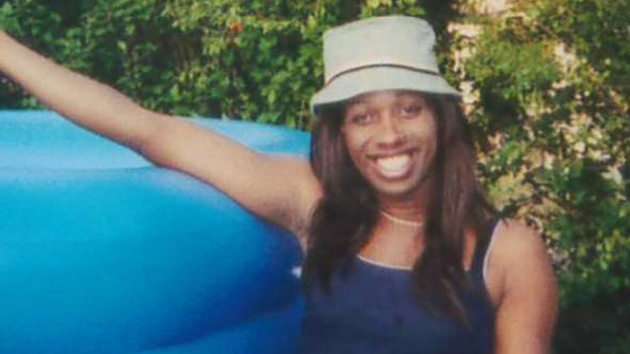 Fight disinformation:
Sign up
for the free
Mother Jones Daily
newsletter and follow the news that matters.
In December 2013, Ashley Diamond, a transgender woman locked up at a men's state prison in Georgia, found herself in solitary confinement. Rutledge State Prison warden Shay Hatcher, she says, put her there for "pretending to be a woman." The 36-year-old Diamond, who was first diagnosed with gender dysphoria as a teenager, had been denied hormone therapy since entering the prison system in 2012. She still identified as a woman, even as her body was becoming more masculine, causing her extreme anxiety and physical pain.
Later that month, Diamond claims, Hatcher sent her to solitary for a second time after she met with lawyers. About six days later, still in isolation, Diamond told him that she was not pretending, but rather had serious medical needs requiring treatment—and that she was suicidal due to her lack of care. That same day, Diamond tried to cut off her penis with a razor and kill herself; she was hospitalized on an emergency basis. She then received a letter from the medical director of the Georgia Department of Corrections (GDC), saying that the officials who had confiscated her women's clothes and refused to provide her with hormone therapy had handled matters "appropriately."
Now, Diamond is taking her grievances to court. Last month, the Southern Poverty Law Center initiated a lawsuit on her behalf that accuses eight current and former GDC employees of wrongfully denying her hormone therapy against the recommendations of doctors, and of failing to protect her from at least seven cases of sexual assault. Court documents, including copies of correspondences between Diamond and prison authorities, allege numerous incidents in which officials mistreated and outright harassed her. (The GDC declined to comment.)
"I am not trying to be difficult or make my way hard," Diamond wrote in a February letter to the GDC commissioner. "I just want to do my time safely and go home."
Since stopping her hormone therapy, Diamond says she has experienced chest pain, muscle spasms, heart palpitations, vomiting, dizziness, hot flashes, and weight loss. Stephen Sloan, a GDC psychologist who met with Diamond in both December and January, noted that she is staying in a prison where the atmosphere is homophobic, with little support for sexual minorities. "She continues to require hormone therapy and gender role change if she is to receive adequate care," he wrote in a report after the second meeting. "Withholding this therapy from her increases her risk of self-harm."
As her body has transformed, Diamond has tried to kill herself at least three times and has tried to castrate herself four times, in addition to attempting to cut off her penis. She is seeking an injunction requiring the resumption of hormone therapy; the right to express her female identity through grooming, pronoun, and dress; and safe placement in a medium security or transitional facility. She secretly filmed a video statement from behind bars; here's what she had to say:
Transgender women inmates are among the most vulnerable in American prisons, facing a high risk of sexual violence and harassment from other inmates as well as staff, who often house them with men and refer to them with the wrong pronoun. One study in 2007 found that 59 percent of transgender women detained in men's facilities in California were sexually abused, compared with 4 percent of male inmates. Laverne Cox, the first openly transgender actress to be nominated for an Emmy, has helped bring broader attention to some of these issues with her role on as Sophia Burset, a trans inmate forced to stop estrogen therapy on the hit TV show Orange Is the New Black. And in a high-profile legal case earlier this month, Chelsea Manning (formerly Bradley Manning, the soldier who was convicted of sending classified documents to WikiLeaks) made national headlines when she received the go-ahead to begin hormone therapy in a military correctional facility after suing the government.
Federal prisons are required to provide inmates with individualized medical care, including hormone therapy, but at the state level it's a different story. While some states do require individualized medical care at prisons, others, like Georgia, have policies in place that specifically prevent transgender inmates from accessing treatment despite recommendations from medical professionals. (BuzzFeed's Jessica Testa has written at length about the state's treatment of trans inmates, including Diamond and Zahara Green.)
In April 2012, Diamond was imprisoned due to a parole violation for an earlier theft. She had been taking estrogen treatments, progestin creams, testosterone blockers, and anti-androgen medications for 17 years. Even so, prison authorities terminated her hormone therapy and assigned her to a close-security facility for adult male felons and other inmates with histories of assault and gang affiliation. Less than one month later, six gang members sexually assaulted her, according to court documents. After she complained, she says she was transferred in May 2012 to another close-security facility housing male felons, where she claims she was again sexually assaulted.
GDC mental-health staff evaluated Diamond and diagnosed her with post-traumatic stress disorder. They also reaffirmed the diagnosis she had received as a teenager: that she had gender dysphoria, a serious medical condition listed in the American Psychiatric Association's Diagnostic and Statistical Manual of Mental Disorders. People with gender dysphoria experience severe distress due to a mismatch between their gender identity and biological sex, leading to feelings of "being trapped in the wrong body," according to Dr. Randi C. Ettner, a Chicago-based psychologist who helped write the internationally recognized guidelines for treating people with condition.
In 2013, Diamond was moved to a close-security prison where staff allegedly told her to "guard your booty" because they could not protect her, according to court documents.
Noting Diamond's attempts at self-mutilation, GDC health staff recommended resuming hormone therapy, but prison officials ignored the advice on the grounds that it violated state policy. Georgia, along with some other states, has a "freeze frame policy" that allows state prisons to "maintain" an inmate's transgender status but not to "initiate" any treatment that moves them further along in their physical transformation. In Georgia's case, if prison medical staff do not diagnose someone with gender dysphoria and recommend hormone therapy immediately upon incarceration, the inmate cannot later begin treatment. During her intake processing, Diamond said she was transgender and had been taking hormone therapy, but prison medical staff did not evaluate her for gender dysphoria or recommended treatment until months later. At that point, prison officials said they could not initiate hormone therapy and could only offer mental-health counseling to help Diamond develop "better coping mechanisms."
"For many individuals with gender dysphoria, hormone therapy is effective, essential, and medically necessary treatment," Ettner wrote in a statement as part of the lawsuit. Without access to appropriate care, including hormone therapy and the right to wear clothing reflecting their identity, people with gender dysphoria are "often so desperate for relief" that they try to castrate themselves to eliminate the body's major source of testosterone.
When the recommendations to resume treatment were ignored, Diamond tried to kill herself in late February 2013. She was transferred once more, this time to the medium-security prison where she was placed in solitary confinement twice and tried to kill herself again. This led to another move, to a close-security prison where staff allegedly told her to "guard your booty" because they could not protect her, according to court documents. In January 2014, about a day after her arrival, another inmate allegedly assaulted her, and although Diamond reported the incident, prison staff continued to house her in a cell with her attacker. Over the next few months, she claims to have been assaulted at least three more times by other inmates.
One warden, Valdosta State Prison's Marty Allen, allegedly began referring to Diamond as a "he-she-thing."
Diamond also says she faced harassment from prison officials. One warden, Valdosta State Prison's Marty Allen, allegedly began referring to her as a "he-she-thing" and encouraged staff to ridicule her for acting like a woman. When Diamond petitioned for the right to shape her eyebrows, she claims staff said she was "clearly a man, not a woman," while the warden added, "There is no medically indicated reason for you to adorn your face by manipulating your eyebrows. This is a male facility and your gender is male. You will be required to follow the rules as all other inmates." She continued to attempt suicide and self-castration, until she was transferred back to one of the close-security facilities where she had previously been assaulted. She remains there, at Baldwin State Prison, where her lawyers say she still suffers from suicidal behavior and the compulsion to hurt herself on a daily basis. She is scheduled to remain in GDC custody for eight more years.
"The law is very clear that transgender inmates are entitled to receive medically necessary care, and the law is also clear that transgender inmates are entitled to safe and appropriate housing," Chinyere Ezie, the lead attorney on the case, told Mother Jones. She said the GDC's refusal to provide hormone therapy and protect Diamond from harm violated the Eighth Amendment's ban on cruel and unusual punishment.
Congress passed legislation in 2003 to address the problem of rape and sexual assault in jails and prisons, and national standards adopted later hold that agencies cannot assign a transgender inmate to male or female housing on the basis of "genital status"; they must consider on a case-by-case basis what's best for that inmate's health and safety, while giving serious consideration to his or her perceived views.
In a February letter to GDC Commissioner Brian Owens, requesting her transfer from Valdosta State Prison, Diamond wrote, "I am not trying to be difficult or make my way hard. I just want to do my time safely and go home." In her video statement, she added, "This is more than just about hormone care. This is about gross human rights violations. Three years of torture is enough."
This article has been updated.