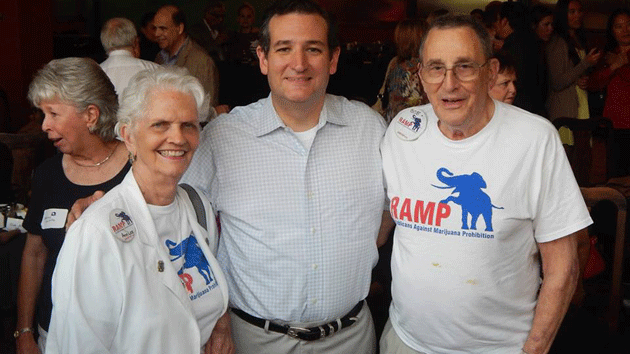 Let our journalists help you make sense of the noise: Subscribe to the
Mother Jones Daily
newsletter and get a recap of news that matters.
Early last year, John Baucum, the political director of a group called Republicans Against Marijuana Prohibition (RAMP), cornered Sen. Ted Cruz at a GOP event in Houston. Cruz, a former Texas prosecutor who talks the talk on states' rights, had criticized the Obama administration for declining to prosecute Colorado pot growers. Baucum wanted to point out the disconnect: "It sounded like you were making an argument against federalism," he recalls telling Cruz.
"I don't believe that when God made marijuana he made a mistake that the government needs to fix."
Perhaps his comment got Cruz thinking, because last week, at the Conservative Political Action Conference in Washington, DC, Cruz reversed course on pot: "Look, I actually think this is a great embodiment of what Supreme Court Justice Louis Brandeis called 'the laboratories of democracy,'" he told Sean Hannity during the Republican go-to event, where RAMP had a table set up. "If the citizens of Colorado decide they want to go down that road, that's their prerogative."
On the heels of CPAC, state representative David Simpson, a Republican from East Texas whom RAMP had lobbied heavily, introduced a new bill that would abolish dozens of state marijuana statutes, essentially legalizing pot in the Lone Star State. "I don't believe that when God made marijuana he made a mistake that the government needs to fix," Simpson wrote in the Texas Tribune. "The time has come for a thoughtful discussion of the prudence of the prohibition approach to drug abuse."
RAMP, launched two years ago in Texas, has 100 dues-paying members and satellite chapters in Maine and North Carolina. The group is a unique voice in a legalization movement dominated by liberal Democrats. Back in December, curious to find out more, I flew down to Houston to attend one of the group's leadership meetings.
"Look at the things Republicans talk about: smaller government, fiscal responsibility, personal responsibility: Prohibition trumps all of them."
At a ranch-style home in the city's conservative Maplewood neighborhood, 10 or so members, including three elected leaders of the Harris County Republican Party, were noshing on Fritos and chile con queso. The abode, owned by 85-year-old RAMP founder Ann Lee, is festooned with Republican keepsakes, including a framed photo of her with Ronald Reagan and Christmas cards from Louisiana Gov. Bobby Jindal and Texas Rep. John Culberson, who represents Lee's district.
Lee, who is casually clad in a fleece jacket, jeans, thick-soled sneakers, and silver hoop earrings, has chaired her GOP precinct since 1968, when her man in Congress was a young upstart named George H.W. Bush. A pro-life Catholic and mother of five, she voted Romney in 2012: "He's very fiscally responsible, and a successful businessperson." But she passionately disagreed with him on her biggest issue: legalizing weed.
Lee never questioned Texas' draconian pot laws until her son, Richard, was paralyzed in a work-related fall. He began using pot to treat muscle spasms. "He looked at us and said, 'Mom and dad, marijuana is good for me,'" she recalled. "I didn't want to hear that, because I had fallen for all of the propaganda."
She founded RAMP in 2012 "to reform marijuana laws by working within the GOP." Prohibition, she told me, "is a very liberal philosophy, really. Look at all the things Republicans talk about: smaller government, fiscal responsibility, personal responsibility. What does prohibition do? It trumps all of them."
The legalization movement hasn't caught on with Republicans because they "always support law and order," Lee continued. "But we have to draw a distinction at bad law. Supporting bad law does not give you law and order. It gives you law and disorder. We are spending all this money every year, the use of it has not gone down, and we just ruin people's lives."
Legalizing pot in red states like Texas may sound like a pipe dream, but RAMP's members come across as a sober lot—judging, at least, from their clear eyes and moderate intake of Fritos. It pays to be cautious around here, in any case; being caught with a joint can land you in a Texas jail for up to 180 days.
The leaders had come to Lee's house to discuss which GOP state reps might be willing to introduce reform legislation. "The big one is David Simpson from Tyler," Lee argued as she leafed through a dog-eared copy of the Texas Legislative Handbook. "He is very strong for it."
"Behind closed doors they will say, 'Yeah, there should be change, but I am not going to be the guy to spearhead that.'"
"But not strong enough to sponsor a bill yet," interjected Baucum, who is also the president of the Harris County Young Republicans. (Upon the introduction of Simpson's pot legalization bill on Monday, a RAMP press release said: "It may be a surprise to some that a Republican from deep-red East Texas is reclaiming marijuana prohibition as a small government issue, but it shouldn't be.")
While only a few states have legalized recreational marijuana, countless cities and states have decriminalized it in recent years. But even though polling suggests that 55 percent of Texas Republican voters support the idea, neither a decriminalization measure introduced late last year by Texas Democrats nor Simpson's legalization bill has yet to attract the backing of other GOP lawmakers. Baucum has personally buttonholed everyone from the state's agricultural commissioner to the chairman of the Harris County Republican Party. "There aren't many Republicans who are willing to take a lead on this issue," he told me. "Behind closed doors they will say, 'Yeah, there should be change, but I am not going to be the guy to spearhead that.'"
There's a similar disconnect nationally: Polls show 25 to 30 percent of Republican voters supporting legalization—for GOP Millenials, it's a whopping 63 percent—yet only a handful of high-profile Republican politicians are pushing for change: That exclusive club consists of Sen. Rand Paul of Kentucky, Rep. Justin Amash of Michigan, Rep. Dana Rohrabacher of California, and Rep. Don Young of Alaska. Of the 17 federal marijuana reform bills currently in play, all but one were introduced by Democrats. So cannabis activists know perfectly well whom they need to convince.
"A lot of people just grow up with a certain thinking about marijuana," says Mason Tvert, a spokesman for the Marijuana Policy Project, which helped push the legalization initiatives in Alaska and Oregon. "But right now there's so much public debate. We need to make sure that conservative-minded folks rethinking their positions are hearing from other conservatives."
Richard, Ann Lee's son, eventually moved to Oakland, California, where he opened up a pot dispensary, a cannabis nursery, and Oaksterdam University, the nation's first cannabis-cultivation school. He funneled profits exceeding $1.5 million into Prop. 19, the state's legalization initiative. His mom flew out to help campaign for the measure, which failed by a seven-point margin. (Reformers are trying again in 2016.) "I think this is the most exciting, the most meaningful thing that I have done in all my years of political activity," she told the Oakland Tribune at the time. "The drug war is so bad—it's the most racist thing we've done since Jim Crow."
Abraham Lincoln: "A prohibition law strikes a blow at the very principles on which our government was founded."
Lee grew up in small-town Louisiana at a time when most white Southerners were still Democrats. She now likes to quote from Abraham Lincoln's stance on the prohibition of alcohol. (A recent study suggests that marijuana is vastly safer than alcohol.) Prohibition "makes a crime out of things that are not crimes," Lincoln said in 1840. "A prohibition law strikes a blow at the very principles on which our government was founded."
Late last month, 22 RAMP members took a bus to the State Capitol in Austin, where they held 30 meetings with Texas lawmakers. The group also plans to meet with GOP women's clubs around the state and is considering putting ads in conservative magazines to highlight the pro-legalization views of Republican favorites such as William F. Buckley and Milton Friedman. And it hopes to establish chapters in many more states.
Many Republicans privately support cannabis reform, members believe, but feel too scared or isolated to come clean—much the way President Obama concealed his support of gay marriage until it was politically safe. Last year, after Bonnie Lugo, a member of the Texas GOP's Executive Committee, tried and failed to enshrine support for medical marijuana in the state party's platform, several delegates approached her to say that medical pot could have helped their dying relatives. More Republicans will come around to legalizing cannabis "when one of their grandchildren or children gets sick, and they need it, and they ask for it," Lugo says. It shouldn't be a partisan thing, she adds. "You are talking about humanity."