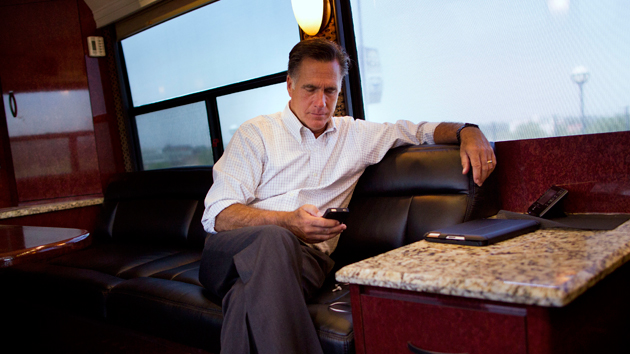 The Hillary Clinton email kerfuffle has revealed that high-tech record-fiddling is a bipartisan phenomenon. It has also showed that for many pols hypocrisy is no reason to forego a political attack. Jeb Bush eagerly slammed HRC for her email shenanigans, despite the fact that he, too, relied upon a private server when he was governor and after leaving office vetted his gubernatorial emails before making them public. Now comes Mitt Romney. In an interview with Katie Couric of Yahoo, the failed Republican presidential candidate blasted Clinton for her (indeed problematic and rules-defying) management of the emails she sent and received as secretary of state. Romney called this "mess" an example of "Clintons behaving badly."
And he poured it on thick: "I mean, it's always something with the Clintons. Which is that they have rules which they describe before they get into something, and then they decide they don't have to follow their own rules. That I think is gonna be a real problem for her." He added: "she chose to say, 'No. I'm not gonna follow those rules and regulations. Not only am I gonna have private email, I'm gonna put the server in my house so that there's no way anyone can find out what was really said.' That is something which is going way beyond the pale."
Romney is now a big fan of transparency and open government. But let's flash back to 2006 and the final days of his stint as governor of Massachusetts, a time when Romney was prepping for his first presidential bid. As the Boston Globe revealed years later, Romney aides wiped the Romney administration's email from the state's server. But they did more than push a delete button. Eleven of his aides purchased their state-issued hard drives, so they could skedaddle with all their records. They also took another step to leave no records behind: they replaced the remaining computers in the governor's office before Romney's Democratic successor, Deval Patrick, took office. The result: almost no trace of Romney and his aide's emails remained.
Secretary of State William Galvin told the Globe it was curious that state property—the hard drives—had been sold to Romney's aides. "I don't sell things to people who work for me," he remarked. "I've heard of people getting their chair or something as a gift. But generally if you work for me you don't take your laptop with you when you leave."
Replacing the computers in the governor's office, Reuters reported, cost almost $100,000. And Theresa Dolan, former director of administration for the governor's office, told the news service that Romney and his crew's attempts to eradicate or control records from his governorship were unprecedented.
Despite the Romneyites' best efforts, a few Romney emails did survive. In June 2012, the Wall Street Journal revealed that Tom Trimarco, Romney's administration and finance secretary, did not delete his emails, including messages about official business that went to and from Mitt Romney, who was using a personal Hotmail account for these exchanges. These emails were a political embarrassment for Romney, for they depicted him deeply involved in the negotiations to pass his Obamacare-like health care bill and actively defending the individual mandate to purchase health insurance—a key provision in President Barack Obama's health care law much despised by Republicans.
It seems that Romney and his gubernatorial aides realized their emails could pose a political problem for him in the 2008 campaign (or future presidential bids) and this worry motivated the Great Romney Wipe-Out. When their delete-all efforts were first disclosed, Romney essentially acknowledged this by saying, "There has never been an administration that has provided to the opposition research team, or to the public, electronic communications." In other words, I'm running for office, for Pete's sake, I can't preserve official records that could be used against me! Yet now, when Hillary Clinton is in the cross-hairs for using a private account and not preserving her emails appropriately, Romney is all for openness—and happily clicking the delete history button.