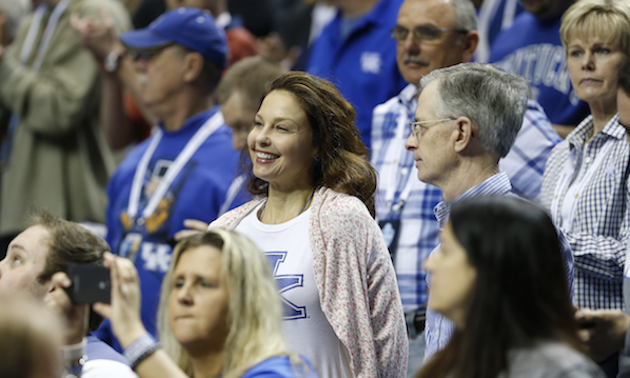 Fight disinformation:
Sign up
for the free
Mother Jones Daily
newsletter and follow the news that matters.
Actress Ashley Judd, a well known University of Kentucky basketball fan and alumnus of the Division 1 school, is striking back at Twitter users who launched a tirade of sexually violent tweets aimed at her while she attended a Wildcats game over the weekend.
The explicit messages, which include being called a cunt and suggestions that she "suck a dick," were prompted by her Tweet saying the opposing team was "playing dirty." Now Judd indicates that she hopes to pursue charges against her trolls.
When when I express a stout opinion during #MarchMadness I am called a whore, c—, threatened with sexual violence. Not okay.

— ashley judd (@AshleyJudd) March 15, 2015
I am sorry to retweet but this is a typical example. "@Leeroy_MAX: .@AshleyJudd Go suck on Cal's two inch dick ye Bitch whore."

— ashley judd (@AshleyJudd) March 15, 2015
Example: I am mentally weak for not tolerating sodomy threats. "@AshleyJudd oversensitive liberals like are you that mentally weak?"

— ashley judd (@AshleyJudd) March 17, 2015
"The amount of gender violence that I experience is absolutely extraordinary," Judd said on the Today show Tuesday. "And a significant part of my day today will be spent filing police reports at home about gender violence that's directed at me in social media."
Judd's harassment comes at a time when more women are speaking out against online abuse, whether via cyber-stalking and threats or movements such as #Gamergate. However, prosecuting such threats has proved notoriously difficult. Some members of Congress are asking the federal government to beef up enforcement of laws that already prohibit such threats of violence. From 2010-2013, federal prosecutors only investigated 10 cyber-stalking reports, despite 2.5 million cases of women being harassed online.
Former Major League pitcher Curt Schilling recently used an alternative strategy to punish the men who trolled his daughter on Twitter: He tracked down their identities and outed them. At least one man lost his job as a result; others were suspended from their college sports teams.
As for the uncomfortable kiss from ESPN's Dick Vitale photographed during the same Wildcats game, Judd says they are friends, and that she's "adored him" for 10 years.