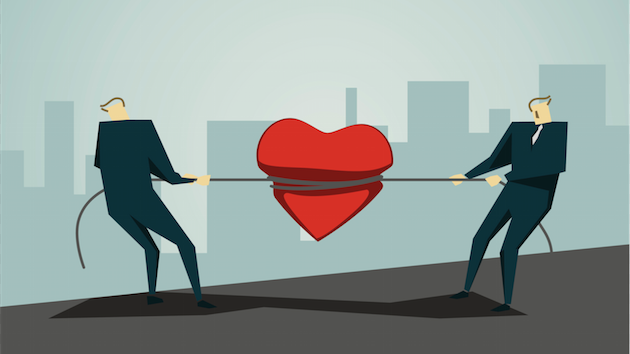 Fight disinformation:
Sign up
for the free
Mother Jones Daily
newsletter and follow the news that matters.
Last month, a Kansas Republican promised that his state House committee would consider a bill banning abortions after the fetus has a detectable heartbeat—around the sixth week of development. The legislator, Steve Brunk, said he is confident the measure will pass in the GOP-controlled legislature. And Gov. Sam Brownback (R) has never vetoed an abortion bill.
Many anti-abortion activists are cheering Brunk on. But one voice is noticeably absent: that of Kansans For Life, the state's most influential anti-abortion group. When asked, last week, if Kansas For Life supports the so-called heartbeat bill, the group's legislative director hung up the phone.
Like a bill introduced in Oklahoma and another coming soon in Alabama, the Kansas bill would ban abortion far earlier than is constitutional. (In fact, it would prohibit abortion before most women even know they are pregnant.) Supporters say, that's the point. The bans are meant to challenge Roe v. Wade, the Supreme Court decision that established a right to abortion. But the National Right to Life Committee, the nation's most prominent anti-abortion group and the parent group of Kansans For Life, has spent years trying to convince anti-abortion lawmakers that heartbeat bills could actually lead to a Supreme Court decision expanding abortion rights.
"The Supreme Court, as it is constituted right now, may not be ready to overturn Roe," says James Bopp, the chief counsel for the National Right to Life Committee. Provoking such a direct confrontation, Bopp tells Mother Jones, could end in a decision that puts the right to abortion on firmer legal ground than Roe. And that "would be a powerful weapon in the hands of pro-abortion lawyers that would jeopardize all current laws on abortion," Bopp has warned.
Heartbeat bill supporters are unfazed. "There are ten things that God carved into stone," says Janet Folger Porter, an anti-abortion activist who wrote the first heartbeat bill, which was introduced in Ohio in 2011. "And one of them was not, 'Thou shalt be erudite about not killing babies.'"
So far, NRLC and its allies are winning. States have passed record numbers of abortion restrictions since the Republican wave of 2010, but heartbeat bans have flatlined in Alabama, Kentucky, Michigan, Mississippi, Ohio, and Wyoming. Even in Texas, where Republican Gov. Rick Perry pledged to sign a heartbeat bill, the measure quickly fizzled out in the statehouse.
In many of these states, the heartbeat bill's demise was directly attributable to the opposition of Right to Life. Banning abortions after a heartbeat is detectable is "just not the right strategy," says Mike Gonidakis, the president of Right to Life Ohio. When anti-abortion activists first introduced a heartbeat bill in his state, Gonidakis's group crushed it. Porter remembers encountering a Planned Parenthood lobbyist in the hallway of the state capitol during that time. "I said, 'You guys have it pretty easy,'" she recalls. '"You've got Ohio Right to Life working to kill the most pro-life bill in the state.' She replied, 'Yep.'"
Still, two states have managed to pass heartbeat bills over NRLC's objections. North Dakota and Arkansas both enacted heartbeat bans in 2013, although Arkansas lawmakers altered the bill to ban abortion six weeks after a heartbeat is detectable (or when the fetus is about 12 weeks old). Two different federal courts immediately blocked both laws from going into effect, and two federal judges struck down the laws in 2014. The states are jointly appealing before a federal appeals court in a trial that began last month.
Kansas could be the next state to join this legal fight. Kansans For Life has blocked the bill before. But this year, says Mark Gietzen, who leads a rival group called Kansas Coalition for Life that supports the heartbeat measure, "We're further along than we've ever been before. We have more favorable talk from the legislature than we've ever had before. I can almost guarantee passage of a heartbeat bill in the 2015–2016 session."
If Gietzen is right and Kansas passes a heartbeat bill, it could signal a shift. Heartbeat bills are popular among hard-core abortion foes. Gietzen points to a long list of influential anti-abortion advocates who support banning abortions once there is evidence of a heartbeat. That list includes Rick Santorum, erstwhile senator and presidential candidate, and John Willke, the former president of NRLC. Porter, the Ohio bill author, is also collaborating with Kansas Coalition for Life on that state's proposal. She was once an adviser to former Arkansas Gov. Mike Huckabee, who is considering a 2016 presidential run. (The presidential hopeful has called Porter his "prophetic voice.") "I don't know who's missing from that list other than [NRLC's] James Bopp himself," Gietzen says.
Heartbeat bill supporters also have raw emotion on their side. In March 2011, Porter brought two pregnant woman before an Ohio House committee. While a color projector screened live video, technicians performed ultrasounds on the two women's fifteen- and nine-week-old fetuses. Lawmakers could hear a pulse. Shortly after that, the committee approved the bill. Porter thinks the same stunt will work in Kansas.
Bopp predicts that expert opinions will continue to carry the day. "It is apparent to the vast majority of right-to-lifers that this is not worth their time, money and effort, and is a pointless and futile strategy," he says. "And it doesn't make sense to advance futile strategy."
Yet heartbeat bill supporters are confident that they can win the political fight. In 2014, when Ohio state Sen. Cliff Hite (R) reversed his support for a heartbeat measure and called it "ineffective," Porter drummed up support for his primary challenger.
Hite survived the primary and went on to win reelection. But he recently told Mother Jones he "absolutely" supports a heartbeat bill.