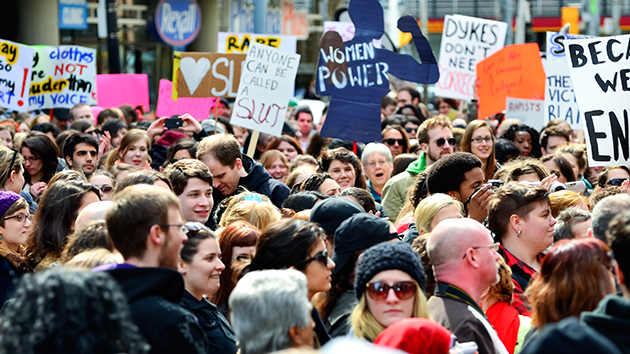 Police departments in both England and Wales have been provided an unprecedented new set of recommendations when it comes to investigating rape allegations. The guidelines, launched by the Director of Public Prosecutions Alison Saunders and Martin Hewitt of the Metropolitan Police, now require officers to establish sexual consent, rather than prove when a victim says "no."
"This is really about making sure investigators and prosecutors look at the whole context, so we're able to put strong cases before the court and we don't just focus on what a victim did or said," Saunders told the BBC. "We know there are too many myths and stereotypes around rape and consent and this is about making sure we really examine cases."
The shift to a more "yes means yes" context comes as a welcome move for sexual assault advocates, who have long blamed the "no" standard for discouraging victims to report assaults. The new guidelines also strongly emphasize the need to stop blaming rape victims "for confusing the idea of consent, by drinking or dressing provocatively" as Saunders states, and clearly outline what sexual consent is.
While many in England and Wales are applauding the change, some have been more cautious, waiting to see if police forces actually adhere to the new guidelines.
"The CPS's new rape toolkit might make welcome headlines, but I won't be celebrating until police officers and prosecutors are made to put existing policies and guidelines in practice or face appropriate sanction for failing to do so," Harriet Wistrich wrote in a Guardian column on Thursday.