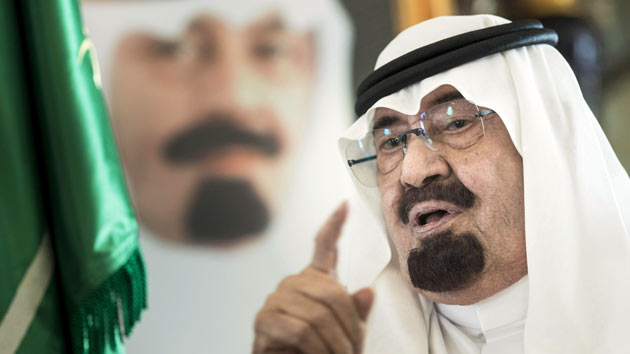 Saudi Arabia's King Abdullah bin Abdulaziz al Saud has died, according to reports carried by Saudi state-run television in the early hours of Friday morning, local time. He was around 90 years old (his exact age is a matter of some dispute). Saudi news agencies reported that his half-brother Crown Prince Salman bin Abdulaziz has become the kingdom's new ruler. The news from Saudi Arabia—one of 12 OPEC member states—has the potential to cause a shake-up in global oil markets.
King Abdullah, the leader of the world's top oil exporter, came to to power in 2005, but had in recent years fallen seriously ill, according to the BBC. Reuters reports that the king had been hospitalized with pneumonia since December, and "had temporarily needed help to breathe through a tube."
The Guardian's Middle East editor, Ian Black, writes that even after a modicum of reform under Abdullah, the path ahead for the monarchy is far from clear:
Saudi Arabia's immediate future following his death is not in doubt. Crown Prince Salman, his half-brother, will almost certainly ascend the throne. But beyond that lie troubling questions about the succession, the stability of a unreformed absolute monarchy and the prospects for its younger generation of royals.

Abdullah bin Abdulaziz – the king since 2005 and effectively in charge since his brother Fahd's stroke in 1995 – accepted limited change after 2011 in response to the events of the Arab spring. Yet Saudi women are still unable to drive, citizens are unable to vote except in municipal elections and public beheading by sword remains a standard feature of the judicial system. Political parties are banned.
Update, 7:30pm ET: The White House has released the following statement from President Obama on King Abdullah's passing:
It is with deep respect that I express my personal condolences and the sympathies of the American people to the family of King Abdullah bin Abdulaziz and to the people of Saudi Arabia.

King Abdullah's life spanned from before the birth of modern Saudi Arabia through its emergence as a critical force within the global economy and a leader among Arab and Islamic nations. He took bold steps in advancing the Arab Peace Initiative, an endeavor that will outlive him as an enduring contribution to the search for peace in the region. At home, King Abdullah's vision was dedicated to the education of his people and to greater engagement with the world.

As our countries worked together to confront many challenges, I always valued King Abdullah's perspective and appreciated our genuine and warm friendship. As a leader, he was always candid and had the courage of his convictions. One of those convictions was his steadfast and passionate belief in the importance of the U.S.-Saudi relationship as a force for stability and security in the Middle East and beyond. The closeness and strength of the partnership between our two countries is part of King Abdullah's legacy.

May God grant him peace.