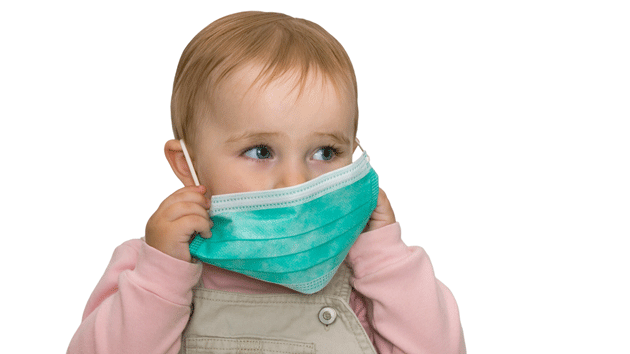 The current outbreak of measles that began in California has sickened 86 people and landed 30 babies in home isolation. The California Department of Health has issued an official warning that "any place where large numbers of people congregate and there are a number of international visitors, like airports, shopping malls and tourist attractions, you may be more likely to find measles, which should be considered if you are not vaccinated."
Not everyone is so concerned. In a Facebook post on January 16, celebrity pediatrician Robert "Dr. Bob" Sears encouraged his followers not to "let anyone tell you you should live in fear of" measles. "Ask any Grandma or Grandpa (well, older ones anyway)," he wrote, "and they'll say 'Measles? So what? We all had it. It's like Chicken pox.'"
Well, Dr. Bob is wrong—measles is serious business. Consider these facts:
Measles is one of the most contagious illnesses known to man. According to the Centers for Disease Control and Prevention (CDC), it infects about 90 percent of people who come into contact with it. The virus can survive on surfaces or even in the air for up to two hours. That means that if an unvaccinated person happens to pass through a room where someone with measles was a few hours before, he or she has a very high chance of contracting the disease.

Some people who get measles become seriously ill. Before the advent of the measles, mumps, and rubella (MMR) vaccine, between 3 and 4 million people contracted measles each year in the United States. Of those, 48,000 were hospitalized, 4,000 developed the life-threatening brain condition encephalitis, and 400 to 500 died.

Almost everyone needs to be vaccinated for measles in order to protect the most vulnerable people. The epidemiological concept of "herd immunity" means that enough people in a given community are immunized so that people who can't get vaccinated—infants that are too young to receive vaccines, people who can't get vaccinated because their immune systems are not strong enough, and the small number of people for whom the vaccine doesn't work—are protected. The threshold for herd immunity varies by disease; for measles, it's 92 to 94 percent.

In some places in the United States, MMR vaccination rates among kindergartners aren't anywhere near the herd immunity threshold. In Marin County, California, only 80 percent of students are up to date on their vaccinations. In Nevada County, California, the figure is 73 percent. New York magazine reported last year that dozens of New York City private schools had immunization rates below 70 percent. (Californians can check rates at individual schools here.)

Worldwide, measles is far from eradicated. According to the CDC, in 2013, more than 60 percent of children in the Democratic Republic of the Congo, Ethiopia, India, Indonesia Nigeria, and Pakistan were not adequately vaccinated against measles. Seventy percent of measles deaths worldwide occurred in those countries.

Measles could make a major comeback in the United States. It's happened in other developed nations: In the mid-1990s, UK public health officials considered measles eradicated in the country—but in 2008, because of low vaccination rates, measles once again hit endemic status. Between 2008 and 2011, France saw more than 20,000 cases of measles—after virtual elimination of the disease just a few years before.