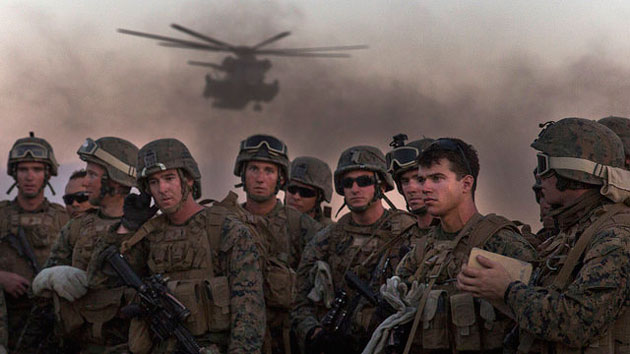 Fight disinformation:
Sign up
for the free
Mother Jones Daily
newsletter and follow the news that matters.
The cost of US war-making in the 13 years since the September 11 terrorist attacks reached a whopping $1.6 trillion in 2014, according to a recent report by the Congressional Research Service (CRS).
The $1.6 trillion in war spending over that time span includes the cost of military operations, the training of security forces in Afghanistan and Iraq, weapons maintenance, base support, reconstruction, embassy maintenance, foreign aid, and veterans' medical care, as well as war-related intelligence operations not tracked by the Pentagon. The report tracks expenses through September, the end of the government's 2014 fiscal year. Here's a breakdown of where most of that money went:
The key factor determining the cost of war during a given period over the last 13 years has been the number of US troops deployed, according to the report. The number of troops in Afghanistan peaked in 2011, when 100,000 Americans were stationed there. The number of US armed forces in Iraq reached a high of about 170,000 in 2007.
Although Congress enacted across-the-board spending cuts in March 2013, the Pentagon's war-making money was left untouched. The minimal cuts, known as sequestration, came from the Defense Department's regular peacetime budget. The Pentagon gets a separate budget for fighting wars.
In the spending bill that Congress approved earlier this month, lawmakers doled out $73.7 billion for war-related activities in 2015—$2.3 billion more than President Barack Obama had requested. As Mother Jones' Dave Gilson reported last year, US military spending is on pace to taper far less dramatically in the wake of the Iraq and Afghanistan wars than it did after the end of the Vietnam War or the Cold War.
Other reports have estimated the cost of US wars since 9/11 to be far higher than $1.6 trillion. A report by Neta Crawford, a political science professor at Boston University, estimated the total cost of the wars in Iraq and Afghanistan—as well as post-2001 assistance to Pakistan—to be roughly $4.4 trillion. The CRS estimate is lower because it does not include additional costs including the lifetime price of health care for disabled veterans and interest on the national debt.
Chart by AJ Vicens.