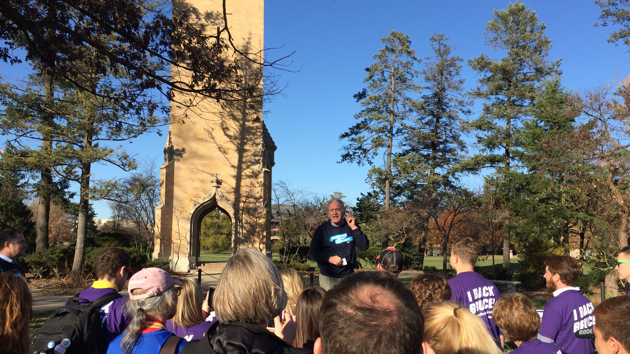 It only took retiring Sen. Tom Harkin one moment to think of an answer when I asked him which current Republican senator would represent a greater ideological shift from himself to Joni Ernst, the Iowa Republican running to replace him. "Maybe if Ted Cruz took my place, that might be an inch or two to the right more," he told me. Ernst, he said, would undoubtedly represent "a tremendous ideological shift."
I caught up with Harkin, a longtime champion of progressive causes in the Senate, after his speech at Iowa State University during a last-day rally for Rep. Bruce Braley, the Democrat campaigning to fill Harkin's seat. A crowd of about 40 had gathered (each handed a purple Braley shirt) to listen to the pair of lawmakers, who themselves were sporting matching Iowa State College Democrat sweatshirts. Harkin reminisced about his time as a student at ISU and how he got his political start representing that part of the state in the US House. Speaking underneath the campus' Campanile, Harkin asked if the students still had the midnight tradition of needing to kiss someone underneath the bell tower. "I remember my first time," he said wistfully. "I won't go beyond that," he added with a laugh. When one student shouted for more details Harkin brushed it off, Taylor Swift apparently still on his mind. "I'm not going to confess to that, I've already gotten in enough trouble with trackers."
Harkin's focus at the rally was the rising cost of college tuition. When he enrolled as an ISU student in 1958, he said, he only paid $231 per year in tution, $1,902 in today's dollars. Actual tuition today? $7,731 a year. Harkin attributed that shift to the fact that the state isn't willing to commit funding to its students. "We as a nation have diverged from what we used to believe," he said. "We used to believe, from World War II on, that your education was not just a personal good but was a societal good."
"It's about talk radio—Rush Limbaugh," Harkin noted.
When I spoke with Harkin he was sharply critical of Ernst's record on education, noting that as a state senator she'd voted against every education bill that came before the chamber, even ones approved by the Republican-controlled House. "My god, her record is just abysmal in voting for education," he said, noting her vow to do away with the Department of Education.
Harkin said that over the past decade-plus the state Republican Party has slid to the right; centrist former GOP officials like Bob Ray, he said, would no longer be electable in an Iowa Republican primary. "It's about talk radio—Rush Limbaugh," he said. "We still have a lot of people in our small towns and on the farms. They're driving their tractors and their pickups and, they're listening to radio, and talk radio has become all one-sided."
After Braley and Harkin finished their speeches, I chatted with Andrea Matthews and Gene Parsons Jr., a pair of "super seniors," both in their fifth year at ISU who have been trying to convince their fellow students to vote for Braley. Matthews grew up in Iowa City, and Parsons is from Des Moines. They both noted that same rural-urban divide in how this year's Senate race had played out. "Our political parties have been diverging between rural farmers and city folk," Matthews said. While the message about student loans and education investment resonated with both of them, at the end of the day it's social issues that have them backing Braley over Ernst—gay rights for Parsons and reproductive rights for Matthews.
"I heard a great phrase," Matthews told me. "If I wanted a politician between my legs, I would have married one."
"My family is too liberal for her," Parsons chimed in about Ernst. "They support gay marriage and they don't care that I'm gay, and that just bothers her and her family values."