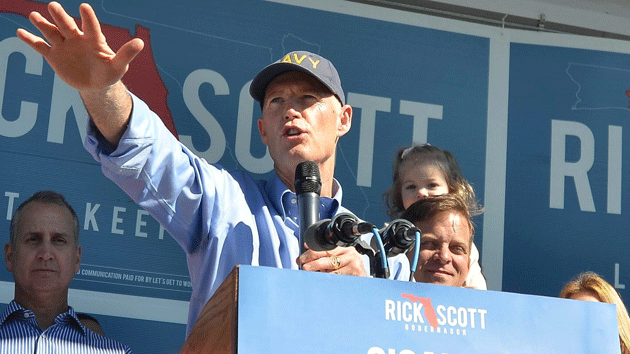 Fight disinformation:
Sign up
for the free
Mother Jones Daily
newsletter and follow the news that matters.
Rick Scott, once the nation's most unpopular governor, has managed to secure reelection in a race against former governor Charlie Crist. Crist had been a longtime Republican who switched parties, first to independent to run against Sen. Marco Rubio, and then to Democrat to run against Scott. Florida voters don't seem to have appreciated Crist's ever-shifting loyalties, even as they despised Scott almost as much. The race was a virtual toss up in the polls right up until the last week of the campaign, when Crist seemed to gain momentum. But Scott seems to have managed to mobilize the tea party activists who helped him win by 1 percent in 2010 as an outsider—even though many of whom were unhappy with him this time around.
Tea partiers have plenty of reasons for souring on their former star. Things started well for them. Upon taking office, Scott followed up on his campaign promises to oppose Obamacare, cut taxes, and reduce spending. He slashed the budget for education and environmental protection to pay for tax cuts for corporations. He refused to support the expansion of Medicaid in the state under Obamacare, leaving more than 700,000 Floridians without health care. He supported a (failed) bill that would have brought Arizona-style anti-immigration laws to Florida and vetoed a hugely popular GOP-supported bill that would have allowed "DREAMers"—undocumented immigrants brought to the US as children—to obtain driver's licenses.
But Scott soon discovered that governing like a tea partier made him one of the nation's most unpopular governors. Early polls showed him losing reelection to a generic Democrat by wide margins. So he reversed course. Last year, he came out in favor of expanding Medicaid. (His current position on the matter is ambiguous. He changed his stance only after the federal government approved his request to fully privatize Medicaid, and he's never advocated for it in the Legislature, which has not approved the expansion.) This year, he's proposed big increases in education spending and launched a "Let's Keep Florida Beautiful" initiative, promising to restore some of his earlier environmental budget cuts.
Tea partiers were also annoyed with Scott for failing to jump on their latest cause—opposition to the Common Core educational standards endorsed by Jeb Bush. But Crist also supported Common Core, which is why several activists I spoke with suggested they'd be casting their votes for the libertarian in the race, Adrian Wyllie. Polls had shown him picking up between 5 and 8 percent of the vote, enough to put Crist back in the governor's mansion. Ultimately, though, conservative voters seem to have plugged their noses and voted for Scott instead.
Scott tried to make up for his lackluster following among tea partiers by spending gobs and gobs of money and targeting Latino voters he'd mostly ignored or actively offended during his administration. (His campaign is on track to spend $100 million, making it the most expensive governor's race in Florida history.)
After taking office in 2011, Scott sought to govern on the tea party agenda he ran on. Among his top priority: backing an unpopular Arizona-style anti-immigration law that would have allowed the police to stop people and ask for proof of citizenship—people, that is, except for Canadians and Western Europeans. (The bill failed.)
Scott also signed into law a bill that made it harder to vote in the 2012 presidential election by limiting early voting hours and implementing harsh restrictions on voter-registration groups, both of which disproportionately affected minorities. Parts of the law were later declared unconstitutional. He directed a voter-roll purge of "non-citizens" that snared lots of legal voters, many of them Latino, and violated federal law. Then last year, Scott vetoed a popular, bipartisan bill that would have given some undocumented immigrants temporary drivers licenses.
His campaign has been plagued with some embarrassing moments that didn't endeared him to Latinos. In March, Cuban-American billionaire Mike Fernandez, who served as Scott's top fundraiser and finance co-chair, quit after complaining that two of Scott's senior campaign staffers were mocking Latinos by speaking in Speedy Gonzales accents on the way to event at a Chipotle. (Scott's office denied the charge.) Fernandez informed Scott his staff was "culturally insensitive" and "do not understand the [Hispanic] culture."
A few days later, another prominent Latino Republican, Gonzalo Sanabria, quit the Miami-Dade Expressway Authority board in solidarity. He wrote, "The Hispanic Community of South Florida is a key component of this great State's vibrant socio-political fabric and treating us as you have is a grave mistake as it pains me to tell you what you will find out to the chagrin of us loyal Republicans. Good Luck Governor, I'm not a fan any longer."
Rounding out the summer, Scott headlined a fundraiser with the CEO of the GEO Group, the country's second-largest private prison company, famous for running some of the country's worst immigrant detention centers, including one in Broward County.
The GOP's efforts to demonstrate Scott's appeal to Latinos occasionally backfired. The Republican Party of Florida ran a Scott ad featuring a Cuban-born grocery store owner who Scott visited on a campaign swing. A member of the "Small Business for Scott" coalition offered up as a Scott economic success story, Maikel Duarte-Torres turned out to have been convicted on human smuggling charges in St. Maarten in 2010.
When he first took office, the lack of diversity in Scott's hiring earned him a rebuke from former Governor Jeb Bush, who nonetheless endorsed him in the governor's race. In leaked emails, Bush strenuously objected to Scott's firing of three African-American women who'd worked for several governors and which Scott replaced with white people.
Scott set the tone for his administration early by ending state support for a couple of historically black colleges as well as closing the state office designed to help minority-owned companies win state contracts. Shortly afterward, he offended a group of African-American state legislators at a meeting in early 2011, where he suggested that because they were black, the legislators all grew up poor and uneducated. "I grew up probably in the same situation as you guys," he said. "I started school in public housing. My dad had a sixth-grade education." His relations with African-Americans went downhill from there.
Scott rolled back a rule Crist put in place four years earlier that made it easier for ex-felons to win back their voting rights. And the state legislative black caucus members are still angry with Scott for failing to nominate many African-American judges. Scott has appointed only nine black judges during his tenure, and seven of those were reappointments to low-level traffic or small claims courts. By comparison, Jeb Bush had appointed 22 black judges by the same time in his tenure, including the first female African-American state supreme court justice.
Despite all of this history, Scott ran within a point in the polls with Crist as his appeals to Hispanic voters seemed to pay off. (Despite, or given Florida's changing demographics, because of the fact that Christ came out against the embargo of Cuba.) He poured millions into Spanish language advertising, particularly in Miami, where more than 50 percent of the state's Republican Hispanics live. Meanwhile, in June, Scott signed a bill that provides in-state tuition for "DREAMers," the children of immigrants who were brought illegally to the US when they were young, even though he'd opposed such a measure back in 2011. The concerted Hispanic outreach effort clearly helped but even so, a PPP poll in the fall put Scott's support among Hispanics at 24 percent compared with Crist's 50 percent.
Scott and his supporters seemed to give up hope of attracting any meaningful number of votes among black people, who make up 11 percent of the electorate. Instead, the Republican strategy seemed to be to discourage African-Americans from voting at all, especially not for Crist, whose campaign viewed a high turnout of black voters as critical to his success.
An outside spending group suspected of having ties to Republican donors attacked Crist for his own not-always stellar record with minority voters. In June, a mystery group called the Progressive Choice PAC launched a string of radio ads clearly designed to suppress black turnout for Crist. The ads highlight the tough on crime policies Christ backed as governor, policies that put thousands of black Floridians in prison for long mandatory drug sentences, even for marijuana crimes (he was once called "Charlie Chain Gang"), even as he pandering to the NRA:
The punishment fits the crime. It's enshrined in our Constitution—the essence of American Justice, unless you live in Florida and happen to be black. Under Gov. Charlie Crist, the NRA called the shots in Tallahassee, giving Crist big money and an 'A' rating, stopping even the most sensible gun control bills, allowing weapons to flow into our cities, even permitting concealed guns at work.
But while Crist was coddling the gun lobby, he was cracking down on us—passing maximum sentencing laws, signing the nation's harshest marijuana laws, and enacting the country's strictest penalties against non-violent offenders, many of whom just happen to be black.
Crist fought back against such attacks with the help of environmental activist and billionaire Tom Steyer, whose NextGen political action committee had targeted Scott because he refuses to acknowledge a human role in climate change. Steyer pumped nearly $20 million into defeating Scott, who responded in the waning days of the campaign by contributing nearly $13 million of his own money to his campaign. In the end, even Steyer's money wasn't enough to help Crist.