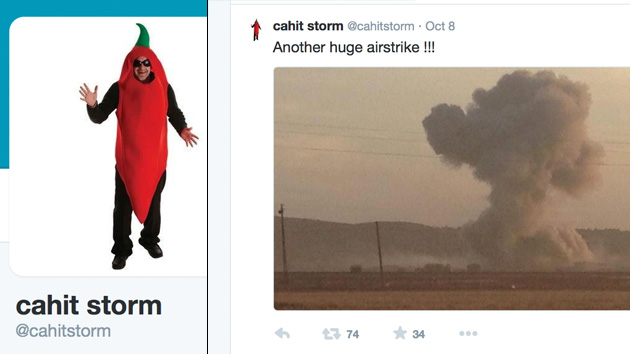 Fight disinformation:
Sign up
for the free
Mother Jones Daily
newsletter and follow the news that matters.
For the past week, a man going by the name "Cahit Storm" has endured sweltering sun and dust storms, battled scorpions and mosquitoes, and hid in a red-pepper bush armed only with his iPhone. As he's inched closer and closer to Kobani, the northern Syrian town that ISIS is fighting to take from Kurdish militias, Storm has tweeted everything he's seen in broken English and astonishing detail.
Airstrike in #west kobane Now pic.twitter.com/z8oAEoccaB

— cahit storm (@cahitstorm) October 9, 2014
"I am a witness," he told me over the phone when I called him a couple of days ago. Storm, a Turkish Kurd, is one of the few civilians to sneak past the Turkish military, which has blockaded the border with Syria, allowing only a slow stream of refugees to pass. Most people hoping to cross the border to document or join the fighting in Kobani must evade a gauntlet of soldiers.
Storm says his primary mission is to provide aid to the refugees who have crowded into Turkish border towns. "I brought them water, candies for the children, and meat for the holiday," Storm tells me, referring to the Sacrifice Feast, an Islamic holiday in Turkey. Yet his secondary mission as an observer of the fight in Kobani between the Kurds and the self-proclaimed Islamic State has garnered him considerable attention across social media. Among his more than 6,500 Twitter followers are journalists from the New York Times, the BBC, and the International Business Times, and Anonymous.
Storm does not provide specific details about his appearance or background on his Twitter profile, though Vice reported that he is a computer engineer who fled Kobani himself. ("Cahit" is a male name in Turkey.) As a Kurd, he is deeply skeptical of the Turkish government's response to ISIS and its recent advances near its border with Syria. "I am quite sure if others could have reached Kobani the situation would have been very different…The Turkish are just blocking [Kobani] right now…[Turkey] has a very ambiguous attitude against daesh," he says, referring to ISIS by the loose Arabic acronym commonly used in the Middle East.
Storm attempts to document events in Kobani in real time as well as correct media reports he finds inaccurate. He told me that he only tweets what he's observed or knows to be true, never speculation or rumor. "I want to only present facts," Storm says. He continuously changes his position outside Kobani, which is right over the border with Syria. "I have to use tricks to stay hidden," he explains. Fearing that he'll get shot, he retreats back to Turkish border towns at night.
A bullet just fly over my head. I think my position is not safe anymore

— cahit storm (@cahitstorm) October 8, 2014
His preferred choice of cover while watching the action has become one of his trademarks. "I was hiding in a pepper field because the area is forbidden and no one can enter," he explains. He promised to eat a pepper for his 5,000th follower. Fans from across the globe have sent him pictures of peppers or pepper-related items in solidarity. He even changed his Twitter profile image to a man in a red-pepper costume.
Storm's tweets from Kobani are detailed, terrifying, and pretty funny, too. He's compiled images and descriptions of air strikes, bombings, and shelling in and around Kobani. His tweets about airstrikes include clear images, as well as cardinal directions and exact timing. Earlier this week, he was one of the first to identify a American B-1 bomber flying overhead, and he has faithfully tracked the warplanes since they first appeared.
A few samples of his observations and ability to keep things light as he treads the edge of a war zone:
Quietest day since the start of the battle. Airstrike may have break the back of the #daesh offensive.

— cahit storm (@cahitstorm) October 9, 2014
I m still in pepperfield, fuck you daesh

— cahit storm (@cahitstorm) October 9, 2014
Having 5000 followers hurts. pic.twitter.com/vVna5BHjvh

— cahit storm (@cahitstorm) October 8, 2014
I have spot #daesh reinforcements !!!! pic.twitter.com/2vN8NSyOi7

— cahit storm (@cahitstorm) October 9, 2014
If u remove scorpions, peppers, snipers, sandstorm and turk army, i feel like i m in hawaii pic.twitter.com/u736VO2XsL

— cahit storm (@cahitstorm) October 8, 2014
Very sporadic gunshot. It is so quiet i think i m gonna put my sunglasses and take a sunbath. WAR IS BORING

— cahit storm (@cahitstorm) October 9, 2014