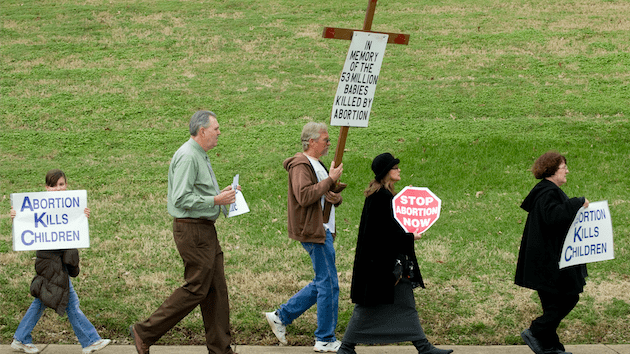 Fight disinformation:
Sign up
for the free
Mother Jones Daily
newsletter and follow the news that matters.
The most contentious political battle raging in Tennessee this year has nothing to do with control of the US Senate or the governor's mansion—it's taking place over a ballot measure that would make Tennessee the next hot zone in the war over abortion rights.
The referendum, called Amendment 1, would amend Tennessee's constitution to read: "Nothing in this Constitution secures or protects a right to abortion or requires the funding of an abortion," including for pregnancies "resulting from rape or incest or when necessary to save the life of the mother." If the amendment succeeds, it would allow state lawmakers to pass the kinds of draconian abortion restrictions seen in neighboring states. And pro- and anti-abortion rights groups are raising millions to swing the outcome.
Tennessee Republicans have been striving to put this referendum before voters since 2000, when a state Supreme Court decision blocked several harsh anti-abortion measures from becoming law. The ruling, which struck down several anti-abortion laws passed in 1998, has prevented the Legislature from passing certain strict laws enacted in other states, such as a mandatory abortion waiting period. In 2011, a supermajority of both chambers of the state Legislature, which included many Democrats, passed a measure to place Amendment 1 on the November 2014 ballot.
Amendment 1 would overturn that court decision. "It will basically just open the floodgates for the General Assembly to pass any kind of restriction if the amendment passes," says Jeff Teague, the president of Planned Parenthood of Middle and East Tennessee. "We think they probably have a long list of things they're going to pass."
The fight has implications beyond Tennessee. A 2010 survey found that 1 in 4 women who receives an abortion in Tennessee is from out of state—from places such as Alabama and Mississippi, where, thanks to highly restrictive abortion laws, there are only a handful of abortion providers.
Supporters of Amendment 1 have raised more than a half-million dollars for voter outreach and television ads. Some $250,000 of their war chest came from an event hosted by Republican Lt. Gov. Ron Ramsey last fall. The rest has flowed from church groups and state anti-abortion organizations. The campaign, which is being coordinated by Tennessee Right to Life, has set an overall fundraising goal of $2.1 million, according to the Tennessean.
The most recent independent poll of Amendment 1, by Vanderbilt University in May, found that 71 percent of voters sampled opposed changing the constitution.
The state's Planned Parenthood affiliate and the American Civil Liberties Union of Tennessee are closely involved with the campaign to oppose Amendment 1. "Vote No on One" kicked off several months after anti-abortion groups began fundraising. As of June 30, the last time the campaign was required to disclose its finances, the group had notched $360,000. Ultimately, the campaign hopes to raise $4 million for ads and voter outreach, according to a "Vote No" spokesman.
Of that $360,000, Tennessee's Planned Parenthood affiliate donated $175,000. The opposition campaign has also attracted heavy out-of-state support, from groups such as the American Civil Liberties Union, which gave $35,000. Planned Parenthood affiliates from Boston to Seattle have donated tens of thousands of dollars, too. All told, as of late June, Planned Parenthood affiliates had given more to the "Vote No" campaign than Planned Parenthood has spent on some of this year's tightest Senate races.
The "Yes on 1" campaign website argues that the amendment would make the constitution "neutral on the question of abortion." Neither organization responded to repeated requests for an interview. But Myra Simons, a spokeswoman for the campaign, has told reporters that the amendment is necessary because "our clinics are not regulated or inspected or licensed, not required to be. And that is a scary thing for women."
In reality, the state has required most Tennessee abortion clinics to be licensed as ambulatory surgical treatment centers since the 1970s. (This means, for example, that most abortion clinics in Tennessee must provide patients with information about advanced directives and living wills—even though the complication rate for most types of abortion is minuscule.) A spokeswoman with the Tennessee Department of Health confirmed that the agency recently inspected several of Tennessee's abortion clinics in advance of renewing their licenses.
This highlights a strange contradiction about the "Yes on 1" campaign: The only anti-abortion laws that conservatives have been prevented from passing are the three laws struck down by the court in 2000: a 48-hour waiting period between a woman's initial visit to a provider and the procedure itself; a requirement that all second-trimester abortions be performed in a hospital; and a requirement that abortion providers read a script describing risks associated with abortion, written by the Legislature, to a woman before her procedure.
The passage of Amendment 1 wouldn't cause the laws that were struck down to go into effect automatically, according to Elizabeth Nash, a researcher with the Guttmacher Institute, a pro-abortion-rights think tank. But it would clear the way for the Legislature to pass them again. And Teague warns that these still have the ability to strangle abortion rights in Tennessee. In other states, for example, "informed consent" laws force providers to give patients false or misleading information about abortion. South Dakota, for example, compels doctors to tell women that abortion can lead to an increased risk of suicide—an assertion that mainstream medical organizations say is false.
But even with the 2000 ruling in place, Republicans have passed plenty of anti-abortion laws. The state bans health care plans for sale on Tennessee's Obamacare exchange from providing abortion coverage. Tennessee also forbids doctors from instructing patients on the use of abortion medication by phone or webcam, making abortions more difficult to obtain for rural women. And in 2012, Tennessee passed a law requiring all abortion providers to have admitting privileges with a local hospital. Two clinics whose physicians were unable to obtain admitting privileges closed, says Teague, leaving seven clinics to serve the state.
The laws that legislators could enact if Amendment 1 passes, says Teague, wouldn't start a fight against abortion rights—it would finish the job.
"The people behind this campaign, their ultimate goal is to create a situation where abortion will be technically legal, but it will be virtually impossible for women to access it," Teague says. "And Amendment 1 is going to give lawmakers carte blanche to pass anything in service of getting us to that point."