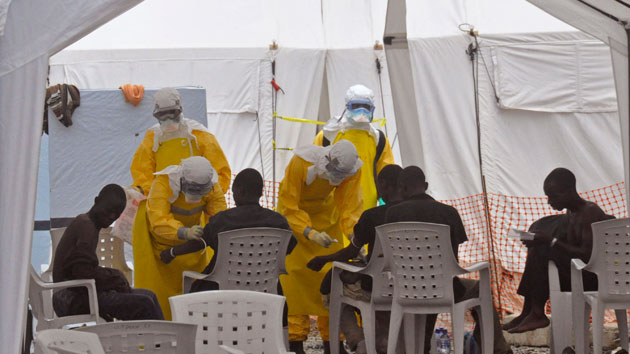 Despite some worries last week that spending-averse Republicans might not support additional funding to fight Ebola, Rep. Hal Rogers (R-Ky.), the chair of the House appropriations committee, said late Monday that House GOPers will back new money to combat the spread of the disease.
Lawmakers are currently negotiating a temporary spending bill that would fund the government's operations through December. Late Friday, the White House asked Congress to add $30 million to this stopgap spending measure to pay Centers for Disease Control and Prevention staff in the United States and Africa. That came on top of $58 million the administration already requested to accelerate the production and testing of new drugs and maintain the development of two experimental Ebola vaccines, bringing the total White House request for Ebola-related funds to $88 million. Rogers wouldn't say whether Republicans would agree to fund the full amount.
The House is due to vote on the bill on Thursday.
If approved, the new money will add to a slow but growing American relief effort, as government agencies steer their budgets to fight Ebola, following calls from the World Health Organization and Doctors Without Borders to dramatically step up their involvement. On Monday, the Pentagon announced it would deploy one $22 million, 25-person field hospital to Liberia, the current epicenter of the epidemic. The hospital—part of a wider effort coordinated by the US Agency for International Development (USAID)—will be turned over to the Liberian government as soon as it's built and will not be staffed by American government employees.
But with Liberia's medical staff stretched thin, finding the right people to staff the hospital may prove difficult. Liberia's health care system—already strained before the outbreak with one doctor for every 100,000 people—has been hit hard by Ebola. Since the outbreak began, 152 medical workers have contracted the disease in Liberia, the WHO said on Monday, about 7 percent of all suspected and confirmed patients. Seventy-nine of these medical workers have died from the disease.
A single 70-bed facility needs 200 to 250 medical personnel to staff it, according to WHO, and Liberia "urgently needs" 1,000 more beds to treat the currently infected patients.
While there's no cure or approved treatment for Ebola, hospitals and treatment centers are needed to quarantine infected patients. In its statement, the WHO said that sick people in Liberia's capital, Monrovia, were traversing town in taxis looking for a hospital bed, bringing the disease—which is spread through bodily fluids such as blood and saliva—into the city's public transit system.
In a statement to Mother Jones, a spokesman for Doctors Without Borders (MSF), one of the few medical groups which has been actively fighting the disease since the outbreak, said that organization had also dramatically increased its budget for the effort to almost $39 million today. Still, he said, this would not be enough to stave off the disease.
"Much more help is needed from actors other than MSF," he said.
The most recent figures released by the WHO reported more than 2,000 people either known or believed to have been infected with Ebola, and more than 1,200 known or believed to have been killed in Liberia since the outbreak was first detected in March. More than 2,000 are believed to have been infected and more than 1,000 killed elsewhere in West Africa since the outbreak began, almost all of them in Guinea and Sierra Leone. About 49 percent of the infections in these three countries occurred in the last three weeks.
On Monday, the WHO said infections in Liberia were increasing "exponentially." On Tuesday, the country's defense minister, Brownie Samukai, called Ebola the worst threat to the country since its last civil war ended in 2003. "Liberia is facing a serious threat to its national existence," he said of the epidemic.