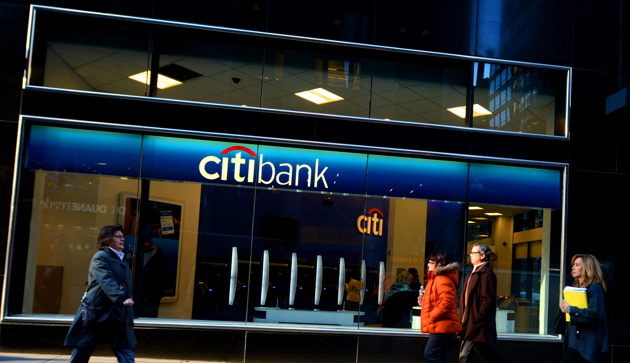 On Monday, the Department of Justice slapped Citigroup with a $7 billion penalty for misleading investors about the toxic mortgage products it peddled that helped cause the financial crisis. Though it's the largest civil penalty in history, it's not nearly a harsh enough punishment, consumer advocates say.
In the mid-2000s, Citigroup assured investors that the subprime mortgage loans it packaged and sold as securities for billions of dollars were high quality. But the bank knew that many of those underlying loans would likely never be paid back. A Citigroup trader at one point even stated in an internal email that he "would not be surprised if half of these loans went down… It's amazing that some of these loans were closed at all."
Despite the historic size of this settlement, consumer advocates insist that the government should have gone much further. And they cite six ways the massive Citi settlement falls short.
1. It's not a $7 billion fine. Citigroup will pay $4.5 billion to settle federal and state civil claims related to the shoddy securities. The other $2.5 billion will underwrite loan modifications and principal reductions on mortgages—which the bank is required to do anyway—and finance some affordable rental housing construction.
2. It didn't really hurt Citigroup. The settlement did tank the bank's second quarter profits, but it did not even pull earnings into the red. After the deal was announced, Citigroup's stock climbed 3.6 percent, indicating investors thought that Citigroup dodged a bullet. The settlement deal is simply the "cost of doing business," says John Taylor, the president and CEO of the National Community Reinvestment Coalition, a housing advocacy group. Citi will "pay these fines and move on."
3. Shareholders foot the bill, not Citigroup executives. The Citi officials responsible for the decision to mislead investors should have been the ones to foot the penalty, says Marcus Stanley, the financial policy director at Americans for Financial Reform. When the burden of the settlement falls on shareholders, the punishment is diluted. No individual officials are held accountable; consequently, other bank officials may not be sufficiently deterred from committing future misdeeds. (The deal does not absolve Citigroup officials from future civil or criminal charges.)
4. This should have been a criminal case, not a civil case. "If the evidence shows fraud, there should be a criminal case," says Bart Naylor, a financial policy advocate at the consumer watchdog group Public Citizen.
5. The settlement's consumer provisions might not pan out. It's unclear if all the funds directed toward struggling homeowners will actually end up helping them. There's precedent for this concern. In the National Mortgage Settlement, a $25 billion agreement with five major banks in 2012 over flawed foreclosure practices, much of the supposed homeowner relief dispensed as part of that deal has benefited banks more than homeowners.
6. Citi should have gone to trial. The Justice Department should have taken Citigroup to trial instead of settling out of court, Taylor says. A trial would have brought to light the details of how Citi screwed investors and how much it profited as a result. The negotiations for this settlement were largely conducted behind closed doors. A trial also could have given the government leverage to exact a harsher punishment against Citi. (There is, of course, the possibility that Citi could have prevailed in a trial.)
The Citi deal is one of several lukewarm settlements the government has entered into with banks in recent years over financial crisis-related wrongdoing. In November, JPMorgan Chase agreed to pay a record $13 billion for selling toxic mortgage products in the run-up to the financial crisis. Some experts say the fine should have been 22 times higher.
Last year, Sen. Elizabeth Warren (D-Mass) sent a letter to the Justice Department, noting she was concerned that the Obama administration was letting big banks off too easy: "If large financial institutions can break the law and accumulate millions in profits, and if they get caught, settle by paying out of those profits, they do not have much incentive to follow the law."