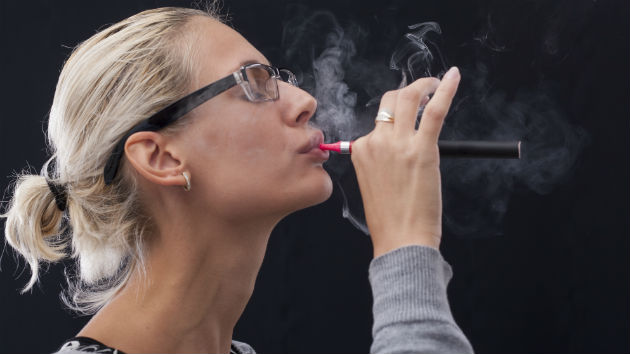 Fight disinformation:
Sign up
for the free
Mother Jones Daily
newsletter and follow the news that matters.
Update, April 24, 2014: On Thursday, the FDA proposed regulating e-cigarettes, banning the sale of the devices to Americans under 18 and requiring makers of e-cigarettes to to disclose their ingredients to the agency. But a spokesperson for the FDA tells Mother Jones that the proposed rule does not cover "accessories of proposed deemed tobacco products," which includes batteries and chargers that have been blamed for e-cigarette explosions. The FDA is still seeking comment on whether it might include these products under its regulatory umbrella.
Last week, an 18-year-old bartender in North Yorkshire, England, was serving drinks when a colleague's electronic cigarette exploded, setting the bartender's dress on fire. This was not the first reported incident of an e-cigarette exploding—over the past few years, there have been more than a dozen similar reports.
Specifically, it's e-cigarettes' lithium-ion batteries that combust. These batteries are also found in laptops and cellphones. But with e-cigarettes, the batteries are especially prone to overheating because smokers use incompatible chargers, overcharge the e-cigarettes, or don't take sufficient safety precautions. For example, many e-cigarettes are made to plug into a USB port, which smokers may take to mean the devices can be safely charged with a computer or iPad charger. But if left too long in a common USB port, some e-cigarette batteries can fry.
The industry acknowledges that explosions are a possibility. "I'm aware of 10 failures in the last year," Thomas Kiklas, who represents the Tobacco Vapor Electronic Cigarette Association, told NBC Chicago last October. "When you charge them, they are 99.9 percent safe, but occasionally there will be failures."
The Food and Drug Administration, which oversees tobacco products, does not currently regulate e-cigarettes. An FDA spokesperson says the agency is working to change that.
Here is a brief history of notable e-cigarette explosions and fires:
Niceville, Florida, February 2012
A 57-year-old Vietnam veteran was smoking an e-cigarette when it exploded in his face, knocking out his teeth and part of his tongue, according to ABC News. A fire chief told the news outlet that the accident was most likely caused by a faulty lithium battery, which exploded like a "bottle rocket."
Muskogee, Oklahoma, April 2012
Shona Bear Clark bought an NJOY e-cigarette from Walmart to help her cut back on smoking half a pack a day. Clark says it exploded when she tried to remove it from its package. "It was as loud as firing a gun, but a gun fired right in your face," she recalled.
Corona, California, March 2013
Jennifer Ries and her husband, Xavier, were driving to the airport, with their VapCigs e-cig charging in the car. "I looked around and I saw the battery to the [e-cigarette] dripping," she told CBS Los Angeles. "I went to unscrew it and the battery started shooting fire toward me and then exploded and shot the metal pieces onto my lap…A blowtorch type of fire and then an explosion." Ries suffered second-degree burns, and the the couple later sued the e-cig manufacturer.
Tulsa, Oklahoma, June 2013
Kyle Czeschin's e-cig was plugged into his laptop. Guess what happened next? "Everything was on fire, my laptop was on fire, my lamp was on fire, the shades," he told News On 6.
Sherman, Texas, July 2013
Wes Sloan wanted to kick his habit, so bought what he assumed would be a safer, electric alternative to cigarettes. "The battery was into about a two-hour charge and it exploded and shot across the room like a Roman candle," he said. Sloan was charging the e-cig in the USB port of a Macbook. He says he suffered second- and third-degree burns, and that he and his wife, Cathy, were treated for smoke inhalation.
Mount Pleasant, Utah, September 2013
A Utah mom was charging her e-cigarette in her car when she said there was "a big bang, and kind of a flash, [and] smoke everywhere," according to Fox 13 News. The e-cigarette reportedly released a hot copper coil that landed in her son's car seat, burning the boy. The mom was finally able to put the fire out with an iced coffee. A fire marshal told the news outlet that the mom's charger was standard and factory-issued, and it was a "catastrophic failure of the device." He also noted this was the second e-cigarette explosion he'd investigated recently in the region. 
Atlanta, September 2013
A woman in Grant Park plugged her e-cigarette into her computer to charge it, according to WSB-TV Atlanta. Fortunately, she was home when she says it began to shoot four-foot flames across the living room. (A screenshot in the above link shows the rag that the woman used to unplug the e-cigarette as it was burning.) "If I hadn't had been home, I would have lost my dogs, I would have lost my cats, I would have lost my house," she told the news station.
La Crosse, Wisconsin, September 2013
The La Crosse Fire Department explains how they're learning to deal with e-cig fires:
Blaine, Minnesota, October 2013
A man was charging his e-cigarette through his computer when his wife noticed that it was "sparking like a fountain firework," according to KMSP Fox 9. The device then "shot out like a missile" from the computer, she said. The owner of a nearby e-cigarette business told the news outlet that the battery didn't have overcharge protection, and that's likely why it overheated.
Kootenai County, Idaho, November 2013
An e-cigarette started a fire in an Idaho household's living room while the family of four slept. The device, which was charging through a laptop, overheated and exploded. "If that smoke alarm didn't go off, none of us would have woken up, you know, none of us would have been able to get to the door, 'cause it would have been blocked by the flames and we would have all died," the son said.
Queen Creek, Arizona, November 2013
Just four days after Kyler Lawson bought his Crown Seven Gladiator e-cigarette, it exploded while charging. "It shot out like a bullet, hit the window, dropped from the window to the carpet," he said. "Caught the carpet on fire…If you're going to charge it, be there. Be present when you're charging it because you never know what can happen."
Eugene, Oregon, November 2013
Judy Timmons had been charging her e-cig in her car for two hours when it exploded. "I'm just glad my grandkids weren't in the backseat because it could have exploded at any time," she said. "It had enough power and momentum to shoot all the way to the backseat," Larry, her husband, said.
Colorado Springs, Colorado, November 2013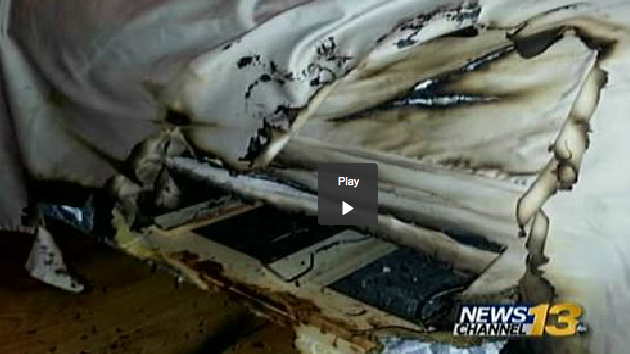 A man in Colorado Springs was charging his e-cigarette when it exploded, setting his bed on fire, according to KRDO NewsChannel 13. He used a blanket to smother the flames, suffering burns on his body and face. The manufacturer of "Foos" e-cigarettes told the news outlet that this was the first time he'd heard of their products malfunctioning. The man said that nonetheless, "I'm back on normal cigarettes now."
Sneads Ferry, North Carolina, January 2014
A North Carolina man who spent over 20 years working as a firefighter was injured after his e-cigarette exploded in his face. He described the incident to the Jacksonville Daily News as feeling like "a bunch of hot oil hit my face." After spending the night in the hospital, the newspaper reported that he continues to suffer from the incident: "The bottom of his left eyeball is sensitive to light, hard to see out of, and will need to be looked at by an optometrist."
Springfield, Missouri, January 2014
Last Christmas Eve, Chantz Mondragon was sitting in bed with his wife when his e-cig overheated and burst into flames. The device was charging via a USB port on his laptop. He described the explosion as "a searing hot blinding light like a magnesium sparkler, [like] whenever you see a person welding." Mondragon also said the fire burned through his bed, and caused second-degree burns on his leg and foot.
North Yorkshire, England, April, 2014
Eighteen-year-old Laura Baty was serving a customer at the Buck Inn Hotel when her coworker's charging e-cigarette exploded behind the bar. "I started crying hysterically and my arm was all black," she told the Press. "My dress caught on fire as I ran away, and I just didn't know what was happening."
London, April 2014
A woman who used an incompatible charger to charge her e-cigarette caused a major fire that took about 40 minutes to get under control, according to the London Evening Standard. A member of the London Fire Brigade told the paper that, "As with all rechargeable electrical equipment, it's vitally important that people use the correct type of charger for their e-cigs to prevent fires which can be serious and could even result in death."