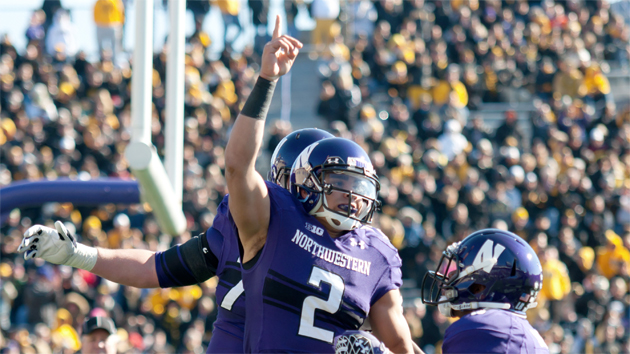 Northwestern University football players are free to seek union representation thanks to a decision released Wednesday by the Chicago regional branch of the National Labor Relations Board. This is the first time college players have been able to seek union representation and serves as a first step for athletes hoping to reform the NCAA's system of amateurism.
The ruling means that Northwestern football players are employees of the university in the eyes of the government. Players will now hold a secret ballot election on whether they will be represented by the College Athletes Players Association, which filed the original unionization petition and argued on behalf of players in front of the labor board. CAPA's stated goals do not include salaries for players. Instead, the union has called for guaranteed multiyear scholarships, increased medical coverage for concussions and other long-term health issues stemming from football, due process rights for players accused of rule violations, and allowing players to receive compensation for commercial sponsorships. If they vote in favor, players will be able to begin collective bargaining with the university.
During the labor board hearing, CAPA and former Northwestern quarterback Kain Colter, who spearheaded the movement, had to prove that players were employees and not just student-athletes. These are the points that ended up convincing the board to let them unionize:
Northwestern profits from football players' work. The decision notes that the university made $235 million in revenue thanks to ticket sales, television contracts, merchandise sales, and other licensing agreements from 2003 to 2012, along with less measurable but still important value in the form of alumni donations and the university's general reputation.
Players are compensated for that work. Players receive scholarships and stipends in exchange for playing football for the university. Players sign a "tender" at the beginning of each scholarship period that tells them the rules and conditions of their scholarship; it is in effect, the board says, an employment contract. If a player leaves the team or abuses team rules, the scholarship can be revoked—proof that the compensation is based on playing football.
Northwestern exerts significant control over players' daily lives. Players spent 50 to 60 hours a week on football-related activities during training camp and 40 to 50 hours a week during the regular season, easily equivalent to a full-time job. The decision says players' schedules, including practices, meals, games, and travel, were often up to coaches, while other things like living arrangements, outside employment, personal vehicle use, off-campus travel, internet posting, and alcohol use were subject to restrictions or coach permission thanks to NCAA rules and university policies.
Football revenues, player scholarships, and university control over athletes are certainly not unique to Northwestern, which is why this decision sets a major precedent for the rest of the college football world. It opens the door for players at many other schools—though not all, since public schools are subject to the collective bargaining laws of their respective states—to unionize in a similar fashion. That doesn't mean the fight is over, though—Northwestern said it plans to appeal the ruling to the full labor relations board in Washington, DC, and the case could move to the federal courts from there depending on the outcome.
The NCAA, which was not a party in the labor board proceeding but holds a monopoly over major college athletics, responded to the union victory with a statement that both condemned the decision and hinted at why the movement may work anyway. "Over the last three years, our member colleges and universities have worked to re-evaluate the current rules," said Donald Remy, the NCAA's chief legal officer. "While improvements need to be made, we do not need to completely throw away a system that has helped literally millions of students over the past decade alone attend college." The union's goals, though—guaranteed scholarships, increased medical coverage, allowing commercial sponsorship—are not completely throwing away the system. If more teams move to unionize, and schools like Northwestern face long legal battles they may lose, it may make those changes easier for the NCAA to stomach in order to maintain its control.
See the full labor board decision below: