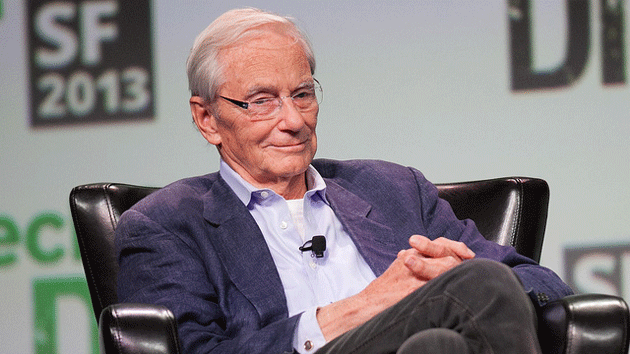 Tom Perkins, cofounder of the storied Silicon Valley venture capital firm Kleiner Perkins Caufield & Byers, could have used a forum at San Francisco's Commonwealth Club to row back from his much-maligned comments comparing the treatment of America's wealthy by the left to that of Jews under the Nazis. Instead, the man who provided seed money for Amazon and Google doubled down, telling the audience that "I think the parallel holds."
It was hardly the only bombshell Perkins dropped during a Q&A with Fortune's Adam Lashinsky, provocatively entitled, "The War on the 1%." Asked to offer one idea that could change the world, Perkins proposed a change to Americans' voting rights: "You don't get to vote unless you pay $1 in taxes…If you pay $1 million in taxes, you should get a million votes. How's that?" (In an interview after the forum, Perkins said he was simply "trying to be outrageous.")
But there was no hint of irony when Perkins repeatedly insisted that the rich are seriously underrated. "I don't think people have any idea what the 1 percent is actually contributing to America," he said at one point.
Coming at a time when the city's tech boom is creating widening income inequality, Perkins' talk seemed perfectly calculated to ignite further conflict. He sneered at protests against tech shuttles, casually dismissed gentrification as "inevitable," advocated for cutting food stamps, and condemned Lyndon B. Johnson's War on Poverty for "unknowingly creating the destruction of lower-end families in America."
It was hard to tell from the talk where the real Tom Perkins ended and the caricature of a tech mogul began. Eight years ago, Perkins built a sailing yacht for $130 million. He recently bragged to an interviewer that his Richard Mille watch is worth as much as "a six-pack of Rolexes." And yet he was visibly troubled when he informed his audience that the "extreme progressivity" of the US tax code "is persecution" of the rich.
"Government is a giant beast which has to be fed," he said, so it needs taxes to go "up, and up, and up." When Lashinsky tried to point out that taxes helped fund the creation of the internet, Perkins cut him off: "You're barking up the wrong tree."
In other highlights, Perkins (who also repeatedly noted that he's a "knight of Norway") argued that:
"if Germany had American gun laws, there would have never been a Hitler"
the Koch brothers are victims of "persecution"
he couldn't get his start as a paper boy these days due to "child labor laws"
Silicon Valley "is a meritocracy. Race has absolutely nothing to do with it."
During the talk, the octagenarian VC suggested that his outbursts were part of being "in my midlife crisis now." At a subsequent press conference, he looked tired as he nursed a plastic cup of white wine. "I won't keep going on this," he assured a reporter who asked why he continues exposing himself to ridicule.
While acknowledging that wages have remained stagnant for decades despite huge increases in productivity, Perkins offered no solutions for what ails the middle class other than kneecapping teachers' unions and rekindling the spirit of 1980s Britain. "You need and we need another Margaret Thatcher," he told the press. "I've met Margaret Thatcher, actually. Charming lady. Look, free-market capitalism, it's what has created most of the wealth in the world, and it's the only way to proceed. Free. Market. Capitalism."
About halfway into the forum, Lashinsky asked whether Perkins might have lost touch with the real world. Perkins cheerfully acknowledged the possibility. "Philosophically," he said, "nobody can prove that they are connected to reality."
Here's the full video of the Q&A:
&