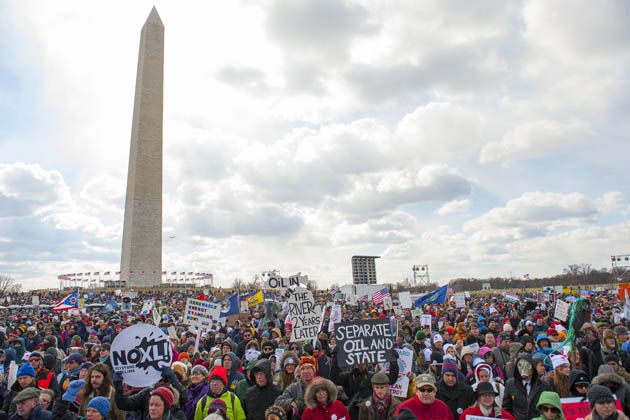 The end is in sight for the tumultuous public debate over the Keystone XL pipeline. On Friday, the State Department released its Final Supplemental Environmental Impact Statement for TransCanada Corporation's controversial pipeline project—and concluded that approving the pipeline to carry oil from Alberta's tar sands would have little impact on climate change.
The environmental assessment is one of the last major reports awaited by President Obama before he decides whether or not to approve construction of the pipeline. In his June speech on climate change, Obama said he would sanction the pipeline "only if this project does not significantly exacerbate the problem of carbon pollution." The pipeline requires State Department review because it crosses the international border between the US and Canada.
Obama's final decision is still weeks away. But reactions to the report are already plentiful—here's a sampling.
Saying Keystone XL won't impact the climate is like saying no single touchdown will impact who wins the Super Bowl. Doesn't work. #nokxl

— 350 dot org (@350) January 31, 2014
A statement from 350.org, the environmental organization founded by climate change activist Bill McKibben, reads, in part, "The President has already laid out a climate test for Keystone XL, that it can't significantly increase greenhouse gas emissions. It's clear that Keystone XL fails that test…the pipeline would pose an astronomical cost to our climate and a huge risk to families along the pipeline route. Keystone XL will fuel the climate crisis, which means more drought, more fires, more extreme weather events, and a more cost to our economy and the environment."
The president must reject the #KeystoneXL pipeline. #NoKXL pic.twitter.com/Q0i9VUH6tD

— Bernie Sanders (@SenSanders) January 31, 2014
Pres. Obama wants this to be a "Year of Action." He can start by focusing on trade, #KeystoneXL and dozens of House-passed bills #4jobs

— John Boehner (@johnboehner) January 28, 2014
Larry Schweiger, the president of the National Wildlife Federation, tells the Washington Post:
Regardless of what the EIS says, the Canadians have admitted that the amount of carbon they're going to be releasing from the tar sands will increase Canada's total emissions by 38 percent by 2030 instead of reducing emissions when all the science says that's what we need to do in order to avoid catastrophic climate change.
Cindy Schild, senior manager for refining and oil sands policy at the American Petroleum Institute, told Bloomberg News, "If they can't show this project is in our national interest, what is? The only thing left [is] for the president to decide that this project is in our national interest."
Brian Straessle, a spokesman for API, added, "The president has had five years of inaction on the Keystone XL pipeline. If 2014 is really his 'year of action,' he should start by approving Keystone."
With no environmental objections to #KeystoneXL, it's time for the president to stop stalling this project and create the jobs America needs

— Saxby Chambliss (@SaxbyChambliss) January 31, 2014
In a statement, Susan Casey-Lefkowitz, the Natural Resources Defense Council's international program director, said, "This is far from over. Next we must address whether the proposed Keystone XL tar sands pipeline would be in America's national interest. To that question, there is only one answer: No. The evidence is overwhelming that this project would significantly worsen carbon pollution, endanger our farms, our homes and our fresh water, create few jobs and transport dirty tar sands to the Gulf for export."