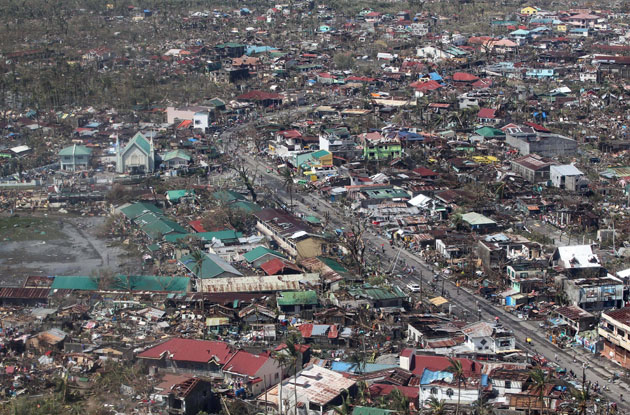 Update (11/10/13): Thousands are feared dead after Typhoon Haiyan slammed into the Philippines Friday. Government officials are estimating that 10,000 people died in Leyte Province, in the eastern part of the country, according to the Associated Press.
The 13-foot storm surge left the coastal city of Tacloban "in ruins," according to the New York Times. "There is no power, no water, nothing," Voltaire Gazmin, the country's defense secretary, reportedly said of the situation in Tacloban. "People are desperate. They're looting."
Haiyan made landfall once again Monday morning local time, hitting northern Vietnam with 75 mile-per-hour winds.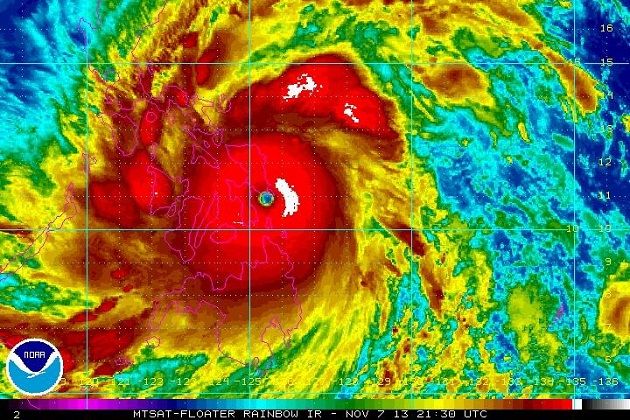 By at least one measurement, it appears that Super Typhoon Haiyan, which just slammed into the Philippine island of Samar, may be the strongest storm reliably recorded on Earth. Additional measurements and analysis will surely be necessary to confirm this, but for now, here's what we know:
The US Navy's Joint Typhoon Warning Center, which tracks typhoons and Super Typhoons—the most powerful storms on the planet—estimated Haiyan's maximum one-minute sustained winds at 170 knots, which translates into about 195 miles per hour.
According to meteorologist Jeff Masters, a number of Pacific storms prior to 1969 were measured with wind speeds equal to or above 170 knots, but these estimates are now considered unreliable. Since 1969, the three strongest storms on record by wind speed all had winds of 165 knots, or 190 miles per hour: 1979's Super Typhoon Tip, 1969's Atlantic Hurricane Camille, and 1980's Atlantic Hurricane Allen. Haiyan just passed all three by this metric, though Masters notes that there is less confidence in Haiyan's true intensity, since Tip, Camille, and Allen were all investigated by hurricane hunter aircraft. Haiyan's intensity has only been estimated based on satellite images (you can read more about how these satellite measurements are done, and why Haiyan presented such a stunning satellite image, in this great New Republic article by Nate Cohn).
There are some additional caveats here: Wind speeds are only one way of determining a storm's intensity. Another is measuring its minimum central pressure, and here Tip still reigns supreme, with a minimum central pressure of 870 millibars.
Most disturbing of all is another record: At landfall, Haiyan was more intense than any other landfalling storm.
Is it possible that Haiyan was a "Category 6" hurricane? Officially, the Saffir-Simpson hurricane scale defines the category 5 range (the highest category) as beginning at 137 knots. But once you're 33 knots above that, as Haiyan was, perhaps the scale has been superseded. After all, the entire Category 2 range only spans 12 knots.