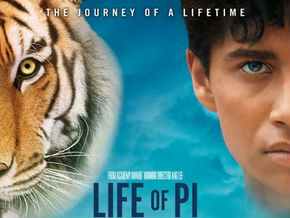 "A Husky dog was punched repeatedly in its diaphragm on Disney's 2006 Antarctic sledding movie Eight Below, starring Paul Walker, and a chipmunk was fatally squashed in Paramount's 2006 Matthew McConaughey-Sarah Jessica Parker romantic comedy Failure to Launch."
Those are just two of the many incidents cited in the Hollywood Reporter's investigation into how the American Humane Association (AHA) has been dropping the ball on protecting animals featured in major film and TV productions. When you go see a movie in theaters, chances are you'll see the words "no animals were harmed" etched onto the closing credits (other times, you might see a film listed as "acceptable" or "outstanding" in its treatment of animals). That famous disclaimer is awarded by the AHA, the nonprofit charged with ensuring animal safety in American film and television. According to THR, the organization has too often signed off on a film in which animals were harmed during production—and has justified doing so on grounds that animals weren't intentionally injured (or that incidents occurred when cameras weren't rolling).
"In 2003, the AHA chose not to publicly speak of the dozens of dead fish and squid that washed up on shore over four days during the filming of Disney's Pirates of the Caribbean: The Curse of the Black Pearl," the report continues. "Crewmembers had taken no precautions to protect marine life when they set off special-effects explosions in the ocean, according to the AHA rep on set."
Another incident of animal death or injury on-set involves the Bengal tiger in Ang Lee's Oscar-winning 2012 drama Life of Pi. "This one take with him just went really bad and he got lost trying to swim to the side," the assigned AHA monitor wrote in an email. "Damn near drowned." Still, Life of Pi earned its "no animals were harmed" credit. Furthermore, during filming of Peter Jackson's The Hobbit: An Unexpected Journey, 27 animals reportedly died. According to the report, instead of investigating, the AHA crafted a carefully worded disclaimer that it had "monitored all of the significant animal action" and that "no animals were harmed during such action."
In response to THR's inquiries, the AHA offered several official explanations that, according to THR's review, often conflict with the organization's own internal records. Also, the AHA pointed to a bunch of technicalities. For example, their statement on the crushed rom-com chipmunk reads that the dead rodent wasn't a factor because the incident "occurred after filming and no intentional cruelty was involved." Dr. S. Kwane Stewart, a veterinarian and the national director of AHA's "No Animals Were Harmed" program, told THR, "This whole idea that we're cozy with the industry—it's simply not the case. We first and foremost want to keep the animals safe."
As The Hill notes, Congress has worked with Hollywood on legislation to protect animals. But in this Congress, none of the related legislation directly addresses animal safety in film productions, according to the Congressional Animal Protection Caucus. The offices of Reps. Jim Moran (D-Va.) and John Campbell (R-Calif.), who co-chair the bipartisan organization, did not respond to Mother Jones' requests for comment regarding the new report.
"The moral compass of the entire place is off the hook," one AHA employee told THR. "It's not changing," another said. "It's getting worse."