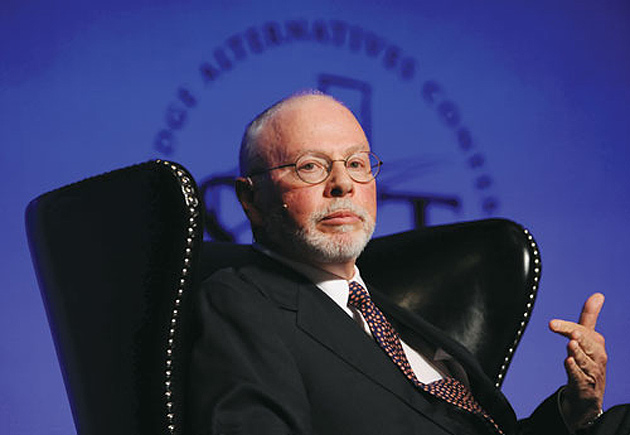 Fight disinformation:
Sign up
for the free
Mother Jones Daily
newsletter and follow the news that matters.
When Republicans make their pilgrimages to Wall Street for money to help take back the Senate next year, there may be no hotter ticket than a party at Paul Singer's. The 69-year-old hedge fund billionaire's co-op apartment at the Beresford, a hulking Italian Renaissance building on Central Park West whose celebrity residents have included Jerry Seinfeld, Glenn Close, and Helen Gurley Brown, can draw scads of high-finance players. The haul for a dinner event has been known to run to $1.4 million, and Singer himself has no trouble writing a $1 million check to a super-PAC. He's been described as a "fundraising terrorist" for his persistence in twisting arms, a skill that has helped drive a major strategic shift among Big Finance donors, who favored Obama in 2008 but now overwhelmingly back the GOP.
Singer has a professorial mien and close-cropped beard that give him a passing resemblance to Fed chairman Ben Bernanke. A hardline free-marketeer with political roots in the Barry Goldwater era, he despises the Obama administration's push to tighten financial regulations. At a 2010 dinner for the Manhattan Institute, a conservative think tank whose board he chairs, he blasted "indiscriminate attacks by political leaders against anything that moves in the world of finance." Singer's $21 billion Elliott Management is one of many firms that face tougher oversight due to the 2010 Dodd-Frank law, the sweeping financial-services overhaul that he'd like to see repealed. Elliott has been called a "vulture fund" because a chunk of its profits comes from buying distressed companies' or countries' debt at a steep discount and then playing hardball—including, in one case, detaining the flagship of Argentina's navy—to extract payment.
The trifecta of big checks, high-powered connections, and influence in GOP policy circles has made Singer a kind of triple threat. "Singer is the big power broker in the Republican financial world," says one operative who knows him. "He's involved with almost everything." Fortune described him as "a passionate defender of the 1%." In practical terms, notes one conservative donor, "if you write checks as big as Singer's, you can be close to anyone."
Singer got his start as a megadonor in the 2004 campaign cycle, when he helped raise Wall Street cash for Swift Boat Veterans for Truth, the group that attacked John Kerry's war record in Vietnam. In 2007 he backed Rudy Giuliani's presidential bid, including loaning the former New York City mayor his plane. Singer also secretly funneled $175,000 into a California ballot measure to allocate the state's electoral votes on a proportional basis—a strategic ploy designed to move some of the blue state's votes to the GOP. Singer was instrumental in the selection of Wisconsin Rep. Paul Ryan, a fellow fan of laissez-faire capitalism, as Mitt Romney's 2012 running mate; Dan Senor, now a senior adviser at Elliott, was one of the campaign's top foreign policy staffers. (Senor served as the Coalition Provisional Authority spokesman during the early days of the occupation of Iraq, where he once said, "Well, off the record, Paris is burning. But on the record, security and stability are returning to Iraq.")
Recently, Singer has given sizable sums to the billionaire Koch brothers' dark-money projects as well as to the Club for Growth, an anti-tax group that has helped tea partiers oust several mainstream Republicans. He's also donated generously to Karl Rove's Crossroads GPS, and has tapped Susan Ralston, a former aide to Rove and disgraced lobbyist Jack Abramoff, for fundraising help. Elliott Management employees are major backers of virtually every top Republican in Washington, including Senate Minority Leader Mitch McConnell and House Majority Leader Eric Cantor, as well as 2016 presidential prospects like Ryan and Florida Sen. Marco Rubio.
Yet Singer has been at odds with the party on a few important issues, most notably gay marriage. (He has a son who is gay and was married in Massachusetts a few years ago.) Singer has plowed more than $11 million into marriage equality drives since 2001 and put another $1.7 million into the launch of the American Unity PAC, which backs pro-gay-rights Republicans. He's also worked closely with Ken Mehlman, the former Republican National Committee chairman (and now Wall Street investment banker) who came out a few years ago. "Paul's active on the issue because of his conservative ideology, not in spite of it," Mehlman says. "He strongly believes in it. We collaborate very closely."
In the end, though, Singer's distaste for the Obama administration's economic policies has squarely aligned his giving with the conservative wing of the party. His top cause is repealing or weakening Dodd-Frank, which he sees as both too meddlesome (it expanded federal oversight of hedge funds and curbed creditors' participation in big corporate bankruptcies, a key part of the vulture fund business) and too lax (he's criticized it for not requiring enough disclosure from big banks).
"Singer is the big power broker in the Republican financial world," says one operative who knows him. "He's involved with almost everything."
Among Elliott's allies is Rep. Scott Garrett, the New Jersey Republican who chairs the House subcommittee that oversees the Securities and Exchange Commission. Garrett has fought to slash the SEC budget and calls Dodd-Frank "unconstitutional." In 2010, Elliott executives ponied up nearly $200,000 for two campaign committees that helped Garrett and also boosted his stature with fellow Republicans; a large chunk of one of the committees' funds went to assist other members. Singer and other Elliott execs have also opened their wallets wide for Cantor, who has led efforts to protect a massive tax break, known as carried interest, that allows hedge funders to pay very low capital-gains rates on their income.
But in what is perhaps its highest-stakes battle, Elliott has spent more than a decade waging an aggressive legal campaign to force Argentina to pay down nearly $1.3 billion in sovereign debt accrued in the wake of its 2001 financial meltdown. (Elliott would get about $300 million for bonds that Argentina claims it picked up for $48 million.) Most American banks and other creditors have long since accepted the country's offers to pay off its debts at about 30 percent of their original value. But an Elliott subsidiary has won several federal rulings that have increased the pressure on Buenos Aires. The subsidiary is represented by former solicitor general and Bush v. Gore lawyer Ted Olson, who recently helped defeat California's anti-gay-marriage law in the Supreme Court.
But Elliott's stance has sparked concerns among big banks and the Obama administration, which has backed some of Argentina's claims in court. They fear that squeezing Argentina could put other debt deals with distressed countries at risk and jolt the global bond market. But Elliott has lobbied hard and garnered some backing in Congress. Last year, then-Florida Rep. Connie Mack sponsored a bill to push Argentina to pay $3.5 billion to hedge funds, including Elliott—whose employees were some of the biggest supporters of Mack's unsuccessful 2012 Senate campaign. (Mack has said that he was unaware of Singer's role in the debt fight.)
It's not the first time Elliott has put the screws to poor countries. In the mid-'90s, it was awarded a $58 million judgment on Peruvian debt that it had bought for around $11 million; a few years later, it walked off with $90 million on Congolese debt that it had acquired for about $20 million. Yet with Argentina the fund has ratcheted its tactics up a few notches. Last October, Elliott's subsidiary had the Argentine navy's tall ship ARA Libertad detained in a Ghanaian port; the International Tribunal for the Law of the Sea later called the impoundment a violation of international law.
To those who know Singer, such aggressive stunts are wholly in character. Harvey Miller, a partner and bankruptcy expert at Weil, Gotshal & Manges who has fought Elliott in court, calls him a "very tough and very difficult adversary. He's not a compromiser. He's persistent and won't go away." Democrats are likely to realize as much in 2014.