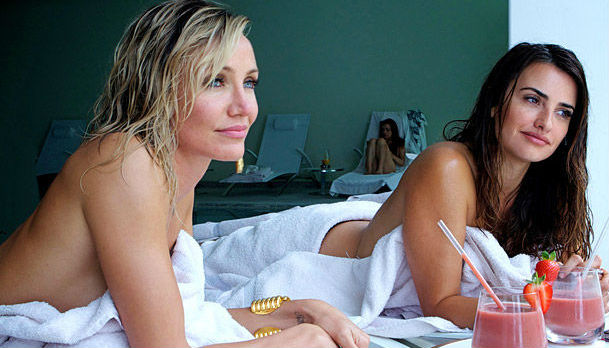 Fight disinformation:
Sign up
for the free
Mother Jones Daily
newsletter and follow the news that matters.
In the weeks leading up to the Friday release of The Counselor, a collaboration between director Ridley Scott and Pulitzer Prize-winning author Cormac McCarthy, the most talked about scene in the whole movie was by far the one showcasing Cameron Diaz' deviant car-sexing. "Cameron Diaz sizzles in X-rated dance on Ferrari," the USA Today headline read. "Cameron Diaz humps a car in new film with Brad Pitt," the UK tabloid The Sun announced over a year ago. "The Counselor Features the Year's Most Outrageous Sex Scene," IGN declared.
The film's cast is a spread of A-list talent and sex appeal: Michael Fassbender, Penélope Cruz, Javier Bardem, and Brad Pitt. The film is a tense, wild morality play about a suave attorney's (Fassbender) disastrous foray into drug trafficking. There are plenty of memorable moments in The Counselor, both gruesome and otherwise. But it will forever be remembered as the movie in which Diaz has some crazy sex with a Ferrari.
The scene takes place in the middle of a golf course at night, with the action occurring on top of a parked 2013 Ferrari California HS. Malkina (Diaz) tells her drug-dealing lover Reiner (Bardem, with hair modeled after producer Brian Grazer's insane spikes) that she intends to "fuck [his] car" and proceeds to do exactly that while he looks on in confusion and terror. "It was too gynecological to be sexy—almost," Reiner narrates.
In The Counselor's press notes, Diaz describes her character as being "compelled to take the power of every man, devour it, and then break down every woman."
Last week, Ferrari's press office did not respond to multiple requests for comment about what they thought of Diaz making savagely aberrant love to their vehicle. (20th Century Fox also did not respond to requests for comment on Diaz having all the sex with an expensive yellow car.) But on Monday, a Ferrari North America spokeswoman emailed me their brief statement:
We were indeed aware of the Ferrari California's presence in the film, a star among the stars of this talented cast.
For the record, a Bentley also appears in the film. Diaz does not have sex with it.
Here's an illuminating GIF of a key part of the Ferrari-nookie sequence, via BuzzFeed's Kate Aurthur:
This post has been updated.
Click here for local showtimes and tickets for The Counselor.
Click here for more TV and film coverage from Mother Jones.
For more reviews, click here.