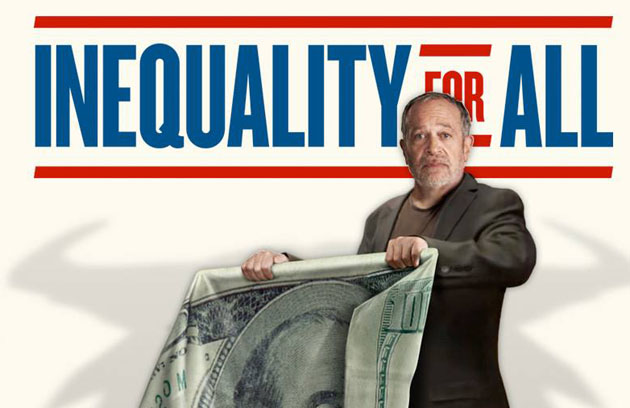 Fight disinformation:
Sign up
for the free
Mother Jones Daily
newsletter and follow the news that matters.
Jacob Kornbluth's new documentary Inequality for All, which stars economist and former Clinton labor secretary Robert Reich, is being hyped as a "game changer in our national discussion of income inequality." It probably won't be that, since it's preaching to the choir, but the film is a welcome addition to that discussion.
Inequality for All, which opens Friday, weaves between scenes of Reich lecturing clear-eyed Cal coeds in his Wealth and Inequality class, 1950s-style graphs and charts illustrating growing income disparity, and archival clips of happy white people in the post-World War II age of prosperity. There are also interviews with working-class people left behind by the American Dream, such as a worker at a California power plant that has hired anti-union consultants, and a mom who works at Costco and has $25 in her bank account.
Kornbluth also chats with the odd member of the 1 percent. "The pillow business is quite tough because fewer and fewer people can afford to buy the products that we make," pillow-making millionaire Nick Hanauer explains. "The problem with rising inequality is that a person like me who earns a thousand times as much as the typical worker doesn't buy a thousand times as many pillows every year. Even the richest people only sleep on one or two pillows."
In a comprehensive and digestible way, Reich lays out the stark facts of income inequality (for example, the 400 Americans richest currently earn more than half the country's population combined) and how we got here. He blames the decline of unionization, globalization, and technology for suppressing pay, and enriching the few, who then use their increasing political clout to protect their status. "When the middle class doesn't share the gains, you get into a downward vicious cycle," Reich explains as the film cuts to an Wheel of Fortune-type animation illustrating that cycle: Wages stagnate, consumption drops, companies downsize, tax revenues decrease, government cuts programs, workers become less educated, unemployment rises—and so on.
As Reich notes, he's been "saying the same thing for 30 years" about growing income inequality. He worked to combat it during his stints in the administrations of Presidents Ford, Carter and Clinton, and now he's fighting it from the outside, writing books, recording commentaries, and trying to instill his righteous fire in others. On the last day of class, he gives an inspirational sendoff, telling his students to go out and "change the world."
The ending of Inequality for All is predictable, but that's okay, because Reich is so likable—and he's right.