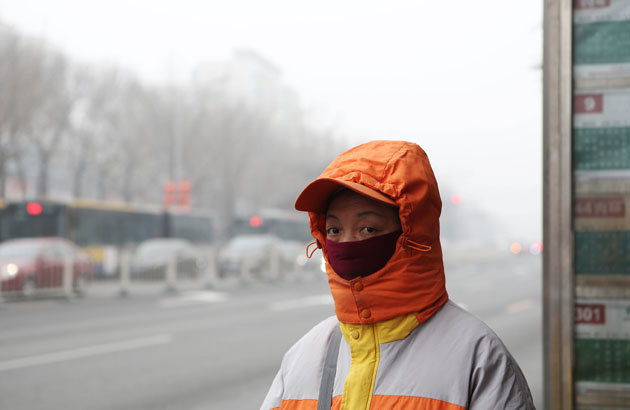 This story first appeared on the Atlantic Cities website and is reproduced here as part of the Climate Desk collaboration.
The air quality in Beijing has grown so bad that it's begun to produce its own catch-22s. All that smog is starting to keep tourists away, but tourism is just the kind of less energy-intensive industry that China needs to develop. The city is hoping to ramp up its public bike-share system, in an effort to shift a majority of trips through the city center onto public transportation. But who would want to ride a bike in this atmosphere?
At least one perverse consequence could be helping. The pollution has gotten so awful that residents and officials long averse to addressing greenhouse gas emissions (at the expense of economic growth) are now clamoring for drastic solutions to its related problem: unbreathable air. As The New York Times reported over the weekend in a piece on the "silver lining" to China's smog:
"Air pollution was the perfect catalyst," said Wai-Shin Chan, director of climate change strategy in Asia for HSBC Global Research in Hong Kong. "Air pollution is clearly linked to health, and the great thing is that everybody—that's government officials and company executives alike—breathes the same air."
In fact, officials in Beijing proposed new rules Monday that would seem unthinkable in the United States. The city already has a cap on new auto registrations available each month, creating a public lottery with long odds. In August, 1.6 million people applied for new automobile licenses, but only 22,000 are issued each month. Now, among a suite of new anti-pollution measures from the city, the restrictions on new cars will get even tighter. The city currently has about 5.35 million of them. Officials now want to ensure that number levels off at 6 million by 2017 (that would mean about 10,000 new permits each month over the next five years).
Also announced as part of the five-year plan: 1,200 of the biggest-polluting companies and factories will be ordered by the government to upgrade their facilities or shut down by 2016. In industries that miss their pollution reduction targets, no projects that would contribute new pollution will receive regulatory approval, as of this year.
Then there's this:
Companies who break environmental laws will be banned from receiving bank loans, fund-raising through initial public offerings and value-added tax breaks starting this year.
The goal is to cut harmful particulate matter in the air by 25 percent by 2017. According to the city's Municipal Environmental Protection Bureau, this is a "declaration of war against PM 2.5." The measures will undoubtedly be painful (and only government officials in a country like China could declare and enforce them).