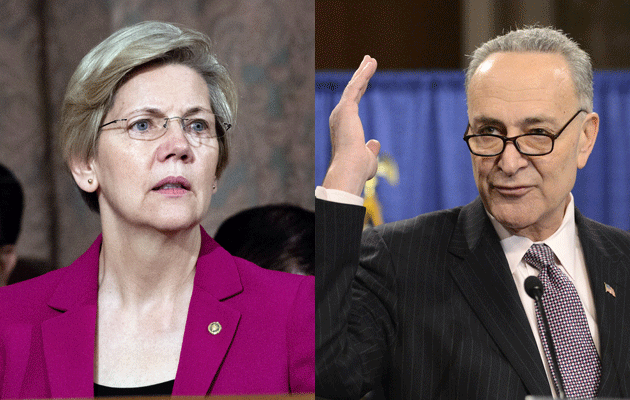 Fight disinformation:
Sign up
for the free
Mother Jones Daily
newsletter and follow the news that matters.
On Friday, a provision that financial reformers consider a critical part of the 2010 Dodd-Frank Wall Street reform act is set to finally go into effect. This measure was designed keep big banks from engaging in risky trading overseas that could contribute to another economic collapse at home—but Senate Democrats are sparring over whether it should be put into action.
The Dodd-Frank law, passed in order to avoid another financial crisis, requires Wall Street regulators to draw up tighter rules governing the trading of derivatives (financial products with values derived from from underlying variables, like crop prices or interest rates), and one question has been how these new standards will apply to US banks operating abroad. Advocates of financial reform contend these regulations must be strictly applied to the overseas trading activity of US banks. They note that Wall Street banks do more than half their derivatives dealing through foreign subsidiaries; if a bet in one of these foreign locations goes sour, the trading loss could come home to roost and threaten economic security in the United States. Foreign branches of US banks have so far been exempt from Dodd-Frank rules on derivatives, and Big Finance wants to keep it that way.
On Friday, the Commodity Futures Trading Commission (CFTC) is due to finalize a rule that will apply these strict regs on derivatives trading to overseas branches of US-based banks. But the agency's chief, Gary Gensler, is facing a crush of opposition from the financial industry and European banking regulators. And he's been getting conflicting messages from Senate Democrats. At the end of June, six Democratic senators—Chuck Schumer (D-N.Y.), Kirsten Gillibrand (D-N.Y.), Kay Hagan (D-N.C.), Michael Bennet (D-Colo.), Heidi Heitkamp (D-N.D.), and Thomas Carper (D-Del.)—sent a letter to the Treasury Department urging that the CFTC delay finalizing the guidelines on overseas trading. Last week, another eight Senate Democrats, including Elizabeth Warren (D-Mass.), Barbara Boxer (D-Calif.), and Jeff Merkley (D-Ore.), sent a letter to the CFTC pushing for a rule on overseas derivatives trades that is even stronger than the one Gensler has floated, and urging him to implement it soon.
Schumer & Co. argue that the CFTC should first coordinate its overseas rules with similar regulations being proposed by the Securities and Exchange Commission (SEC) and by banking regulators abroad. They say they merely want to protect banks from being subjected to "duplicative" rules. The senators insist they are pushing for a delay only to help banks make an orderly transition to new rules.
Advocates of financial reform are suspicious, believing these senators are doing what they can to ward off this new regulation. Dennis Kelleher, president of the financial reform advocacy group Better Markets, says that there is no reason for the CFTC to wait on the SEC to finalize its rules because "they are largely irrelevant to each other." (The CFTC has jurisdiction over the vast majority of the derivatives market; the SEC oversees a little more than 3 percent.)
And waiting to coordinate US rules with foreign regulations is a fool's errand, financial reformers assert. European regulators are years behind the United States in developing derivatives regulations. "Rather than start to implement the strongest parts of Dodd-Frank, the finance industry and its supporters are pushing for endless delays, hoping people lose interest from exhaustion," says Mike Konczal, an expert on financial reform at the Roosevelt Institute. "This rule has been delayed enough already." (It was supposed to go into effect six months ago.) None of the six senators who are pushing for a delay responded to a request for comment.
Bart Naylor, a financial-policy advocate at Public Citizen, says that it's no surprise that Gillibrand and Schumer are urging a delay for this regulation; Wall Street is in their backyard. The Democratic senators pushing for slow-walking on the overseas rule took in an average of $1,879,161 in campaign contributions from the financial-services and banking industries in 2011 and 2012, according to campaign finance records compiled by the Center for Responsive Politics. The Senate Dems in favor of a strong cross-border rule banked an average of $592,696 from the industry.
The Elizabeth Warren camp is hoping Gensler will resist the anti-reform efforts and draft a strong rule by Friday. "The big banks should not be able to escape oversight just by conducting their derivatives trading through an offshore affiliate or branch. That makes no sense," Warren says. "We should learn from the mistakes that went wrong before the crisis, not repeat them."
We'll see about that. So far, it looks like the Schumer band may be winning. Gensler hinted Monday he is considering a delay. If the July 12 deadline passes without the rule being established, banks operating abroad will be left to decide for themselves if their swaps should be subject to US regulations. That ought to work out well.