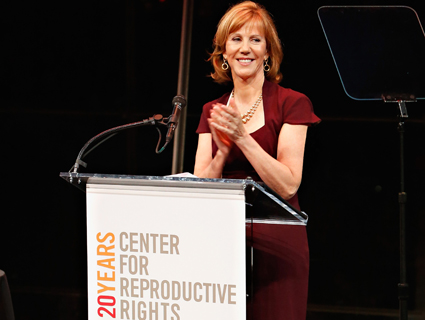 Fight disinformation:
Sign up
for the free
Mother Jones Daily
newsletter and follow the news that matters.
The Center for Reproductive Rights, a New York-based nonprofit, is at the center of the key legal battles over abortion and contraception.
CRR filed the lawsuit that forced the Obama administration to drop its effort to restrict access to Plan B One-Step—a brand of what is popularly known as the morning-after pill—this week, making emergency contraception available over-the-counter to everyone. The group is also leading the legal fight against bans on abortions after 20 weeks of pregnancy, which a dozen states have passed in the last three years. And next week, the Supreme Court is expected to announce whether or not it will hear Oklahoma's appeal of court decisions CRR won blocking both a mandatory sonogram law and a ban on medication abortion in that state.
CRR's president and CEO, Nancy Northup, was in Washington this week to talk to legislators about what's happening in the states and to promote her group's proposal for a Bill of Reproductive Rights. Launched last year, the effort calls on federal legislators to pass protections for abortion and other reproductive health care at the federal level. The GOP-led House, however, was moving in the opposite direction this week, with the judiciary committee debating Rep. Trent Franks' (R-Ariz.) bill to ban abortions after 20 weeks nationwide. Mother Jones spoke to Northup during her visit.
Mother Jones: The DOJ's latest offer is that the FDA will make Plan B One-Step available over-the-counter for everyone, but the appeals court's ruling last week said that it needed to make all types of two-pill EC available. So the administration's response didn't actually answer the court's ruling. What's next?
Northup: We're going to back to the court saying, "Enough with the gamesmanship." It's safe and effective. All these pills are safe and effective for use by all ages and they should all be over the counter. And that the generic option, which is less expensive, should be available. They're $10-20 cheaper.
Mother Jones: Another issue CRR has been involved in is the 20-week abortion bans in the states. You recently won a lawsuit against Arizona's in court. But at this point, 12 states have passed this type of law. What's next on that front?
Northup: There are some states with no providers [who offer abortions up to 20 weeks]. So we're not challenging those, because we have no standing to challenge them. That again shows how much of a political and messaging campaign this is by people who want to restrict access. Why are they are passing 20 week bans in states where doctors don't even provide those services? Everywhere that they have been challenged, they have been, to date, enjoined. In Georgia there's a preliminary injunction in place. Arizona has an injunction after the 9th Circuit decision. Idaho's decision came down that it was unconstitutional. What we're now looking at is fighting the 12-week ban in Arkansas, and we will be filing in North Dakota against the six-week ban. We challenge them where it's meaningful to challenge them.
Mother Jones: Three years ago there were no states with 20 week bans. Why do you think states have embraced this type of law in particular at this point in time?
Northup: I think it's part of the chipping-away strategy. As we just said, this year in Arkansas we had a 20-week ban passed, and then a few weeks later the legislature passed a 12-week ban. They continue to try to move the goalpost to get closer to what they ultimately want, which is to ban abortion in all circumstances. Obviously people in the anti-choice movement are getting frustrated with chipping away, and they want to move to taking a sledgehammer. So they just go out there in North Dakota and go for six weeks, not following the marching orders of where they're supposed to be going. All of these restrictions are clearly unconstitutional. They're also hoping to get something to the Supreme Court in the hopes that they can get Justice Kennedy's vote.
Mother Jones: These time frames are just getting more and more restrictive at the state level. Where does this end?
Northup: Well, the endgame—and this is why we're in Washington now—is we're talking to senators and members of the House about the fact that we need to have federal protections. It's not enough. We do have federal constitutional protections, but we can't keep forever one step ahead of everything they're doing, playing Wack-a-Mole. They pass laws, we get them enjoined, they pass laws, we get them enjoined. There's something new every year. There have been times when we had five simultaneous lawsuits against the state of Louisiana. We've been back year after year against the state of Oklahoma. They just keep coming.
Mother Jones: Let's talk about the Franks bill, which would ban abortion at 20 weeks across the country. It's probably going to pass the House, but it's not going to pass the Senate. What are your concerns about the bill, even if it doesn't become law?
Northup: The concern is that we're having a conversation that isn't a conversation we should be having. We should not be having a conversation about banning abortion at 20 weeks, we should be having a conversation about assuring that women throughout the nation have access to their constitutionally guaranteed rights to health care services. It's important to bring what's happening in the states to Congress, which is this trend of limiting women's access across the nation. That needs to get federal attention, because women's rights are not being protected. Their ability to access preventative health care is not being protected. The harm of having bills that aren't going to pass in the Senate and would obviously be vetoed by the president is that they keep the conversation where it shouldn't be.
Mother Jones: Another area where CRR has been litigating is on medication abortion bans, most recently in Oklahoma. That hasn't been getting as much attention, but seems like a pretty important issue when it comes to accessing abortion.
Northup: Well, we're going find out on June 24 whether the Supreme Court is taking the medication abortion case. We won the cases against Oklahoma in the Oklahoma Supreme Court, [but the state] has filed for [US] Supreme Court review. One is a forced sonogram case, one is a medication abortion case. They're both pending cert. The reason these bills haven't got a lot of attention is these bills are all designed to fly below the radar. It sounds like a health and safety bill about how to provide medication abortion, when in fact it is a bill to limit medication abortion. It's been heartening that the courts have seen through the pretext that these are health and safety regulations.
Mother Jones: And what about the sonogram law?
Northup: In Oklahoma we prevailed in the trial court on state constitutional grounds, that it was a special law just about abortion and it was therefore unconstitutional under the state constitution. The Supreme Court of Oklahoma upheld [that decision]. We don't think it's ripe for SCOTUS to take it. It will be interesting if the Supreme Court takes it, because it's been an issue that's gotten the American pro-choice movement quite riled up. People do not like the idea of the government forcing physical intrusion into your body while giving you lectures that they have designed.
Mother Jones: What's the long game in states like North Dakota or Mississippi, where there's one clinic and a relentless stream of laws aimed at closing it? How do you get out of that cycle of just trying to stop really restrictive laws after they pass?
Northup: The key to the long game is that you need to have federal protection. I mean, how did people finally get the right to vote in Mississippi? In 1965, before the Voting Rights Act passed, only 2 percent of African Americans in the state of Mississippi were registered to vote. An enormous swath of the state's population was deprived of their fundamental constitutional right to vote. There are times in our nation's history where you have to have the federal government step in when states are trampling right and left on people's rights, no matter how popular, at the time, those sentiments of trampling on people's right are. That's why we're here in Washington to talk to our representatives and senators about that—beginning to talk about what kind of federal legislation could protect people's rights.
Mother Jones: What's would the ideal federal legislation look like?
Northup: It would be specific legislation to address what these states are doing, and to block their ability to do it. And to ensure that every new technique under the sun to undermine women's access to reproductive health care services is blocked, in ways like the Voting Rights Act blocked states' ability to come up with new techniques to deprive people of their rights on the basis of race.
Right now we don't have a pro-choice House. But at the end of the day, starting conversations about where we need to be, advocating for women's rights, is where you've got to get if your going to get those rights protected.