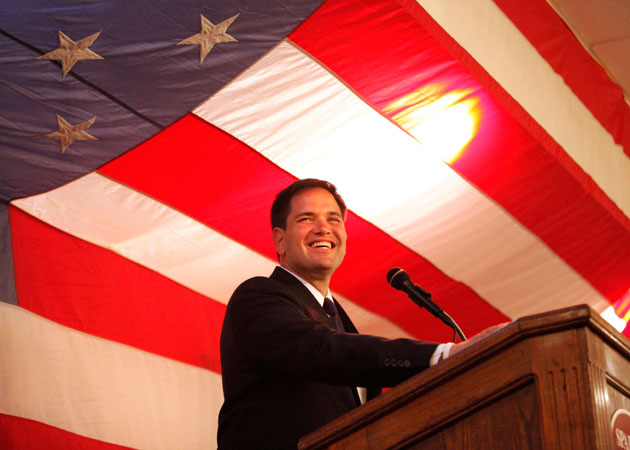 Fight disinformation:
Sign up
for the free
Mother Jones Daily
newsletter and follow the news that matters.
After two weeks of debate on the floor and the addition of beefed-up border security measures backed by Sens. Bob Corker (R-Tenn.) and John Hoeven (R-N.D.), the Senate passed a comprehensive immigration reform bill on Thursday by a 68-32 vote. The bill, which House Speaker John Boehner (R-Ohio) has repeatedly said he won't bring for a vote in the House, would offer a path to citizenship for the nation's estimated 11 million undocumented immigrants after the border measures are implemented.
Here's how all 100 senators voted (no Democrats voted against the bill):
Republicans who voted for the bill (14)
Lamar Alexander (R-Tenn.)
Kelly Ayotte (R-N.H.)
Jeff Chiesa (R-N.J.)
Susan Collins (R-Maine)
Bob Corker (R-Tenn.)
Jeff Flake (R-Ariz.)
Lindsey Graham (R-S.C.)
Orrin Hatch (R-Utah)
Dean Heller (R-Nev.)
John Hoeven (R-N.D.)
Mark Kirk (R-Ill.)
John McCain (R-Ariz.)
Lisa Murkowski (R-Alaska)
Marco Rubio (R-Fla.)
Democrats and Independents who voted for the bill (54)
Tammy Baldwin (D-Wis.)
Max Baucus (D-Mont.)
Mark Begich (D-Alaska)
Michael Bennett (D-Colo.)
Richard Blumenthal (D-Conn.)
Barbara Boxer (D-Calif.)
Sherrod Brown (D-Ohio)
Maria Cantwell (D-Wash.)
Ben Cardin (D-Md.)
Carper Thomas (D-Del.)
Bob Casey (D-Pa.)
Christopher Coons (D-Del.)
Mo Cowan (D-Mass.)
Joe Donnelly (D-Ind.)
Richard Durbin (D-Ill.)
Dianne Feinstein (D-Calif.)
Al Franken (D-Minn.)
Kirsten Gillibrand (D-N.Y.)
Kay Hagan (D-N.C.)
Tom Harkin (D-Iowa)
Martin Heinrich (D-N.M.)
Heidi Heitkamp (D-N.D.)
Mazie Hirono (D-Hawaii)
Tim Johnson (D-S.D.)
Timothy Kaine (D-Va.)
Angus King (I-Maine)
Amy Klobuchar (D-Minn.)
Mary Landrieu (D-La.)
Patrick Leahy (D-Vt.)
Carl Levin (D-Mich.)
Joe Manchin (D-W.Va.)
Claire McCaskill (D-Mo.)
Robert Menendez (D-N.J.)
Jeff Merkley (D-Ore.)
Barbara Mikulski (D-Md.)
Christopher Murphy (D-Conn.)
Patty Murray (D-Wash.)
Bill Nelson (D-Fla.)
Mark Pryor (D-Ark.)
John Reed (D-R.I.)
Harry Reid (D-Nev.)
Jay Rockefeller (D-W.Va.)
Bernie Sanders (I-Vt.)
Brian Schatz (D-Hawaii)
Charles Schumer (D-N.Y.)
Jeanne Shaheen (D-N.H.)
Debbie Stabenow (D-Mich.)
Jon Tester (D-Mont.)
Mark Udall (D-Colo.)
Tom Udall (D-N.M.)
Mark Warner (D-Va.)
Elizabeth Warren (D-Mass.)
Sheldon Whitehouse (D-R.I.)
Ron Wyden (D-Ore.)
Republicans who voted against the bill (32)
John Barrasso (R-Wyo.)
Roy Blunt (R-Mo.)
John Boozman (R-Ark.)
Richard Burr (R-N.C.)
Saxby Chambliss (R-Ga.)
Dan Coats (R-Ind.)
Tom Coburn (R-Okla.)
Thad Cochran (R-Miss.)
John Cornyn (R-Texas)
Mike Crapo (R-Idaho)
Ted Cruz (R-Texas)
Michael Enzi (R-Wyo.)
Deb Fischer (R-Neb.)
Chuck Grassley (R-Iowa)
Jim Inhofe (R-Okla.)
Johnny Isakson (R-Ga.)
Mike Johanns (R-Neb.)
Ron Johnson (R-Wis.)
Mike Lee (R-Utah)
Mitch McConnell (R-Ky.)
Jerry Moran (R-Kansas)
Rand Paul (R-Ky.)
Rob Portman (R-Ohio)
James Risch (R-Idaho)
Pat Roberts (R-Kansas)
Timothy Scott (R-S.C.)
Jeff Sessions (R-Ala.)
Richard Shelby (R-Ala.)
John Thune (R-S.D.)
Pat Toomey (R-Penn.)
David Vitter (R-La.)
Roger Wicker (R-Miss.)