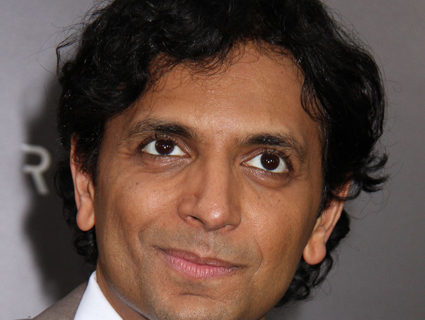 Fight disinformation:
Sign up
for the free
Mother Jones Daily
newsletter and follow the news that matters.
If you're surprised to hear that M. Night Shyamalan has a new movie out this week and wonder why you hadn't heard about his return to the director's chair, it's because that was precisely the idea. His new film After Earth (released on Friday) is a soul-smushingly boring sci-fi flick about a monster-infested future Earth that stars Will and Jaden Smith. The fact that the marketing department of the project took great pains to downplay Shyamalan's role is the only interesting part about it.
There was a time at the tail end of the '90s that gun-jumping critics and fans hailed Shyamalan as the "next Hitchcock." 1999's The Sixth Sense was borderline classic. Unbreakable and Signs also showed his promise as a director who could deliver thrills and dark drama. But beginning with 2004's The Village, Shyamalan embarked on a road to acute mediocrity, which then merged onto a highway of insipid aimlessness, which then plummeted off an unfinished overpass of "Why Are You Still Here?"
This rapid degeneration has made him into a critical and pop-cultural punchline, which was apparently not lost on the the people marketing his new film. The AP reports:
While Shyamalan's name is the first to pop up in the credits at the conclusion of the Sony Pictures film, it's been notably missing from trailers, TV commercials and marketing signage—a stark contrast to his previous films like Unbreakable and Lady in the Water, which were prominently billed as being "from writer-director M. Night Shyamalan."
Much in the same way that a marketing campaign will go out of its way not to use the word "gay" when promoting a film about two despondent gay cowboys, the marketing campaign for After Earth has gone out of its way not to mention the words "M. Night Shyamalan." That sort of tells you everything you need to know about how highly Sony thinks of the 42-year-old director and his current standing. Ditto the movie.