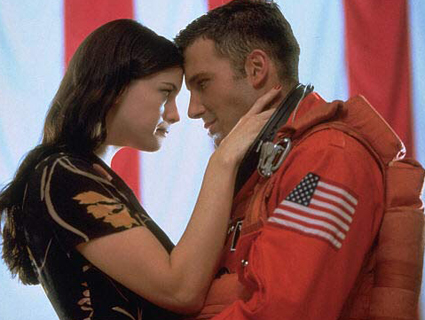 Fight disinformation:
Sign up
for the free
Mother Jones Daily
newsletter and follow the news that matters.
Last Friday, the office of Sen. Bill Nelson (D-Fla.) blasted out a press release noting that President Obama's forthcoming budget plan (to be released on Wednesday) includes a $100 million initiative to abduct an asteroid, tow it toward Earth, place it into our moon's orbit, and claim the space rock for 'Murica. American astronauts would then travel to the asteroid and potentially conduct mining operations and research ways of deflecting future civilization-ending asteroid attacks on Earth.
The Obama administration has confirmed the existence of this section of the president's upcoming budget proposal. An official close to the matter filled me in on some of the details. The source wanted to make two things clear. First, the proposal does not increase NASA's budget—existing efforts and funds would be redirected to the $100 million asteroid-lasso plan. Second, if the audacious-sounding mission goes through, NASA promises only to drag small asteroids toward Earth and into lunar orbit. If something were to go horribly wrong, the relatively small size of the target asteroid would ensure that the rock is harmless to the planet.
In other words, Barack Obama is not risking accidentally throwing a killer asteroid at the world with this plan.
Last year, the president established a goal of landing astronauts on a near-Earth asteroid by 2025. This new plan could bump up the date to 2021. ("NASA is in the planning stages of an innovative mission to accomplish the President's challenge of sending humans to visit an asteroid by 2025 in a more cost-effective and potentially quicker time frame than under other scenarios," an administration official wrote in an email.)
"This is part of what will be a much broader program," Nelson said last week, during a visit in Orlando. "The plan combines the science of mining an asteroid, along with developing ways to deflect one, along with providing a place to develop ways we can go to Mars." Nelson was recently on the Senate panel responsible for grilling scientists about the consequences of an asteroid impact. In March, a highly publicized asteroid the size of a city block came sorta, kinda, maybe close to smashing into Earth. In February, a truck-sized meteor exploded over Russia's Ural Mountains, creating a sonic boom, injuring roughly 1,500 people, and damaging many buildings.
On a related note, here's the trailer for Asteroid, a 1997 NBC miniseries about the president of the United States and a FEMA director scrambling to stop asteroids from killing America: