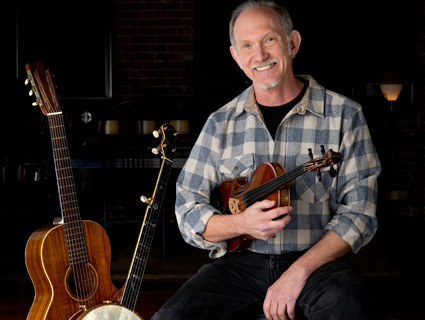 Fight disinformation:
Sign up
for the free
Mother Jones Daily
newsletter and follow the news that matters.
Bruce Molsky
If It Ain't Here When I Get Back
Tree Frog Music
I owe Bruce Molsky 15 bucks.
That's for the time a Mother Jones intern ripped me an illicit copy of Soon Be Time, his sixth solo CD, which I've pretty much listened to death. But I figure I actually owe Molsky, a master of old-time Appalachian music, way more than that, because it was his playing that inspired me to pick up a fiddle and attempt to play the damn thing to the point where it no longer sounded like a wounded cat.
I believe I have succeeded in this. You'll have to ask my cat.
Plus, I figure that if Molsky could ditch a stable career as a mechanical engineer and become a professional musician at age 40, there was hope for me yet. (Hey, a man can dream.)
Molsky is easily one of the nation's most talented fiddlers, and he plays a mean claw-hammer banjo and blues guitar to boot. He's also been known to break out the occasional a cappella tune or harrowing ballad consisting of naught but vocals and sparse fiddle. He puts all of these skills to use on his latest solo album, If It Ain't Here When I Get Back. "It's meant to be kind of an honor to people who I learned with and people who I hung out with years ago," Molsky told me recently. "Not in a sad, totally nostalgic kind of way, but it's kind of a look backwards and a look forwards for me." (Read the interview: "Bruce Molsky Is Not Fiddling Around.")
Indeed, the new album strays a bit from Molsky's usual Appalachian fare. He kicks off with a version of the mournful Australian ballad, "The Wreck of the Dandenong," from the perspective of a doomed sailor: "And I dream of you / I dream of sleep / I dream of being warm / And pray the sea will leave me be / to see another dawn." His voice locks in with the lonely fiddle in a way that heightens the pathos and leaves you feeling deeply for the protagonist. He then jumps to the guitar and launches into "Bimini Gal," an upbeat finger-picking instrumental first recorded in 1958 by the Bahamanian guitarist Joseph Spence.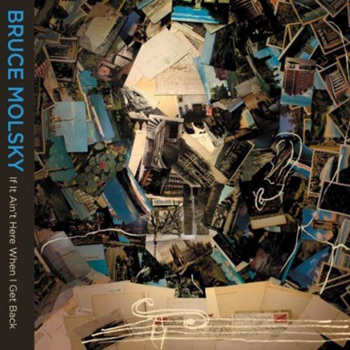 As with several of Molsky's past solo albums—this is his first in six years—If It Ain't Here When I Get Back gives all three instruments a solid workout. Fans of old-time music will find plenty to like here. I'm particularly partial to Molsky's mastery on fiddle tunes like "Rattle Down the Acorns," "Paddy Sean Nancy's Favorite," and "Last of Callahan" (all of which I've been trying to emulate with limited success). But the most rewarding thing about this record, and really about any of Molsky's solo work, is the way he transports you from one place to the next, throwing in surprises along the way—it's a bit of a road trip, geographically, historically, and most of all emotionally. A few tracks after lifting us up with the hopeful, slightly goofy banjo tune "New Cut Road," he pulls out the devastating ballad "Piney Mountain." Suddenly he's a broken man mourning his ruin at the hands of the logging company and cruel fate—accompanied, as always, by that lonely fiddle.
You can order Molsky's stuff directly from Tree Frog, his own label. And be sure to catch him live if you get the chance—he'll be in California this week, where I intend to pay him back that $15 before he takes off on a month-long tour of the UK.