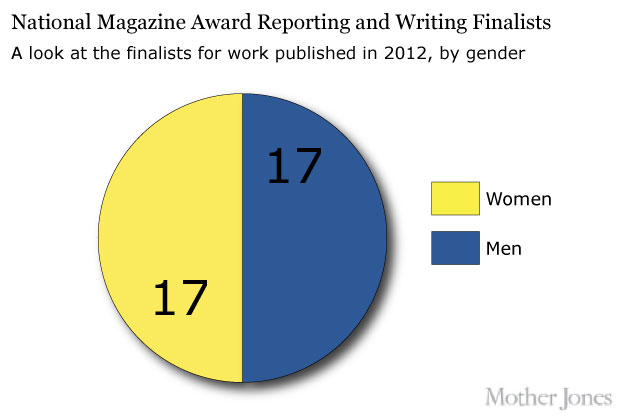 Fight disinformation:
Sign up
for the free
Mother Jones Daily
newsletter and follow the news that matters.
Every year, when the National Magazine Award nominees are announced, there are some gnashed teeth and bitter feelings over what was—and wasn't—nominated. (We got four [!!] nominations this year, so we're very happy, if slightly confused.*) But over the last few years, there's been outrage over one topic in particular: how few women writers are nominated, much less ultimately awarded the "Ellie," for their work. Was this purely a result of the lack of female bylines in prominent magazines (as pointed out over the years by groups like WomenTK and VIDA)? Was it made worse by magazines not putting women's work up for nominations? Was it judging bias?
Monika and I wrote about this last year, and in our opinion, it's mostly the first. But in any case, whether by chance or by collective soul searching, this year has seen dramatic improvement within the reporting and writing categories (public interest, reporting, feature writing, essays and criticism, columns and commentary, and fiction). Last year, women were only nominated for seven of the available 25 slots, and were completely shut out of four categories. This year, they've garnered 17 of the available 34 spots, and women are nominees in every category. (Note: There are many other awards given at the National Magazine Awards, including ones to which bylines are attached, like personal service writing. But these are the categories most under debate when it comes to byline parity.)
So how do things break down?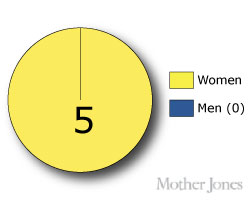 Public Interest: This category basically honors investigative and/or "impact" journalism. Last year it was the lone nonfiction bright spot for women, who comprised four of the five nominees. (Sarah Stillman, also up for an award this year, ultimately won.) This year, the ladies swept the category.*
Reporting: Last year, there were no female nominees in this category (since expanded from five to seven, to account for the fact that there is no longer a profile category). This year two of the seven are women: Texas Monthly's Pam Colloff and the Texas Observer's Melissa del Bosque.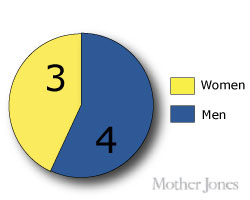 Feature Writing: This is the "high points for style" category (also expanded this year). Last year, zero women. This year, three: MoJo's Mac McClelland as well as Texas Monthly's Pam Coloff (again!) and Karen Russell in GQ.
Essays and Criticism: Last year, zero women. This year, one: Mona Eltahawy in Foreign Policy.
Columns and Commentary: Last year, zip. This year, three of five nominees are women: Daphne Merkin in Elle, The Nation's Katha Pollitt, and Slate's Dahlia Lithwick.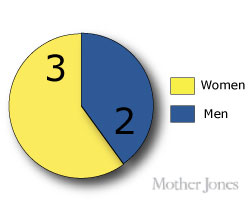 Fiction: Last year there were three women nominated (Karen Russell for Zoetrope eventually won). This year, three women have been again nominated: Jennifer Haigh in Byliner, Alice Munro in Harper's, Sarah Frisch in The Paris Review.
The winners will be announced at the awards ceremony on May 2. May the best women—and men!—win.
*We confess to a little befuddlement as to why David Corn's 47 Percent reporting didn't get a public interest nomination, but the video itself got a nomination. But then the awards are evolving to figure out how to honor work that's not a traditional magazine piece.
Note: Thanks to Dana Liebelson for helping whip up these charts. She'll be on this list one day.