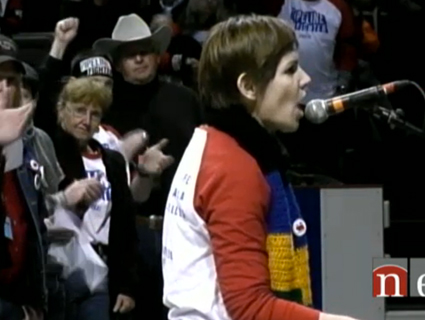 State Department officials trekked to Grand Island, Nebraska today to hear statements from ranchers, geologists, construction workers, oil executives, and a colorful cast of other characters in the only public hearing on the Department's latest Environmental Impact Statement for the Keystone XL pipeline.
Speakers for and against the pipeline began lining up at 7 a.m. amid frigid cold and snow for a chance to get three minutes on the soapbox at the Heartland Events Center. There was the blustering, hoarse representative of the local Cowboy-Indian Alliance who exhorted Transcanada to "ship your toxic crap to Asia and India" instead of the US; the moody, varsity jacket-wearing teenager who recited an angst-ridden poetic diatribe against the pipeline ("The earth shudders beneath our feet / we are tectonic"); the welder with Pipeliners Local 798 who argued that moving oil through a pipeline was "greener" than using trucks or trains; and the members of a local Sioux tribe who sang prayer songs into the record.
During the three-hour afternoon session, sixty speakers stood before a weary-looking State Dept. panel and lobbed by-now-familiar arguments: jobs and the inevitability of development on one side, and water contamination and climate change on the other. Anti-pipeliners, many dressed in matching red and white t-shirts, held the clear majority, and alternated between sitting stony-faced with upheld power fists, and guffawing and booing when suit-clad oil reps and fleece-jacketed blue collar union leaders voiced their support for the project. The usual suspects from both camps were on hand: Transcanada VP Corey Goulet, and activist Jane Kleeb of Bold Nebraska, who described the mood in the room as relatively friendly considering the high, longstanding tensions between the two factions.
"Folks that have been dealing with this for four years now aren't holding back," Kleeb said, but "we had a lot of union guys say they agree with our concerns about the environment, but just want to get jobs for their guys."
"Every time citizens get an opportunity to address the government on the pipeline is good," Kleeb said. "It brings all of us together in one place."
Today's hearing was the first and last time for the public to comment in person on this EIS; written comments will still be accepted through April 22. President Obama is expected to make a final decision on the project by September.