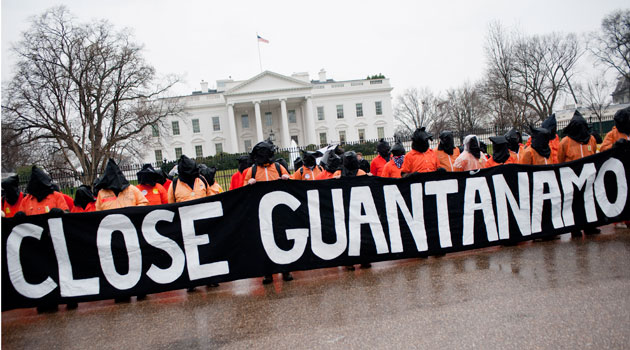 Fight disinformation:
Sign up
for the free
Mother Jones Daily
newsletter and follow the news that matters.
Only the government knows the exact statistics, but four years after Barack Obama ordered the closure of the Guantanamo Bay detention camp, and eleven years since the first people were imprisoned there, detainees at Gitmo are involved in what may be the largest and longest single act of civil disobedience in the camp's history.
"I've never seen [a protest] of this magnitude that's gone on for this long," says Col. Morris Davis (Ret.), a former Chief Gitmo prosecutor who is suing the government after having lost his position as a congressional researcher for writing an op-ed critical of Gitmo. "It's unfortunate that in order to get America to pay attention you've gotta do this kind of thing."
Detainees began a hunger strike in February in response to the military searching the detainees' Qu'rans, saying detainees were hiding weapons in them. Since then, detainee lawyers say, the strike has grown both in scope and intent, from a protest over conditions at the camp itself to a broader protest of the detainees' years-long confinement without trial and no hope of release. It's unclear how many detainees are striking, but the military's official count is 52 detainees on hunger strike and 15 being force-fed (the military counts detainees as being on hunger strike if they've missed nine meals in a row). Attorneys for the detainees say that a majority of the men confined at Gitmo—130—are now on hunger strike. "If the detainees are right, it is the largest percentage-wise, if not numbers-wise," says Karen Greenberg, director of the Center on National Security at Fordham Law School. "This is not just a protest, this is truly an act of despair. This is different."
A defense department official told Mother Jones that the Pentagon believes "hunger striking to be a peaceful form of protest," but that "we will not allow a detainee to harm himself." The defense department official added that "If they present certain medical conditions, we will feed them via enteral means. We believe this is our obligation." The International Committee of the Red Cross opposes force-feeding. Last week ICRC president Peter Maurer called the hunger strikes at Gitmo a symptom of the larger problem of the political impasse over Gitmo.
"You get this sense that the desperation has reached a new height, because it's been so many years," says Daphne Eviatar, an attorney with Human Rights First. "When President Obama came in and promised to close it there was a sense of hope, and that hasn't happened and things seem to have gotten worse." More than half of the detainees at Gitmo have been cleared for transfer or release, but legal restrictions passed by Congress, decisions by federal courts, and policy positions taken by the administration have slowed the number of detainees leaving Gitmo to a trickle. "There have been more people who have died there than who have been prosecuted there," says Davis.
In response to the strike, the military says that it has been moving detainees from the communal living arrangement in one part of the prison to single-cell confinement in another part of the facility, saying the move was "necessary to ensure security, order, and safety." Saturday morning, the military said that some detainees had resisted the move with "improvised weapons," and that guards had fired "less-than-lethal rounds" in response.
"The raids and the other things we've heard about are part of a campaign by the military to break the strike and to limit information from coming out of the prison about what's happening," said Pardiss Kebriaei, an attorney with the Center for Constitutional Rights, which represents several detainees at Gitmo. Kebriaei spoke with two of her clients at Gitmo a week and a half ago, who painted a grim picture of how the detainees were faring. Kebriaei told Mother Jones that her clients, Ghaleb al-Bihani and Sabry Mohammed, described detainees in Camp Six as being "skeletal," and "near death," some of whom were "barely moving." Kebriaei says that al-Bihani told her that "They're taking the camp back to 2006." Al-Bihani and Mohammed are both Yemeni citizens, and the Obama administration will not transfer detainees to Yemen because it views doing so as a security risk.
Monday a federal judge declined an appeal from Gitmo detainee Musa'ab Omar al-Madhwani, who told his lawyer guards were denying hunger strikers clean water and proper medical care. Kebriaei had filed a declaration in that case stating that one of her clients, al-Bihani, corroborated al-Madhwani's allegations. They last spoke over the phone on the Friday before the clash between guards and detainees and Kebriaei says that al-Bihani told her he had been moved to Camp Five and was afraid to speak to her because he thought it was punishment for supporting al-Madhwani's allegations.
The hunger strike isn't the only problem facing Gitmo as an institution. Last week Seton Hall University School of Law released a report showing that monitoring devices had been placed in rooms where detainees are supposed to be able to speak with their attorneys in confidence. Last week, ProPublica reported that copies of defense attorneys' emails had been given to Gitmo prosecutors, something the Pentagon claims was an accident. Although Americans might not place the highest premium on the privacy of Gitmo detainees, these kinds of incidents could easily become grounds for an appeal on the basis that it was impossible for the detainees to get a fair trial.
Taken together, the ongoing hunger strike and the potential spying on defense attorneys undermines the efforts of the Obama administration to portray conditions at Guantanamo as humane and the military commissions system as fair. As yet, however, there's no sign that either Congress or the Obama administration is reconsidering the legal or policy restrictions placed on the ability to transfer detainees elsewhere.
"It's just a perpetual fiasco," Davis says. "There is no upside to Guantanamo."
This article has been updated with the latest official count of detainees on hunger strike.