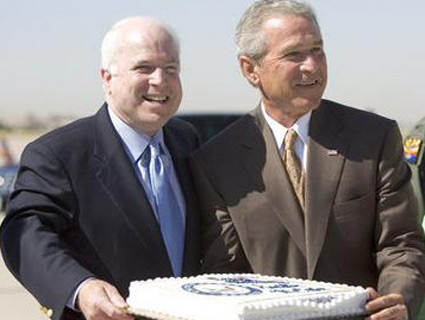 "There hasn't been a very happy ending."
Regret was the running theme when Sen. John McCain (R-AZ) talked about Iraq at an event Tuesday hosted by the American Enterprise Institute. The panel discussion, held on the tenth anniversary of the start of the Iraq War, also included Gen. Jack Keane (ret.), who McCain praised as a prime intellectual "architect of the surge" in Iraq in 2007. The two featured speakers bounced back and forth between a range of topics, including the slaughter in Syria and the "spinning centrifuges in Tehran." McCain gave his backhanded approval to the Obama administration for "finally" committing a billion dollars to the expansion of America's national missile defense systems—a move by the Pentagon last week meant to counter a (nonexistent) threat from North Korea.
The focus of the event was, of course, the lessons learned in the ten years since the war in Iraq kicked off; it has been over a year since the official end of US involvement in combat operations.
Since the troop surge began in January 2007, McCain has trumpeted his support for the 20,000-strong surge—and its perceived success in stabilizing the country—as a point of political honor. And his message during this ten-year anniversary event was no different: "If I have a scathing critique of the Bush administration, it is this: It took them three years to figure this out," McCain said, regarding the administration's delay in boosting the number of American troops in Iraq. (During defense secretary Chuck Hagel's confirmation hearings, McCain grilled him for his staunch opposition to the deployment of those additional troops.)
Those who were advocating for the surge "knew what had to be done," McCain triumphantly asserted. "It was an unpardonable mistake that [the Bush administration] let the war limp along as much as [it] did."
Though McCain did criticize the Obama administration for not securing a residual force of some 20,000 troops in Iraq, he reserved harsher words for the blunders and deceptions that defined Bush's war in Iraq: "If there is a lesson to be learned it's we better make sure that information is correct that leads us to send Americans into harm's way," he said, referring to the weapons of mass destruction that weren't. (Flashback: On an episode of CBS' Face the Nation in February 2003, McCain said: "[T]here's not a doubt in my mind that Saddam Hussein would give a weapon of mass destruction to a terrorist organization, because they have common cause in trying to destroy the United States of America…I don't know the connection that exists right now between the two, but I know they have common cause.")
So John McCain's main lessons from the Iraq war boil down to (a) surge harder, and (b) lie to the American people less when building a case for a large foreign war.