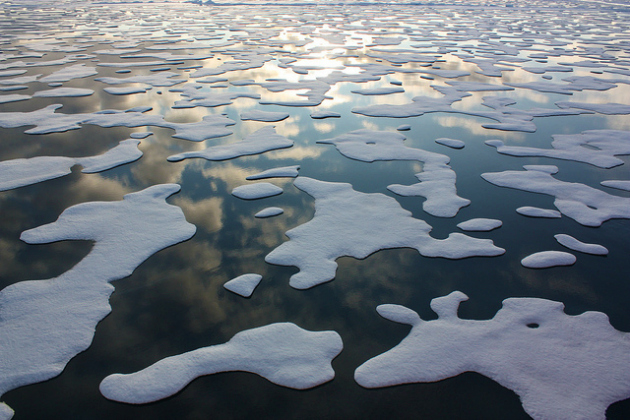 Fight disinformation:
Sign up
for the free
Mother Jones Daily
newsletter and follow the news that matters.
The Arctic Ocean reached the most frozen it's going to get this year on 13 March. Now the melt season begins, predicts the National Snow and Ice Data Center (NSIDC). The seasonal stats were gloomy. The max sea ice area of 2013 was was 5.84 million square miles (15.13 million square kilometers). That's the sixth lowest extent on record and a whopping 283,000 square miles (733,000 square kilometers) below the 1979 to 2000 average maximum.
Interestingly this year's max fell five days later than the 1979 to 2000 average date of March 10. NSIDC says the date's highly variable, with the earliest max in the satellite record falling on 24 February 1996 and the latest on 2 April 2010.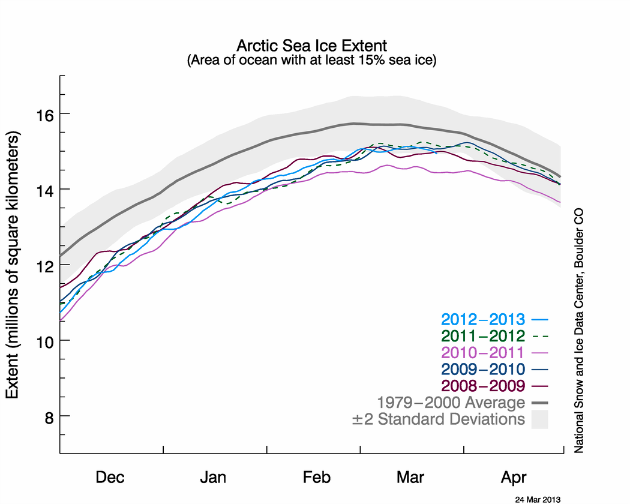 Keep in mind that the Arctic Ocean froze a bigger extent of water than ever before this past autumn—a record 4.53 million square miles (11.72 million square kilometers). But that's only because it had to make up for the insane lack of sea ice that beset the Arctic (and all its ice-dependent flora and fauna) last summer. I wrote about that during my October cruise through the Arctic Ocean aboard the US Coast Guard icebreaker Healy (Arctic Ocean Diaries).
So what the past 12 months add up to is a wild pendulum: the lowest ever summer ice followed by the biggest ever winter freeze-over, which still only managed a dismally low winter cover, composed of thin one-year-old ice destined to melt super fast this summer. Everything has become more extreme.
So even though this year was *only* the sixth lowest winter max, the Arctic is likely on course for another epically low summer ice-scape, because almost all its frozen ocean is now newborn baby ice.