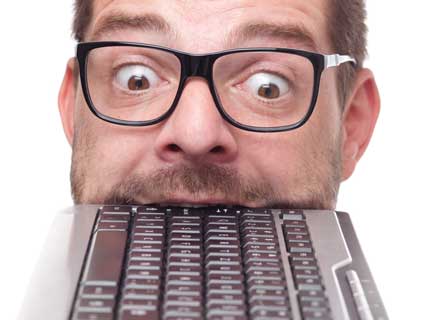 A few years ago, the pharmaceutical giant Pfizer informed hundreds of tech workers at its Connecticut R&D facilities that they'd soon be laid off. Before getting their final paychecks, however, they'd need to train their replacements: guest workers from India who'd come to the United States on H-1B visas. "It's a very, very stressful work environment," one soon-to-be-axed worker told Connecticut's The Day newspaper. "I haven't been able to sleep in weeks."
Established in 1990, the federal H-1B visa program allows employers to import up to 65,000 foreign workers each year to fill jobs that require "highly specialized knowledge." The Senate's bipartisan Immigration Innovation Act of 2013, or "I-Squared Act," would increase that cap to as many as 300,000 foreign workers. "The smartest, hardest-working, most talented people on this planet, we should want them to come here," Sen. Marco Rubio, (R-Fla.) said upon introducing the bill last month. "I, for one, have no fear that this country is going to be overrun by Ph.D.s."
To be sure, America's tech economy has long depended on foreign-born workers. "Immigrants have founded 40 percent of companies in the tech sector that were financed by venture capital and went on to become public in the U.S., among them Yahoo, eBay, Intel, and Google," writes Laszlo Bock, Google's senior VP of "people operations," which, along with other tech giants such as HP and Microsoft, strongly supports a big increase in H-1B visas. "In 2012, these companies employed roughly 560,000 workers and generated $63 billion in sales."
But in reality, most of today's H-1B workers don't stick around to become the next Albert Einstein or Sergey Brin. ComputerWorld revealed last week that the top 10 users of H-1B visas last year were all offshore outsourcing firms such as Tata and Infosys. Together these firms hired nearly half of all H-1B workers, and less than 3 percent of them applied to become permanent residents. "The H-1B worker learns the job and then rotates back to the home country and takes the work with him," explains Ron Hira, an immigration expert who teaches at the Rochester Institute of Technology. None other than India's former commerce secretary once dubbed the H-1B the "outsourcing visa."
Of course, the big tech companies claim H-1B workers are their last resort, and that they can't find qualified Americans to fill jobs. Pressing to raise the visa cap last year, Microsoft pointed to 6,000 job openings at the company.
Yet if tech workers are in such short supply, why are so many of them unemployed or underpaid? According to the Economic Policy Institute (EPI), tech employment rates still haven't rebounded to pre-recession levels. And from 2001 to 2011, the mean hourly wage for computer programmers didn't even increase enough to beat inflation.
The ease of hiring H-1B workers certainly hasn't helped. More than 80 percent of H-1B visa holders are approved to be hired at wages below those paid to American-born workers for comparable positions, according to EPI. Experts who track labor conditions in the technology sector say that older, more expensive workers are particularly vulnerable to being undercut by their foreign counterparts. "You can be an exact match and never even get a phone call because you are too expensive," says Norman Matloff, a computer science professor at the University of California-Davis. "The minute that they see you've got 10 or 15 years of experience, they don't want you."
A 2007 study by the Urban Institute concluded that America was producing plenty of students with majors in science, technology, engineering, and math (the "STEM" professions)—many more than necessary to fill entry-level jobs. Yet Matloff sees this changing as H-1B workers cause Americans to major in more-lucrative fields such as law and business. "In terms of the number of people with graduate degrees in STEM," he says, "H-1B is the problem, not the solution."
Even detractors of the H-1B visa program concede that it can fill important roles, such as encouraging brilliant foreigners to permanently relocate to the United States. EPI immigration expert Daniel Costa suggests a couple of tweaks to the I-Squared Act: Require employers to prove that they've tried to recruit Americans before applying for foreign workers, and make sure that H-1B workers get paid as much as Americans do for comparable jobs. "If that was fixed," he says, "I think it would be a different story."
As it stands, though, there are plenty of stories like the one Jennifer Wedel told to President Barack Obama last year (see video below). "My husband has an engineering degree with over ten years of experience," the Fort Worth resident told the president during a web chat hosted by the social network Google+. "Why does the government continue to issue and extend H-1B visas when there are tons of Americans just like my husband with no job?"
"We should get his résumé and I will forward it to some of these companies, " Obama replied.
But more than two months later, Wedel's husband was still looking for a job.