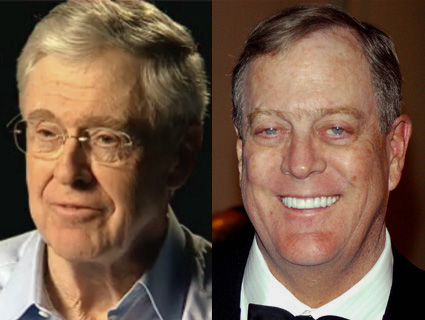 Fight disinformation:
Sign up
for the free
Mother Jones Daily
newsletter and follow the news that matters.
Charles and David Koch—yes, those Koch brothers—are two of the most influential figures in American politics in the last 30 years. The future of their political/policy juggernaut has implications for us all. Which is why you should read Ken Vogel's latest story on the Kochs at Politico, a peek behind the curtain at the big shake-up underway in Kochland.
The Kochs fared poorly in 2012. Their flagship organization, Americans for Prosperity, spent $140 million last year, tens of millions of which went toward ousting President Obama and flipping control of the US Senate back to the GOP. We know how that turned out. AFP did solidify Republican gains at the state level—in Arkansas, AFP helped Republicans take full control of the legislature for the first time since Reconstruction—but for the most part, the Kochs and their allies were left empty-handed in 2012.
And so, as Vogel reports, the Kochs are studying what went wrong and shaking things up to avoid future flops. Out went Tracy Henke, AFP's chief operating officer, as well as more than 100 AFP field organizers. The president of Generation Opportunity, a Koch-backed group targeting young voters, also left post-election. More importantly, the Kochs are choking off the cash flow to certain groups that didn't live up to the hype.
A big question looking over the Koch "reboot," Vogel points out, is what happens to the Kochs' mighty donor network, which reportedly steered some $400 million to GOP and conservative causes during the 2012 cycle:
Maybe the biggest question looming over Koch World, though, is whether it can still count on the support of the dozens of wealthy supporters in its network, who—as much as the brothers' own personal fortunes (estimated at $31 billion each) from their family owned industrial conglomerate Koch Industries—give the Kochs their political muscle.

The 2013 installments of the secretive twice-a-year Koch seminars at which donors often pledge seven-figure contributions have been delayed to allow for completion of the audit, which is being conducted by independent contractors and overseen by Koch operative Marc Short. The results will be presented at a seminar in April—a change from the typical late January or early February winter seminar in Southern California. The summer conference has also been pushed back but is still being planned, POLITICO has learned.

If donors are either not satisfied that Koch World has learned the lessons of 2012 or are anxious that their anonymity is at risk from heightened scrutiny of the Kochs' operation, they might be reluctant to give at the unprecedented level that they did in 2012, when the Kochs aimed to steer as much as $400 million into conservative causes.

"Nobody expected that people were going to continue to give at the level that they were giving leading up to that election and that cycle," said Jeremy Jensen, one of the dozens of field organizers laid off by Americans for Prosperity this year.

"I don't think they're going anywhere," Jensen added of the Kochs and AFP. "No, I think it will only come back bigger. I believe [2012] was a trial run for what things will look like in the future for some really big money plans."
Vogel's article also raises the question of what happens to AFP, the powerful advocacy group started by David Koch. In my own reporting, I've heard about all the grumbling among conservative donors about what AFP did—or didn't do—in 2012. Charles Koch apparently shares their concern: He was overheard at a holiday party questioning AFP's work in the last election cycle.
Could AFP be in for a major overhaul? Could it be broken up into a bunch of state-specific groups? No one knows at this point. But Vogel's story is the best glimpse we have at the inner workings of Kochland. It's worth the read.