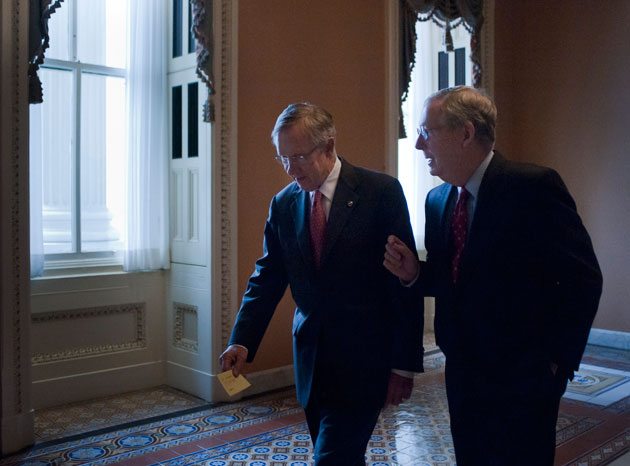 The calendar says the 113th Congress began almost three weeks ago, but as of Tuesday morning, the Senate was still not done with its first legislative day. That's because Sen. Harry Reid (D-Nev.), the majority leader, wanted to leave open the option of changing the Senate's rules with a simple majority vote—a maneuver that many legislators believe will only pass constitutional muster if it is performed on the first legislative day of a new Congress.
Here's why Reid wants to change the rules. Over the past several years, Republicans, led by Mitch McConnell (R-Ky.), the minority leader, have objected to ending debate on almost every major bill and presidential nomination to come before the Senate. Since ending debate and moving to an up-or-down vote requires 60 votes, and there are fewer than 60 Democrats, these objections—called filibusters—have allowed the GOP to effectively block much of the Dems' agenda.
Because of this, some Democrats have advocated dramatically reducing the power of the filibuster. Others have pushed less-ambitious reforms they say will make the Senate run better. Most Republicans, of course, want to hold on to their ability to obstruct the Democratic agenda—and some Democrats are worried that scrapping the filibuster now will reduce their ability to obstruct Republicans once the GOP regains the majority.
But although the Senate has had 19 days to ponder what to do at the end of the (legislative) day, little actual work has been done. Dick Durbin (D-Ill), the second-ranking Democrat in the Senate, has speculated that Reid will negotiate with McConnell to come up with a final package that satisfies both parties. But as of last week, the two men didn't seem to have met on the issue. The minority leader is still waiting for Reid to back a specific proposal, according to a McConnell aide.
As of Tuesday morning, there are two full filibuster-reform proposals on the table—neither of which has Reid's explicit backing. One proposal, from Sens. Tom Udall (D-N.M.), Jeff Merkley (D-Ore.), and Tom Harkin (D-Iowa), pushes mainly for stronger majority power. The other, backed by Sens. John McCain (R-Ariz.) and Carl Levin (D-Mich.), is focused more on minority rights. But both proposals address other important issues besides simply how to go about filibustering, including when the filibuster can be used, how many times it can be used on a given bill, how long debate should continue after there are 60 votes to end a filibuster. Here are the details of the two plans:
The Udall-Merkley-Harkin Proposal
Udall, Merkley, and Harkin's proposal is just six pages long. It only amends two of the Senate's forty-four rules, but it could dramatically change how the Senate does business. Here's what it does:
The most well-publicized part of the Udall/Merkley/Harkin proposal is the so-called "talking filibuster" rule. It would require the party that objects to ending debate to keep at least one senator on the floor and talking at any given time. If no member of the group of senators trying to extend debate wants to actually debate, the debate period could be closed with a simple majority vote.
Another section of the bill would limit debate on nominees after the majority musters 60 votes to end it. Currently, debate on nominees continues for another 30 hours after the majority has voted to wrap it up; Udall/Merkley/Harkin would limit that to two hours. This portion of the proposal includes an exception for debate on Supreme Court nominees, which would still continue for thirty more hours after the majority votes to shut it down.
Udall, Merkley, and Harkin's proposal would also restrict debate time on motions to proceed (motions to bring the bill up for actual consideration) to a hard two hours. But in most cases, the majority wouldn't even bother making a motion to proceed if it didn't have 60 votes to end a filibuster. This portion of the reform package would simply speed up the Senate in cases where a minority wants to slow things down.
The fourth and final section the Udall/Merkley/Harkin package would combine three motions that are related to sending a bill to House-Senate negotiators who are charged with working out the final language. The proposal would limit debate time on the new, merged motion to two hours. Like item three, this part of the proposal doesn't end the filibuster—it simply speeds up the movement of the Senate after a filibuster has already been defeated and a bill passed.
The McCain-Levin Package
Here's what the McCain-Levin proposal would do:
The McCain-Levin proposal contains no analog to Udall/Merkley/Harkin's "talking filibuster" idea.
As in #2 of the Udall/Merkley/Harkin proposal, debate on nominees after the majority has won 60 votes to end debate would be limited to two hours. But McCain and Levin would carve out broad exceptions for debates on nominees to head cabinet departments, cabinet-level positions, and federal judgeships. In all of these remaining cases, debate time after the majority clears the 60-vote threshold would remain unchanged, at 30 hours, except for district court nominees, for whom further debate would be limited to two hours.
Like #3 in the Udall/Merkley/Harkin package, McCain and Levin would forbid filibusters on the motions to proceed. As mentioned above, this idea doesn't eliminate the filibuster—it just speeds up the consideration of bills that have already beaten a filibuster. But unlike their colleagues, McCain and Levin would add the requirement that the minority be guaranteed consideration of at least two amendments to each bill facing a motion to proceed. Only a simple majority would be needed to pass each of these amendments. This power would allow the minority to threaten majority party-supported bills that have cleared the 60-vote threshold with what Merkley has called "poison pill" amendments that require only 51 votes. And this part of the McCain-Levin proposal would expire after the 113th Congress ends in January 2015.
The three motions related to sending a bill to House-Senate negotiators would be rolled into one motion, as in #4 of the Udall/Merkley/Harkin proposal. But under McCain/Levin, the majority would still need to muster 60 votes once again to pass this final hurdle.
Compromise
Although there is no final proposal in sight, Reid has hinted at the direction he might take by throwing his support behind an idea pushed by Sen. Al Franken (D-Minn.) that would put the burden on the minority to continue a filibuster. Franken's plan would force the group of senators who start a filibuster to rally 41 votes to continue filibustering. This is a heavy burden for the minority; unlike the Udall/Merkley/Harkin "talking filibuster" proposal, it would require all of the filibustering members to be on the floor of the Senate, not just one.
Franken's is far from a full filibuster reform proposal. But the majority party's reformers seem likely to back Franken's idea if it comes up for a vote. Merkley "is supportive of a number of the individual provisions Reid is reportedly considering, particularly" Franken's plan, a Merkley aide told Mother Jones. Merkley is "going to keep pushing for a talking filibuster," the aide says, but if that doesn't come up for a vote, and a compromise package does, Merkley's likely to back Reid.
The McCain/Levin plan and the Udall/Merkley/Harkin proposal have three key elements in common: the elimination of the filibuster on motions to proceed, the combination of the three motions related to sending a bill to House-Senate negotiators, and new limits on debate time after the majority wins 60 votes on a bill or nomination. If a compromise does take shape, it's likely to be along those lines.