The Boy Scouts of America teach young men how to build fires, pitch tents, weave camping chairs, and "be prepared"—unless your son happens to be gay. But the Boy Scouts long-standing policy of banning "open or avowed homosexuals" is starting to cost it some major financial backers: In the last six months, companies including UPS, United Way, the Merck Company Foundation and the Intel Foundation have announced they will drop or postpone funding for the Boy Scouts. Verizon Communications could be next: Over 70,000 people have signed a petition asking the corporation to stop funding the Scouts over their discriminatory policies.
"We more than understand how much value the Scouting program offers to our Nation and its youth," Brad Hankins, a campaign director for Scouts for Equality, the organization behind the Verizon petition and others, tells Mother Jones. "However, we feel that over the long term the damage the ban has caused to Scouting's perception in our changing cultural climate is much greater than a temporary loss of funds."
Since at least the late 1970s, the Boy Scouts executive leadership has discriminated against gay members. In 2000, the Supreme Court ruled that forcing the organization to accept gay members would violate its rights under the First Amendment, and the Boy Scouts reaffirmed their ban on gay scouts and scoutmasters in 2012. Since then, hundreds of Scouts have returned their pins in protest, and the Boy Scouts anti-gay stance has even outlasted the military's "Don't Ask Don't Tell" policy.
Hankins says it's hard to say how much money the Boy Scouts have lost from donors since the petitions began, because the "information isn't immediately disclosed." However, according to The American Independent, in the 2009 tax year, the biggest donor to the Boy Scouts was the Intel Foundation, who donated nearly $700,000. Intel announced in September it will stop funding Scout troops that adhere to the ban, and UPS followed suit (Scouts for Equality ran petitions against both companies.)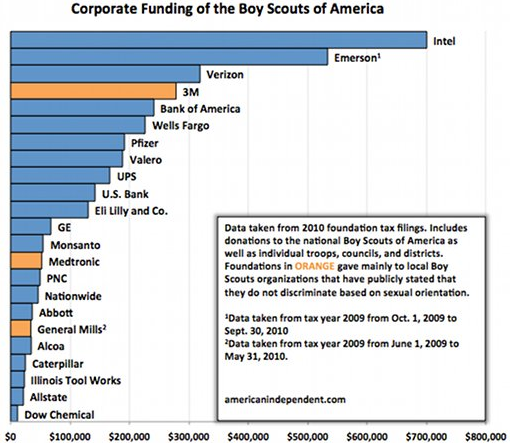 Verizon gave at least $300,000 to the Boy Scouts in 2009, according to The American Independent, and Scouts for Equality claims that Verizon's donations conflict with its policy of not funding organizations that discriminate on the basis of sexual orientation. Harry J. Mitchell, a spokesman for Verizon, told Mother Jones that the company "does not discriminate on the basis of [sexual orientation]" and they expect "all of its grant recipients to comply with all applicable laws."
But that won't stop customers from boycotting the company. "Our family uses Verizon: each of our three sons included, one of which is gay. Two of them are Eagle Scouts and one is 13 and is a Life Scout. We fully support a full financial boycott," writes Christie Draper, from Aliso Viejo, California. "Give the money to the Girl Scouts instead."
The Boy Scouts did not respond to request for comment.