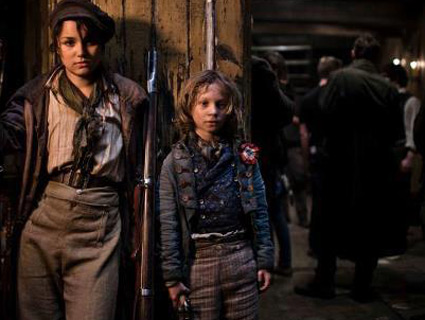 In the days following the horrific Newtown massacre—in which 20 schoolchildren were gunned down at Sandy Hook Elementary—the folks in entertainment media were especially careful not to offend. Violent and death-related content was suddenly (and quite transparently) deemed bad for business or in poor taste: The Pittsburgh premiere of the Tom Cruise action movie Jack Reacher was postponed, for example, and the LA premiere of Quentin Tarantino's brutally violent Django Unchained was canceled (with Django star Jamie Foxx himself cautioning against gratuitous violence in film). In TV land, the debut of the reality TV special Best Funeral Ever was delayed, Ted Nugent's celebration of gun culture was nixed from the Discovery Channel's schedule, a Blake Shelton Christmas special that features a reindeer assassination was pulled, and the recent season finales of Dexter and Homeland opened with disclaimers. On commercial radio, pop songs like Foster the People's "Pumped Up Kicks" and Ke$ha's "Die Young" received substantially reduced airplay. And let's not forget that Barry Manilow postponed a concert out of respect and concern for the affected families.
This is how the entertainment industry generally reacts when a national trauma occurs. There's no reason to think that altering, delaying, or refusing to air violent television and film scenes will help heal national wounds. But considering the immediate outpouring of PR gestures from across the American entertainment industry, it's curious that the only new movie that prominently features a child being shot to death seems to have gotten a pass.
The movie is Les Misérables, the big-budget adaptation of the beloved musical set in post-revolutionary France. It's directed by acclaimed filmmaker Tom Hooper, has a star-studded cast, and is slated to be released in the United States on Christmas Day. (Spoiler to follow.)
Anyone familiar with the stage musical or Victor Hugo's book on which it is based knows how this goes: During the June Rebellion in 1832, armed republicans set up barricades in the streets of Paris in an attempt to spark an overthrow of the monarchy. Among the rebels is Gavroche (played by Daniel Huttlestone in the 2012 film version), a prepubescent, singing street child. In a moment of tragic heroism, the boy sneaks out from behind the barricade and is repeatedly shot by royal troops.
Here's the scene, from a stage production of Les Miz that featured Nick Jonas of the Jonas Brothers as Gavroche:
Out of all the major motion pictures released at the end of this year, Les Miz bears the clearest and most potentially upsetting parallel to the tragedy at Sandy Hook Elementary; Django Unchained and Jack Reacher do not have any direct likeness to the Newtown mass shooting, beyond the mere fact that they contain violent images. And yet the sensitivity and courtesy shown by the PR teams of other violent movies released this month is nowhere to be found with Les Miz.
Universal Pictures, the studio handling distribution, has yet to issue a warning to audiences, or make any related announcements. And with the nationwide release just a few days away—and since the film is such a surefire 2012 Oscar contender—there certainly hasn't been anything to suggest that a postponed release is on the table. (Following the Dark Knight Rises theater shooting in Aurora, Colorado, in late July, Warner Bros. moved the release date of Gangster Squad—which originally included a shootout at a movie theater—from September 2012 to January 2013, and called for a reshoot of the scene that seemed to mirror the real-life incident too closely.)
(UPDATE: The public-relations team at Universal Pictures assigned to Les Miz was reached, but could not comment on the matter.)
With the Christmas release just around the corner, it is very likely that the film will be released on schedule and in its current form—as it probably should. After all, keeping The Dark Knight Rises in theaters nationwide during the weekend of the Aurora mass killing didn't add an ounce of pain to the national mood or consciousness (and the film performed still incredibly well at the box office that opening weekend). In fact, we do have a recent example of a studio releasing a questionable scene just days after a widely reported tragedy. Just one week after the Aurora massacre, Lionsgate released the dance film Step Up Revolution, and left in the scene in which a gang of gas-mask-wearing "protest-dancers" invade a corporate gala, throw smoke cannisters everywhere, and frighten the daylights out of a lot of civilians. Prior to Step Up's release, this sequence reminded a bunch of people about the nature of the then-fresh news of mass murder. But things went ahead as planned, anyway.
If there's any evidence to support the theory that movie exacerbated our nation's grief, I haven't seen it.
Click here for more movie and TV coverage from Mother Jones.
To read Asawin's film and television reviews, click here.
To listen to the weekly movie and pop-culture podcast that Asawin cohosts with ThinkProgress critic Alyssa Rosenberg, click here.
This post has been edited for clarity.